Web docu etc...
The Big Picture. Many indigenous groups, including the Huni Kui, Ashaninka, and Madija, live in villages in the Brazilian rainforest near the border with Peru.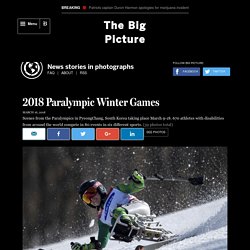 Over the past three years, the Ashaninka and Madija say that they have seen more and more incursions on their territory from uncontacted tribes, defined by Survival International as groups who have no peaceful contact with mainstream society. The "Bravos," or "Braves," as uncontacted Indians are called in the region, carry out raids on other villages, putting the communities along the Envira River on permanent alert. Leaders of the Ashaninka tribe have asked the government and NGOs for help in controlling what they consider an encroachment on their area by these uncontacted indigenous groups, stating that the movement of these other tribes is the result of pressure caused by illegal logging across the border in Peru.
All photos by Lunae Parracho. --Reuters (26 photos total) Le corps incarcéré - Société - Le Monde.fr. Magnum In Motion. MediaStorm: A Multimedia Production Studio. MediaStorm: A Multimedia Production Studio. Slideshow | Battlespace. Le laboratoire du webdocumentaire | LINTERVIEW.fr. GC Photography. World Without Oil :: Document Your Life In The New Reality. Upian - web producer since 1974. 3wdoc. Webdocu.com. Webdocs en vrac « La liberté tranquille. Je vous invite à découvrir ces hyperliens.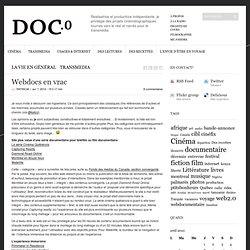 Ce sont principalement des classiques (lire références de d'autres et les miennes) accumulés sur plusieurs années. Classés selon un référencement qui fait son bonhomme de chemin (via @katciz). Les opinions au je sont subjectives, constructives et totalement évolutives…. Et évidemment, la liste est loin d'être exhaustive.
Soyez bien généreux de me pointer d'autres projets! Les coulisses de Prison Valley, par David Dufresne. Un webdocumentaire sur l'industrie de la prison.
---