TWITTER
Socialomate | L'assistant de réseau social. Yes, You Really Can Build Links With Twitter - Whiteboard Friday. Since Rand discussed a scammy link building tactics last week, he decided to tackle a good method that anyone can do.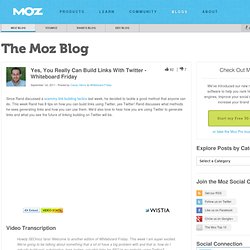 This week Rand has 8 tips on how you can build links using Twitter, yes Twitter! Rand discusses what methods he sees generating links and how you can use them. We'd also love to hear how you are using Twitter to generate links and what you see the future of linking building on Twitter will be. Howdy SEOmoz fans! Welcome to another edition of Whiteboard Friday. Why Aren't You Using Twitter To Build Links? A friend of mine a couple of months back was the victim of a mugging and had his iPad stolen.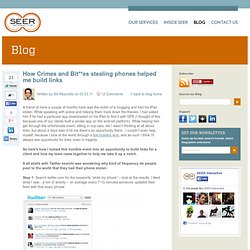 While speaking with police and helping them track down the thieves, I had asked him if he had a particular app downloaded on his iPad to find it with GPS (I thought of this because one of our clients built a similar app on the android platform). While helping him get through the unfortunate event, sitting in cop cars, etc I wasn't thinking at all about links, but about 2 days later it hit me there's an opportunity there…I couldn't even help myself, because I look at the world through a link builders lens, and as such I think I'll always see opportunity for links, even in tragedy. So here's how I turned this horrible event into an opportunity to build links for a client and how my team came together to help me take it up a notch.
---