Android
3CXPhone pour Android (VoIP)
3CXPhone est l'application qui remplace maintenant SipAgent . Cette application vous offre la possibilité de passer et de recevoir des appels téléphoniques par Internet en utilisant, par exemple, votre compte SIP Free, 3CX ou Asterisk, ou autres fournisseurs VoIP.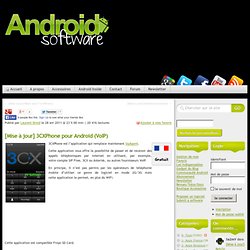 Les rom custom et rom radio
internet a l étranger (Page 1) - HTC Hero - Frandroid - Actualité de la plate-forme mobile Android
Cerberus for Android - Login
Beginner's Guide to Android | Google Android Blog
Attention, voici du lourd.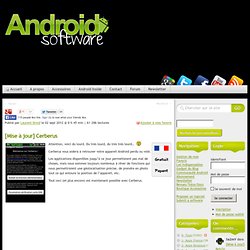 [Mise à jour] Cerberus
hrdb.tk
Battery Calibration - Android Forums
Baby Listener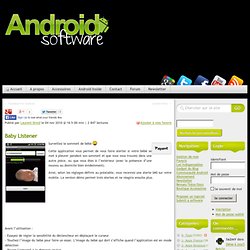 Surveillez le sommeil de bébé Cette application vous permet de vous faire alerter si votre bébé se met à pleurer pendant son sommeil et que vous vous trouvez dans une autre pièce, ou que vous êtes à l'extérieur (avec la présence d'une nounou au domicile bien évidemment).
Sleepy Android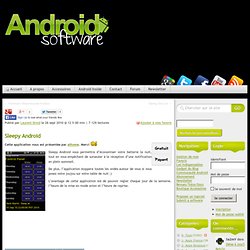 Cette application vous est présentée par athome .
Cook Android
Tried on HTC Incredible running virtuous rom. And... This is amazing.
LG Optimus "Home Launcher"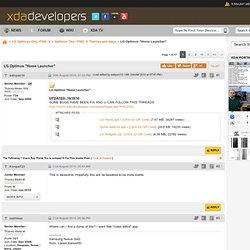 Fusion!ROM 2.2 UPDATE 6.1.1 - Working camera
Par Korben Cubed (ou ³) est un media player pour Android encore en beta mais absolument génial en terme d'interface ! Il surpasse le lecteur par défaut d'Android et même (mais ça n'engage que moi) celui de l'iPhone si les développements continuent en ce sens.
Cubed – Un media player pour Android qui déchire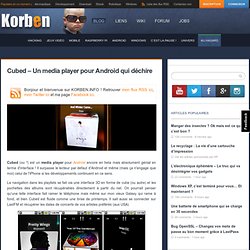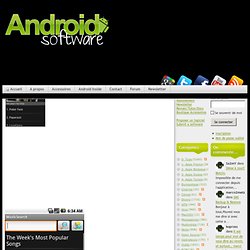 Cette application vous permet de rechercher des fichiers sur le web.
Music Search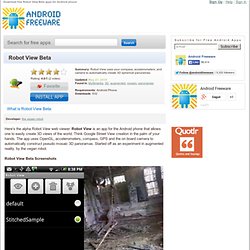 Here's the alpha Robot View web viewer. Robot View is an app for the Android phone that allows one to easily create 3D views of the world. Think Google Street View creation in the palm of your hands.
Robot View Beta freeware download for Android phones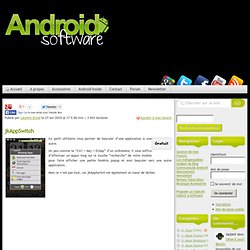 Ce petit utilitaire vous permet de basculer d'une application à une autre. Un peu comme le "Ctrl + Maj + Echap" d'un ordinateur, il vous suffira d'effectuer un appui long sur la touche "recherche" de votre mobile pour faire afficher une petite fenêtre popup et ansi basculer vers une autre application.
jkAppSwitch
Sneak peak of Mint for Android – Android and Me
Editor's note : Mint confirmed last month that an Android app is currently in development , but we have not see many details of the free personal finance software.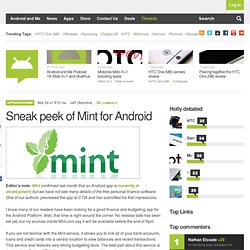 c:geo go geocaching freeware download for the Android phones
OpenSatNav
Application suggérée par Murphy. Merci ;) Cette application de navigation GPS, actuellement en version Bêta, est gratuite et opensource, elle utilise OpenStreetMap.
Wifi Auto Enabler
Wifi Auto Enabler active ou désactive automatiquement votre connexion WiFi en fonction de votre position géographique. Lorsque vous entrez ou que sortez d'une zone préalablement enregistrée, votre WiFi sera automatiquement activé ou désactivé.
ReMeMore-Moi
ReMeMore-Moi est une recherche inversée des numéros pour les appels entrants.
Waze est une application sociale de trafic et de navigation qui utilise des données de trafic fournies en temps réel par les automobilistes dans les alentours pour gagner du temps et pour améliorer vos trajets quotidiens.
Waze
Hey everybody! Jerry here again for our weekly get-together. I hope everyone survived another crazy week of things like data outages and Eris leaks .
Just Browsing - Applications outside the Android Market
HTC Hero: Tips, Tricks & Useful Apps [v1.6]
HTC Hero - Hero
Problème de synchronisation Gmail sur android ! - Aide Gmail
Plus de synchronisation : une solution radicale – Planete Android
HTC Hero New User Guide (+ Apps)
Martin Adamek's Blog
Configuration Bouygues - Android & Windows Mobile pour les nuls
SOS Android - Page 2