MACMINI HTPC SETUP
The Mac mini has always been the perfect form factor for a media center appliance (often called a Home Theater PC/HTPC). It's extremely small, almost completely silent and it can easily blend into an existing electronics shelf - or be hidden away completely. The lack of a refresh (and rumors that the line was going to be discontinued), coupled with technical specs that didn't justify the price-point, have led many would-be HTPCers to write off the Mac mini as an option because they assume it is just too expensive.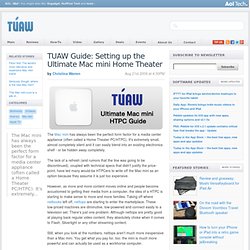 Guide: Setting up the Ultimate Mac mini Home Theater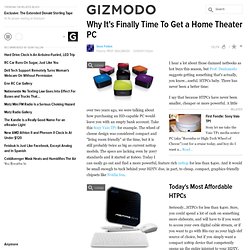 Why It's Finally Time To Get a Home Theater PC - Htpc - Gizmodo
SExpand I hear a lot about those damned netbooks as hot buys this season, but Prof. Dealzmodo suggests getting something that's actually, you know...useful. HTPCs baby. There has never been a better time: I say that because HTPCs have never been smaller, cheaper or more powerful.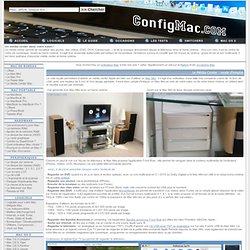 Mac Mini en Média Center : comment faire ?
Un media center permet de visualiser des photos, des vidéos (DVD, DIVX, Camescope...) et de la musique directement depuis le téléviseur et/ou le home cinéma. : d'où son nom, il est le centre de votre vie numérique. Quant au home cinéma, il s'agit d'un ensemble audio/vidéo permettant de reconstituer l'ambiance sonore et visuelle que l'on trouve au cinéma : grand écran et son multicanal. Il est donc judicieux d'associer média center et home cinéma.