things to read
Get flash to fully experience Pearltrees
Throughout last couple of years I've been collecting my personal favorite quotations from various inspirational people in my Evernote. As a result I got quite a long list of sayings which I personally consider to be one of the smartest, wittiest, daring and positive at the same time. Moscow, 2008. So, I thought why not to share them with you? Assuming I have a lot in common with my readers, you might enjoy them too.
I think it's easy to make things more complicated than they need to be. Here are some basic rules of the relationship road that will keep you headed in the right direction 1. Successful relationships take work. They don't happen in a vacuum. They occur when the couples in them take the risk of sharing what it is that's going on in their hearts and heads.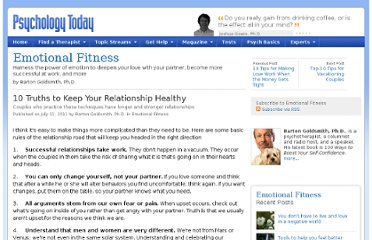 My problem is that I start working on a project, finish chapter one, and decide I'm not happy with it. So I revise it, and then I revise it again, and again, and again, and then I rewrite it, and revise it, and so on, ad infinitum. I have ten novel projects all stuck at chapter one and a short story series stuck at the first story. Only recently have I made any progress beyond that (chapter 4, woot!) all thanks to a writers workshop that meets every week, they give me hell when I go back to revise instead of moving forward.
Image by CielChen ( license ). My favourite new TV-show is The Mentalist.
Psychological experiments demonstrate the power of a simple technique for committing to goals. Here's a brief story about why we all sometimes get distracted from the most important goals in our lives. Perhaps you recognise it? You are thinking about changing your job because your boss is a pain and you're stagnating. As the weeks pass you think about how good it would feel to work for an organisation that really valued you.