Autres informations concernant les biocapteurs
Sensors and Actuators B 83 (2002) 48–52 A biosensor for Escherichia coli based on a potentiometric alternating biosensing (PAB) Volume 83, Issues 1–3, 15 March 2002, Pages 48–52 Selected Papers from TRANSDUCERS '01 EUROSENSORS XV Edited By M.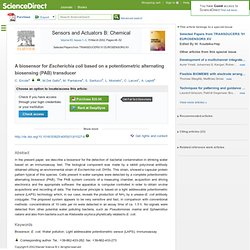 Biosensors and Bioelectronics 22 (2007) 1205–1217 Review : Pathogen detection: A perspective of traditional methods and biosenso. Biosens Bioelectron. 2003 May;18(5-6):841-6. Market analysis of biosensors for food safety. Sensors and Actuators B 74 (2001) 100±105 Detection of foodborne pathogens using surface plasmon resonance biosensors. Chilean Journal of Agricultural Research - APRIL 2009 - Use of enzymatic biosensors as quality indices: A synopsis of present an. Use of Enzymatic Biosensors as Quality Indices: A Synopsis of Present and Future Trends in The Food Industry Uso de Biosensores Enzimáticos como Indicadores de Calidad: Una Sinopsis del Presente y Futuro en la Industria Alimentaria Liliana Serna Cock1*, Ana María Zetty Arenas1, and Alfredo Ayala Aponte2 1 Universidad Nacional de Colombia sede Palmira, Facultad de Ingeniería y Administración, Carrera 32 Chapinero, Vía Candelaria, Palmira, Colombia.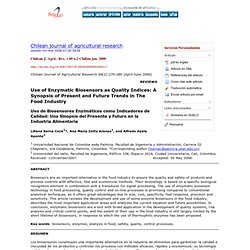 *Corresponding author (lsernac@palmira.unal.edu.co). 2 Universidad del Valle, Facultad de Ingeniería, Edificio 338, Espacio 2016, Ciudad Universitaria, Cali, Colombia. Received: 11Dicember2007. ENGINEERING_UNL_EDU - Présentation : Nanotechnology and Life Sciences Biosensors. University of Jyväskylä - Microbial research and nano-biosensors. Leona Gilbert Lee's Research Group University of Jyväskylä Cell and Molecular Biology Department of Biological and Environmental Science P.O.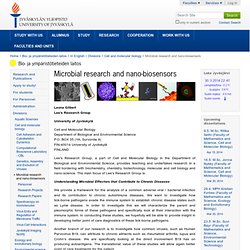 Biosensor. A biosensor is an analytical device, used for the detection of an analyte, that combines a biological component with a physicochemical detector.[1][2] the sensitive biological element (e.g. tissue, microorganisms, organelles, cell receptors, enzymes, antibodies, nucleic acids, etc.), a biologically derived material or biomimetic component that interacts (binds or recognizes) the analyte under study.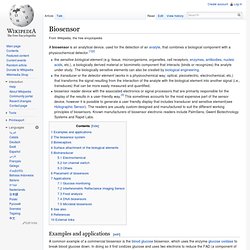 AGRICULTURE ONTARIO - 2005 - SF6043 - Biocapteurs impédimétriques sans réactif pour la détection des pathogènes dans les serres. Use of bioluminescent bacterial biosensors to investigate the role of free-living helminths as reservoirs and vectors of Salmonella - UWE Research Repository. Lacharme-Lora, L., Perkins, S.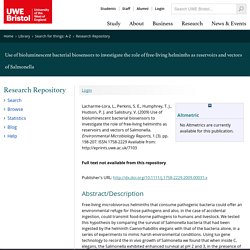 E., Humphrey, T. J., Hudson, P. J. and Salisbury, V. (2009) Use of bioluminescent bacterial biosensors to investigate the role of free-living helminths as reservoirs and vectors of Salmonella. Plant Soil Environ., 55, 2009 (9): 363–369 Detection of Listeria monocytogenes through real-time PCR and biosensor methods. Sensors 2008, 8, 8361-8377 Array Biosensor for Toxin Detection: Continued Advances. Sensors 2009, 9, 5503-5520 Electroanalytical Sensors and Devices for Multiplexed Detection of Foodborne Pathogen Microorganisms. Analytical and Bioanalytical Chemistry - 2008 - Electroanalytical biosensors and their potential for food pathogen and toxin det. The detection and identification of foodborne pathogens continue to rely on conventional culturing techniques.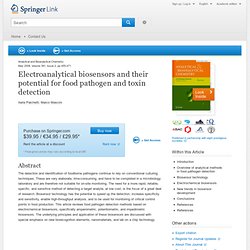 These are very elaborate, time-consuming, and have to be completed in a microbiology laboratory and are therefore not suitable for on-site monitoring. The need for a more rapid, reliable, specific, and sensitive method of detecting a target analyte, at low cost, is the focus of a great deal of research. Biosensor technology has the potential to speed up the detection, increase specificity and sensitivity, enable high-throughput analysis, and to be used for monitoring of critical control points in food production. This article reviews food pathogen detection methods based on electrochemical biosensors, specifically amperometric, potentiometric, and impedimetric biosensors.
USDA - Food safety research information office – Biosensors. Enzyme and Microbial Technology 32 (2003) 3–13 Advances in biosensors for detection of pathogens in food and water.