Autres informations anglophones
Royan Institute International Journal of Fertility and Sterility Vol 1, No 4, Feb-Mar 2008 Evaluation of the Phthalate Esters in
Royan Institute International Journal of Fertility and Sterility Vol 1, No 4, Feb-Mar 2008 Evaluation of the Phthalate Esters in South Indian Women with Endometriosis by guatemalt Aug 9
The Open Allergy Journal, 2009, 2, 45-50 Phthalates, Pesticides, and Bisphenol-A Exposure and the Development of Nonoccupational
General chemical structure of phthalates. (R and R' are general placeholders) Phthalates (pronounced /ˈθæˌleɪts/ [1]), or phthalate esters, are esters of phthalic acid and are mainly used as plasticizers (substances added to plastics to increase their flexibility, transparency, durability, and longevity). They are used primarily to soften polyvinyl chloride (PVC). Phthalates are being phased out of many products in the United States, Canada, and European Union over health concerns. In 2010, the market was still dominated by phthalate plasticizers; however, due to legal provisions and growing environmental awareness, producers are increasingly forced to use non-phthalate plasticizers.[2]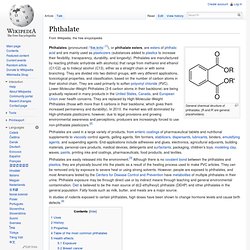 Phthalate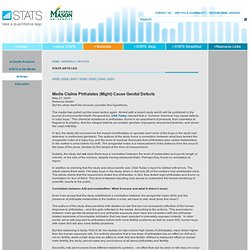 May 27, 2005 Rebecca GoldinBut the study itself did not even consider this hypothesis. The media has pulled out the scare tactics again. Armed with a recent study which will be published in the journal Environmental Health Perspectives, USA Today claimed that a "common chemical may cause defects in baby boys." This chemical substance is phthalates, found in an assortment of products, from cosmetics to fragrance to plastics. And the alleged defects are smaller genitals, improperly descended testicles, and (down the road) infertility.
STATS 27/05/05 Media Claims Phthalates (Might) Cause Genital Defects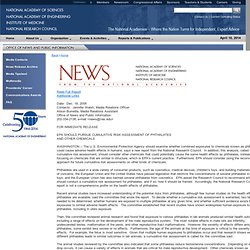 NATIONAL ACADEMIES 18/12/08 EPA Should Pursue Cumulative Risk Assessment of Phthalates and Other Chemicals
Read Full ReportAdditional Links Date: Dec. 18, 2008 Contacts: Jennifer Walsh, Media Relations Officer Alison Burnette, Media Relations Assistant Office of News and Public Information
EUROPE - SCIENTIFIC COMMITTEES - SCHER 17/10/08 Opinion on phthalates in school supplies
Environmental Health Perspectives Volume 113, Number 8, August 2005 Au sommaire: Phthalates and Baby Boys: A Measure of Concern?
Environ Health Perspect. 2006 February; 114(2): 270–276. Human Breast Milk Contamination with Phthalates and Alterations of Endo
Environ Health Perspect > v.117(1); Jan 2009 Concentrations of Phthalate Metabolites in Milk, Urine, Saliva, and Serum of Lactat
PHTHALATE INFORMATION CENTER