Autres informations anglophones
Royan Institute International Journal of Fertility and Sterility Vol 1, No 4, Feb-Mar 2008 Evaluation of the Phthalate Esters in
The Open Allergy Journal, 2009, 2, 45-50 Phthalates, Pesticides, and Bisphenol-A Exposure and the Development of Nonoccupational
General chemical structure of phthalates. (R and R' are general placeholders) Phthalates (pronounced /ˈθæˌleɪts/ [1]), or phthalate esters, are esters of phthalic acid and are mainly used as plasticizers (substances added to plastics to increase their flexibility, transparency, durability, and longevity). Phthalates are manufactured by reacting phthalic anhydride with alcohol(s) that range from methanol and ethanol (C1/C2) up to tridecyl alcohol (C13), either as a straight chain or with some branching. They are divided into two distinct groups, with very different applications, toxicological properties, and classification, based on the number of carbon atoms in their alcohol chain. They are used primarily to soften polyvinyl chloride (PVC).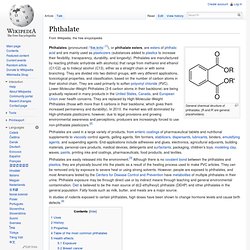 Phthalate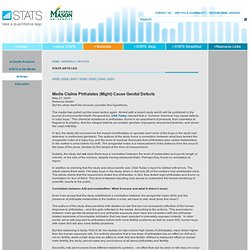 May 27, 2005 Rebecca GoldinBut the study itself did not even consider this hypothesis. The media has pulled out the scare tactics again. Armed with a recent study which will be published in the journal Environmental Health Perspectives, USA Today claimed that a "common chemical may cause defects in baby boys." This chemical substance is phthalates, found in an assortment of products, from cosmetics to fragrance to plastics. And the alleged defects are smaller genitals, improperly descended testicles, and (down the road) infertility.
STATS 27/05/05 Media Claims Phthalates (Might) Cause Genital Defects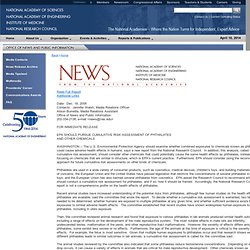 NATIONAL ACADEMIES 18/12/08 EPA Should Pursue Cumulative Risk Assessment of Phthalates and Other Chemicals
Read Full ReportAdditional Links Date: Dec. 18, 2008 Contacts: Jennifer Walsh, Media Relations Officer Alison Burnette, Media Relations Assistant Office of News and Public Information
EUROPE - SCIENTIFIC COMMITTEES - SCHER 17/10/08 Opinion on phthalates in school supplies
Environmental Health Perspectives Volume 113, Number 8, August 2005 Au sommaire: Phthalates and Baby Boys: A Measure of Concern?
Environ Health Perspect. 2006 February; 114(2): 270–276. Human Breast Milk Contamination with Phthalates and Alterations of Endo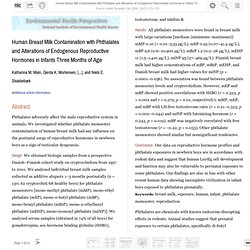 National Institute of Environmental Health Science Abstract Phthalates adversely affect the male reproductive system in animals.
Environ Health Perspect > v.117(1); Jan 2009 Concentrations of Phthalate Metabolites in Milk, Urine, Saliva, and Serum of Lactat
Bizzari S, Oppenbert B, Iskikawa Y. Plasticizers. Chemical Economics Handbook.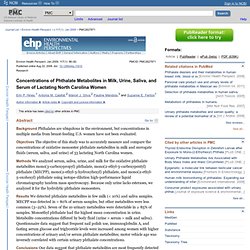 PHTHALATE INFORMATION CENTER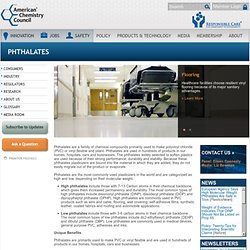 Phthalates are a family of chemical compounds primarily used to make polyvinyl chloride (PVC) or vinyl flexible and pliant. Phthalates are used in hundreds of products in our homes, hospitals, cars and businesses. The phthalates widely selected to soften plastics are used because of their strong performance, durability and stability. Because these phthalates plasticizers are bound into the material in which they are added, they do not easily migrate out of the product or evaporate. Phthalates are the most commonly used plasticizers in the world and are categorized as high and low, depending on their molecular weight. High phthalates include those with 7-13 Carbon atoms in their chemical backbone, which gives them increased permanency and durability.