Autres informations anglophones
Unisféra International Centre - MAI 2003 - The Economic and Environmental Impacts of Agricultural Subsidies: An Assessment of th. Amer. J. Agr. Econ. 84(4) (November 2002): 902–915 EFFECTIVE COSTS AND CHEMICAL USE IN UNITED STATES AGRICULTURAL PRODUCTION: US. Catherine J.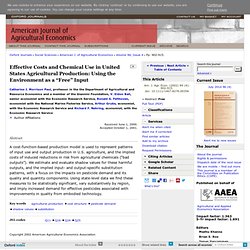 Morrison Paul, professor in the the Department of Agricultural and Resource Economics and a member of the Giannini Foundation, V. Eldon Ball, senior economist with the Economic Research Service, Ronald G. Felthoven, economist with the National Marine Fisheries Service, Arthur Grube, economist, with the Economic Research Service and Richard F. Nehring, economist, with the Economic Research Service + Author Affiliations. CHOICES - 2007 - Theme Overview: Agriculture and Water Quality in the Cornbelt: Overview of Issues and Approaches. More than three decades have elapsed since the passage of the Federal Water Pollution Control Act with its stated goal of zero discharge of pollutants into the nation's waterways.
Yet, water quality remains poor in many locations and considerable loading of pollutants continues. This is particularly true for agricultural sources of water pollution and is typified by the Upper Mississippi River Basin, where more than 1,200 water bodies appear on the current U.S. Environmental Protection Agency (EPA) listing of impaired waterways. OCDE - 2010 - États-Unis : effets de l'agriculture sur l'environnement et enchères de conservation. West Virginia University - 2002 - Environmental Impacts of Agricultural Trade Under NAFTA. WIKIPEDIA - Environment of the United States. Biota[edit] Bioregions of North America, according to one scheme.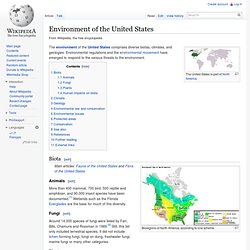 Animals[edit] More than 400 mammal, 700 bird, 500 reptile and amphibian, and 90,000 insect species have been documented.[1] Wetlands such as the Florida Everglades are the base for much of this diversity. Fungi[edit] Ciência & Saúde Coletiva, 11(2):439-451, 2006 Integrated assessment of environment and health: America's children and the enviro. EPA - Laws and Regulations. Le site de l'Environmental Health Perspectives. UNITED NATIONS ENVIRONMENT PROGRAMME (UNEP) - State environment of America. UNITED NATIONS ENVIRONMENT PROGRAMME - A Thirty-Year State of the Environment and Policy Retrospective - North America's Environ. Focusing on UNEP's North American region, comprised of Canada and the United States, this report provides an integrated analysis of the state of resource assets and 30–year trends in nine major themes: atmosphere, biodiversity, coastal and marine areas, disasters, freshwater, forests, human health and the environment, land, and urban areas.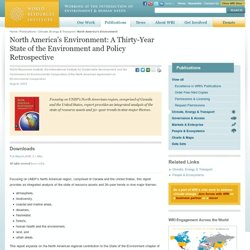 This report expands on the North American regional contribution to the State of the Environment chapter of GEO-3, published in May 2002. Permissions. EPA - Toxics Release Inventory (TRI) Program. EPA Home TRI Home TRI is a database containing data on disposal or other releases of over 650 toxic chemicals from thousands of U.S. facilities and information about how facilities manage those chemicals through recycling, energy recovery, and treatment.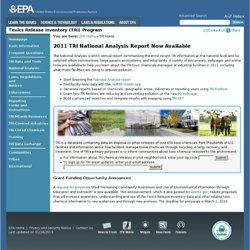 SCORECARD - POLLUTION LOCATOR | Toxic Chemical Releases. Over 4 billion pounds of toxic chemicals are released by industry into the nation's environment each year, including 72 million pounds of recognized carcinogens.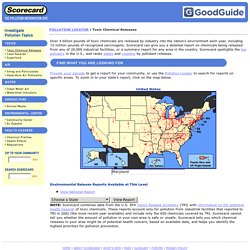 Scorecard can give you a detailed report on chemicals being released from any of 20,000 industrial facilities, or a summary report for any area in the country. Scorecard spotlights the top polluters in the U.S., and ranks states and counties by pollutant releases. National Center for Health Statistics. THE WHITE HOUSE - page environment. USDA - Natural Resources and Environment. EPA - 2008 - Report on the Environment. The Report on the Environment (ROE) presents the best available indicators of information on national conditions and trends in air, water, land, human health, and ecological systems that address 23 questions EPA considers mission critical to protecting our environment and human health.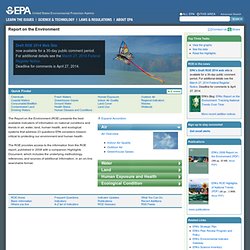 The ROE provides access to the information from the ROE report, published in 2008 with a companion Highlights Document, which includes the underlying methodology, references, and sources of additional information, in an on-line searchable format. US Environmental Protection Agency.
---