Autres informations concernant les termites
Termite
Termites are a group of eusocial insects that, until recently, were classified at the taxonomic rank of order Isoptera (see taxonomy below), but are now accepted as the epifamily Termitoidae , of the cockroach order Blattodea . While termites are commonly known, especially in Australia , as " white ants ", they are only distantly related to the ants. Like ants , and some bees and wasps —which are all placed in the separate order Hymenoptera —termites divide labor among castes, produce overlapping generations and take care of young collectively.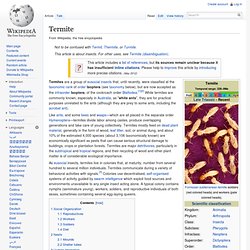 Isoptera
BIOSECURITY NZ - Australian Subterranean Termite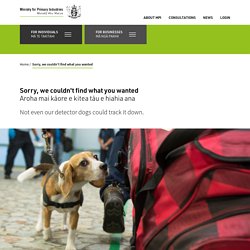 Coptotermes acinaciformis
TEXAS DEPARTMENT OF AGRICULTURE - Termite FAQs
WASHINGTON STATE UNIVERSITY - termites : biology, prevention and control
BOIS ET FORÊTS DES TROPIQUES, 2005, N° 283 (1) Les termites : outils de détermination des espèces (cas des Reticulitermes en Eur
UNIVERSITE PARIS 6 22/12/87 Thèse en ligne : Rôle des termites dans des plantations forestières du Cap-vert (MBAO, Senegal)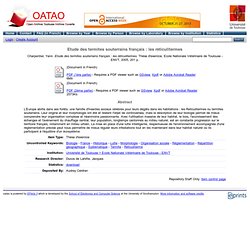 Charpentier, Yann . Etude des termites souterrains français : les réticulitermes.
ENVT - 2005 - Etude des termites souterrains français : les réticulitermes
Étude et Gestion des Sols, Volume 12, 2, 2005 Petite histoire des connaissances acquises sur les termites et leur rôle agroécolo
Proceedings of the Fifth International Conference on Urban Pests 2005. BIOLOGICAL CONTROL IN TERMITE MANAGEMENT: THE POTENTIAL O
Rapport N° 184: Lutte contre les termites
DIRECTION GENERALE DE L'URBANISME - 2002 - Lutte contre les termites (prévention ; réglementation)
observatoire national termite, accueil
TECHNO - JM-CUSSOUS - LES TERMITES, INSECTES CONQUERANTS
PREFECTURE DES BOUCHES DU RHONE - SEPT 2007 - Les termites de France continentale