Actualités concernant les signes de résistance de Diabrotica vir
LE MONDE 01/09/11 Un maïs OGM Monsanto mis en échec par l'"insecte à 1 milliard de dollars"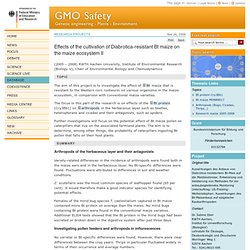 Nov 26, 2008 Research Projects Print Send (2005 – 2008) RWTH Aachen University, Institute of Environmental Research (Biology V), Chair of Environmental Biology and Chemodynamics
GMO SAFETY 26/11/08 Effects of the cultivation of Diabrotica-resistant Bt maize on the maize ecosystem II
ARS USDA - SEPT 2010 - Rooting Out Rootworm Resistance
Background Crops engineered to produce insecticidal toxins derived from the bacterium Bacillus thuringiensis (Bt) are planted on millions of hectares annually, reducing the use of conventional insecticides and suppressing pests. However, the evolution of resistance could cut short these benefits. A primary pest targeted by Bt maize in the United States is the western corn rootworm Diabrotica virgifera virgifera (Coleoptera: Chrysomelidae).
PLOS 29/06/11 Field-Evolved Resistance to Bt Maize by Western Corn Rootworm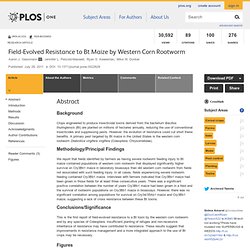 Sci Total Environ. 2011 Jun 1;409(13):2674-84. Epub 2011 Apr 20. Assessing the risk posed to free-living soil nematodes by a gen
Journal of Economic Entomology - JUIN 2011 - Selection for Cry3Bb1 Resistance in a Genetically Diverse Population of Nondiapausi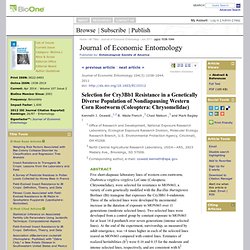 Alstad, D. N., and D. A. Andow. 1996 . Implementing management of insect resistance to transgenic crops.
URBANA – Organic foods have gone from being specialty items in health food stores to lining the shelves of mainstream supermarkets. Sales of organic products have climbed from $3.6 billion to $24.4 billion in the past 10 years alone, but many consumers don't know what makes a food organic and whether the label is worth paying for, said a University of Illinois Extension nutrition and wellness educator.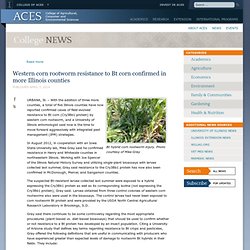 UNIVERSITY OF ILLINOIS 24/08/11 Severe root damage to Bt corn confirmed in northwestern Illinois
By Rady Ananda Food Freedom Nature herself may be the best opponent of genetically modified crops and pesticides. Not only plants , but insects are also developing resistance. The Western rootworm beetle – one of the most serious threats to corn – has developed resistance to Monsanto's Bt-corn, and entire crops are being lost. [ Image ]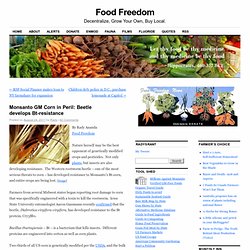 FOOD FREEDOM 24/08/11 Monsanto GM Corn in Peril: Beetle develops Bt-resistance
AP 29/08/11 Monsanto shares slip on bug-resistant corn woes
AFP 30/08/11 Un maïs OGM cible d'un insecte auquel il devait résister
K STATE EXTENSION - AGRONOMY E-UPDATES 12/08/11 Au sommaire: Corn rootworm resistance to Bt trait documented in Iowa
AGPROFESSIONAL 05/08/11 Iowa reports first in-field resistance to Bt corn
Home > Newsroom > Iowa reports first in-field resistance to Bt corn Colleen Scherer, Managing Editor, Ag Professional | August 5, 2011 ShareThis resize text The first documented case of in-field resistance to Bt corn targeting rootworms has been confirmed recently in Iowa. Aaron Gassman, Iowa State University entomologist, and other researchers had received multiple reports of high damage to Bt corn in northeastern Iowa. The group collected adults and eggs from the area.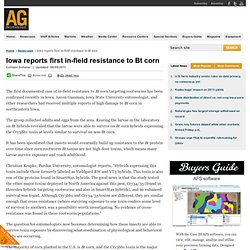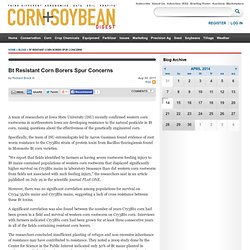 A team of researchers at Iowa State University (ISU) recently confirmed western corn rootworms in northwestern Iowa are developing resistance to the natural pesticide in Bt corn, raising questions about the effectiveness of the genetically engineered corn.
CORN AND SOY BEAN DIGEST 30/08/11 Bt Resistant Corn Borers Spur Concerns
Aachen University - 2011 - Thèse en ligne : Potential impact of Diabrotica resistant Bt-maize expressing Cry3Bb1 on ground beetl
Si le lien ci-dessus AACHEN UNIVERSITY ne s'ouvre pas, accès via CACHE.