Actualités concernant les signes de résistance de Diabrotica vir
LE MONDE 01/09/11 Un maïs OGM Monsanto mis en échec par l'"insecte à 1 milliard de dollars" LE MONDE | • Mis à jour le | Par Hervé Morin L'"insecte à 1 milliard de dollars", comme l'ont surnommé les agriculteurs américains, a une nouvelle fois déjoué les défenses qu'ils avaient disposées contre lui dans leurs champs, sur les conseils de Monsanto.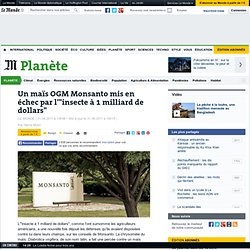 La chrysomèle du maïs, Diabrotica virgifera, de son nom latin, a fait une percée contre un maïs transgénique de la firme américaine. Le petit coléoptère avait déjà développé une stratégie pour échapper à la rotation des cultures, qui vise à le priver de sa pitance favorite lors de son éclosion : il s'est déjà montré capable de survivre sur du soja et de surseoir un an ou deux à la sortie de terre pour se retrouver dans son cher maïs. Les agriculteurs américains, qui ont aussi vu l'efficacité des insecticides diminuer au fil des ans, croyaient avoir trouvé la parade ultime, avec un OGM capable de produire lui-même une toxine grâce à un gène transplanté d'une bactérie, Bacillus thuringiensis.
GMO SAFETY 26/11/08 Effects of the cultivation of Diabrotica-resistant Bt maize on the maize ecosystem II. Nov 26, 2008 Research Projects Print Send (2005 – 2008) RWTH Aachen University, Institute of Environmental Research (Biology V), Chair of Environmental Biology and Chemodynamics.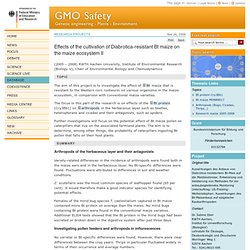 ARS USDA - SEPT 2010 - Rooting Out Rootworm Resistance. PLOS 29/06/11 Field-Evolved Resistance to Bt Maize by Western Corn Rootworm. Background Crops engineered to produce insecticidal toxins derived from the bacterium Bacillus thuringiensis (Bt) are planted on millions of hectares annually, reducing the use of conventional insecticides and suppressing pests.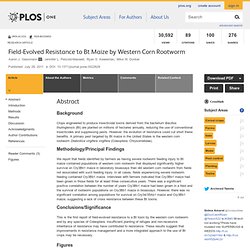 However, the evolution of resistance could cut short these benefits. A primary pest targeted by Bt maize in the United States is the western corn rootworm Diabrotica virgifera virgifera (Coleoptera: Chrysomelidae). Sci Total Environ. 2011 Jun 1;409(13):2674-84. Epub 2011 Apr 20. Assessing the risk posed to free-living soil nematodes by a gen. Journal of Economic Entomology - JUIN 2011 - Selection for Cry3Bb1 Resistance in a Genetically Diverse Population of Nondiapausi. Alstad, D.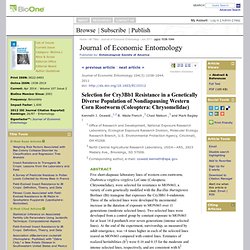 N., and D. A. Andow. 1996. Implementing management of insect resistance to transgenic crops. FOOD FREEDOM 24/08/11 Monsanto GM Corn in Peril: Beetle develops Bt-resistance. By Rady AnandaFood Freedom Nature herself may be the best opponent of genetically modified crops and pesticides.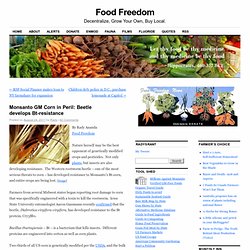 Not only plants, but insects are also developing resistance. The Western rootworm beetle – one of the most serious threats to corn – has developed resistance to Monsanto's Bt-corn, and entire crops are being lost. AP 29/08/11 Monsanto shares slip on bug-resistant corn woes. AFP 30/08/11 Un maïs OGM cible d'un insecte auquel il devait résister. K STATE EXTENSION - AGRONOMY E-UPDATES 12/08/11 Au sommaire: Corn rootworm resistance to Bt trait documented in Iowa. AGPROFESSIONAL 05/08/11 Iowa reports first in-field resistance to Bt corn. The first documented case of in-field resistance to Bt corn targeting rootworms has been confirmed recently in Iowa.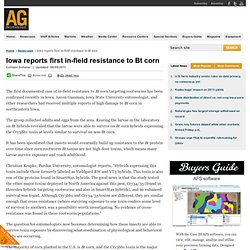 Aaron Gassman, Iowa State University entomologist, and other researchers had received multiple reports of high damage to Bt corn in northeastern Iowa. The group collected adults and eggs from the area. Rearing the larvae in the laboratory on Bt hybrids revealed that the larvae were able to survive on Bt corn hybrids expressing the Cry3Bb1 toxin at levels similar to survival on non-Bt corn. It has been speculated that insects would eventually build up resistance to the Bt protein over time since corn rootworm Bt toxins are not high dose toxins, which means many larvae survive exposure and reach adulthood. Christian Krupke, Purdue University, entomologist reports, "Hybrids expressing this toxin include those formerly labeled as Yieldgard RW and VT3 hybrids. CORN AND SOY BEAN DIGEST 30/08/11 Bt Resistant Corn Borers Spur Concerns.
A team of researchers at Iowa State University (ISU) recently confirmed western corn rootworms in northwestern Iowa are developing resistance to the natural pesticide in Bt corn, raising questions about the effectiveness of the genetically engineered corn.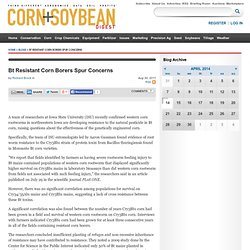 Specifically, the team of ISU entomologists led by Aaron Gassman found evidence of root worm resistance to the Cry3Bb1 strain of protein toxin from Bacillus thuringiensis found in Monsanto Bt corn varieties. "We report that fields identified by farmers as having severe rootworm feeding injury to Bt maize contained populations of western corn rootworm that displayed significantly higher survival on Cry3Bb1 maize in laboratory bioassays than did western corn rootworm from fields not associated with such feeding injury," the researchers said in an article published on July 29 in the scientific journal PLoS ONE. Aachen University - 2011 - Thèse en ligne : Potential impact of Diabrotica resistant Bt-maize expressing Cry3Bb1 on ground beetl.
Si le lien ci-dessus AACHEN UNIVERSITY ne s'ouvre pas, accès via CACHE.
---