GTU Special Collections
Graduate Theological Union: Digital Content
Graduate Theological Union Digital Library Remembering Theological Education in the Sixties, GTU Oral History Collection - 1988, Publications, and Videos.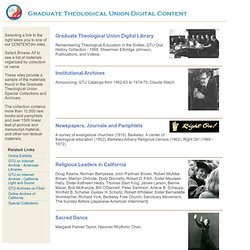 Institutional Archives
Graduate Theological Union - Newspapers, Journals and Pamphlets
Religious Leaders of California
Sacred Dance
Use Of The Archives Collections in the GTU Archives are open to researchers whether faculty, student, or interested individual unless any restrictions are placed by the donor or the GTU Administration to protect privacy or confidentiality. Finding aids to most of the collections are available at the reference desk or listed in the catalog record in Grace , where they can be searched by title, personal names, subjects and keyword. Many of the collections are listed on Online Archive of California (OAC) and can be searched by keyword. A list of the manuscript collection by title is available online.
Info
Notes from the Archives
Finding Aids
GTU Online Exhibits
Elsie Thomas Culver: Overseas Relief After World War II
Elsie Thomas Culver, a publicist for church relief services in New York City, packed her camera, hopped on a troop ship to England and then traveled through Europe on a fact finding mission in late 1945. She writes: I went avowedly to meet and talk with the common people, to hear their stories, and to let them know, so far as one person could, that the Christian people of America do care what has been happening to them, and want to share their burdens as far as possible by gifts of money and material goods.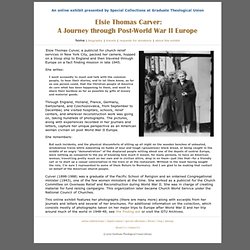 King James Bible Exhibit
Graduate Theological Union: Art Exhibits in the Library
Douglas G. Adams Collection: Introduction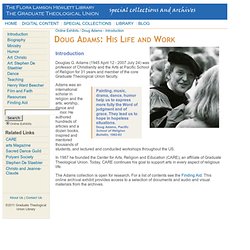 Douglas G.
Robert McAfee Brown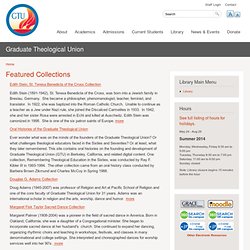 Featured Collections
Oral Histories of the Graduate Theological Union Ever wonder what was on the minds of the founders of the Graduate Theological Union? Or what challenges theological educators faced in the Sixties and Seventies? Or at least, what they later remembered.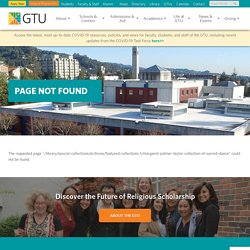 Margaret Palmer Taylor Sacred Dance
Margaret Palmer (1908-2004) was a pioneer in sacred dance in America. Born in Oakland, California, she was a daughter of a Congregational minister. The family moved to Honolulu in 1917, where she learned creative dance in school.
Thomas Starr King, to the Sunday School Scholars and Teachers of Hollis Street Society, Boston, Massachusetts, May 25, 1860: You cannot imagine, children, how splendid the flowers are here. Three weeks ago, before the leaves had come out on the trees in Boston, the whole country was brilliant with the brightest colors of wild flowers.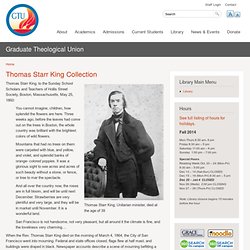 Thomas Starr King Collection
Albert Gleaves Cohen served as campus minister with United Ministries in Higher Education (UMHE) at California State University Fullerton (1965-69) and California State University in Los Angeles (1969-97). The Cohen Campus Ministry, Social Justice and Environment collection contains his activities on campus and off for civil rights, minority causes, social justice, population, student issues, and intelligent stewardship of the environment. Cohen (1928- ) grew up in Philadelphia. He graduated as an engineer from the United States Naval Academy in 1949 . He toured the Seas of Japan on USS Floyd B. Parks prior to the Korean War and later served as an engineer on the USS K-1 submarine and the USS Catfish.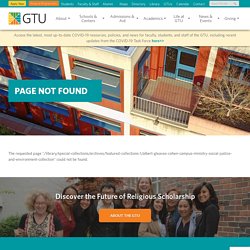 Albert Gleaves Cohen Collection
Robert McAfee Brown Collection
Robert McAfee Brown taught theology and religious studies at Macalister College (St. Paul), Union Theological Seminary (NY), Stanford University, and Pacific School of Religion (PSR). He emerged in the sixties as one of America's most prominent theologians and activists for social justice. In the following talk given during his years at PSR (1979-1984), he reflects on the role of the church, its ministers and seminary education. Reflections on the Ministry
The Radical Religion Collection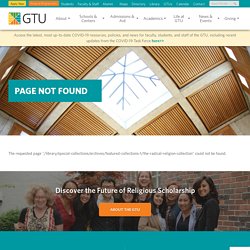 In 1973, the Berkeley Free Church which had operated in the South Campus area of Berkeley since 1967, closed its doors, taking time to contemplate its future work. The former staff and board decided to conclude its ministry of survival services to street people and continue its publication arm in a new direction. This resulted in the creation of Radical Religion: A Quarterly Journal of Critical Opinion (1973-81). Those who published the journal formed a collective, the Community for Religious Research and Education.
Sanctuary Movement
From The Public Sanctuary Movement: An Historical Basis of Hope: Oral Histories, Eileen M. Purcell On March 24, 1982, five congregations in Berkeley, California, and one congregation in Tucson, Arizona, publicly declared their commitment to "protect, defend and advocate for" Salvadorean and Guatemalan men, women and children fleeing their war ravaged countries of Central America. Conditions in El Salvador and Guatemala pushed people to leave their lands, their families, their professions and their plans behind, often with little more than the clothes on their backs. As thousands of refugees fled the wars in El Salvador and Guatemala, U.S. church groups were called to respond.
Anne McGrew Bennett
Day of "Civil Obedience" 1970 I, Anne M. Bennett, resident of New York City, aged 66, arrested and charged with "disorderly conduct." There were some 181 other adults so charged and 15 minors released without charge.
During World War II, Elsie Thomas Culver (1898-1988), a graduate of the Pacific School of Religion and ordained a Congregational minister (1943), worked for the Church Committee on Overseas Relief and Reconstruction (which later became Church World Service under the National Council of Churches). As a publicist, she was in charge of creating material for fund raising campaigns. When the war ended in May 1945, Elsie, at the age of 47, packed up her camera and traveled throughout Europe that September through December. Through Holland, France, Germany, and Czechoslovakia, she visited hospitals, schools, relief centers, anywhere where reconstruction work was going on, taking hundreds of photographs. Each photograph is numbered, and all have explanatory captions on the back.
The Elsie Thomas Culver Collection
Center for Women and Religion at the GTU was the earliest established center for women in theological education. It was founded in 1970 as the Office of Women's Affairs by Bay Area women in religion, including some GTU women, who recognized "that seminary women at the GTU schools needed a channel, an advocate, an office through which to express their needs and concerns." It operated originally out of Unitas, the campus ministry program at UC, Berkeley. Soon, OWA became affiliated with the GTU. In 1977, the name was changed to the Center for Women and Religion.
The Center for Women and Religion Collection
Frankl Collection and Logotherapy ? Graduate Theological Union
The Viktor E. Frankl Collection The GTU archives has one of the most important collections of Viktor Frankl and Logotherapy materials in the United States. Dr. Viktor E.
New Religious Movements — Graduate Theological Union