Diseño interior
Modern Furniture, Contemporary Furniture, Modern Design, Canada USA | Next Modern Home. Better Homes and Gardens - Home Decorating, Remodeling and Design Ideas, Gardening, Recipes. 11 Beautiful Home Interior Design Styles. Decorating styles have evolved over the centuries in response to the changing tastes of various groups of people.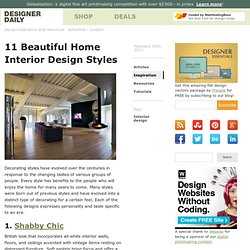 Every style has benefits to the people who will enjoy the home for many years to come. Many styles were born out of previous styles and have evolved into a distinct type of decorating for a certain feel. Each of the following designs expresses personality and taste specific to an era. 1. Shabby Chic. The style files. Dominique Vorillon. Dear Dominique Vorillon, You don't know me but I have devoured every image in your portfolio and I'm sorry but it leaves me wanting ... wanting more and more and more.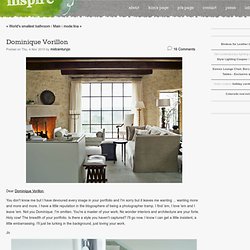 I have a little reputation in the blogosphere of being a photographer tramp. 11 Beautiful Home Interior Design Styles. 3d Planner : Design your home in realistic 3d. 3d Planner : Design your home in realistic 3d. Less is the New More: Making the Most of Small Spaces : TreeHugger - StumbleUpon. Good Design For Living in Small ApartmentsAs people migrate to smaller spaces, good design helps a lot.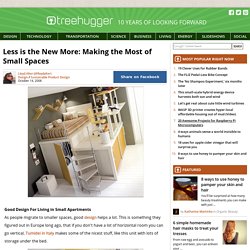 This is something they figured out in Europe long ago, that if you don't have a lot of horizontal room you can go vertical. Tumidei in Italy makes some of the nicest stuff, like this unit with lots of storage under the bed. This unit just raises the floor high enough for beds to slide under. This one looks a bit clinical, but has two single beds plus a pull-out double bed in between. When you read in the New York Times that professional couples with children are moving into small one-bedroom apartments in Manhattan and sleeping in closets, perhaps this stuff could be useful. Bright.Bazaar. Inspiring DIY - StumbleUpon. Living In Color. Nina imagine pour vous... » Dans notre société de consommation en pleine mutation, une jeune et talentueuse créatrice écolo s'acquitte d'une démarche pleine de sens en évoluant dans l'univers de la récupération et de l'industriel. ↓ Passez votre souris sur les images et faites apparaître les légendes↓ Dans l'atelier de Sabrina, la table de travail est une ancienne porte de château posée sur tréteaux.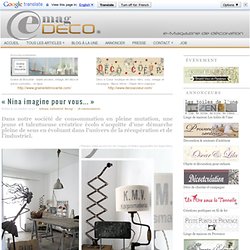 Elle a voulu pour cette pièce, des tons neutres comme le blanc des parois et le gris du sol en béton afin d'éviter toute distraction, car ses inspirations sont dictées par les objets eux-mêmes ou par son ressenti du moment.Au premier plan, une lampe à poser « Boîte Biscuits Brun » aux lignes simplissimes. Working on it - Inspiration från IKEA. Best Soft Industrial Home in the World....Ever! Oh.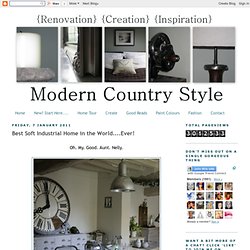 My. Good. Aunt. Working on it - Inspiration från IKEA. Inside Out - Homelife.
---