SEO Content Tips
7 Keyword Research Mistakes That Stifle Your SEO Strategy. Getting found in organic search is one of the most cost-effective means of lead generation, so it's no wonder marketers and SEOs spend plenty of time optimizing their online presence to get ranked in the SERPs for important keywords.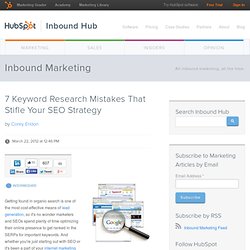 And whether you're just starting out with SEO or it's been a part of your internet marketing strategy for a while, you're probably familiar with the need to conduct keyword research to inform the content and SEO strategies that help achieve that rocking organic presence. The thing is ... there are kind of a lot of keywords out there. So which ones do you choose? How to Use Internal Linking to Improve Your Website's SEO. Great content and attracting inbound links are major elements of your SEO strategy.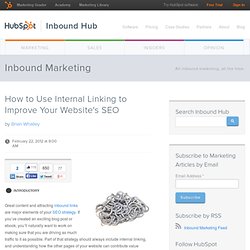 If you've created an exciting blog post or ebook, you'll naturally want to work on making sure that you are driving as much traffic to it as possible. Part of that strategy should always include internal linking, and understanding how the other pages of your website can contribute value toward your new page. How to Create Smarter Content Using Semantic Keyword Research.
---