Paiement en ligne/Crédit conso
The Payment Engineers. LD&A - Levée de fonds, Fusions -Acquisitions, LBO. Avantages marchands. Buyster.fr - e-paiement mobile. Accueil. CM-CIC paiement. FINANCIAL IT DAY. Cartes cadeaux Interiors et Chèques cadeaux Interiors à offrir. Square – Accept credit card payments with your mobile phone. Wonga.com© Official Site - Short Term Cash Loans. Je veux je clique. Bénéficiez d'un espace dédié qui vous est exclusivement réservé.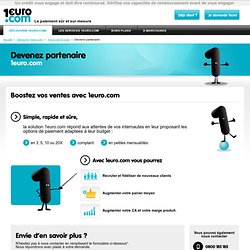 Votre accès personnalisé constitue un point central d'informations et de contacts. Augmentez vos performances et analysez tous vos résultats : vos chiffres sont accessibles grâce à des reportings détaillés. Besoin argent, Crédit, Organisme de crédit en ligne, Société de crédit. Oney.fr Votre crédit sur le Net. ReceiveAndPay. 1euro.com.
---