Praha
HC Sparta Prague - Chevaliers Kladno | billets ticketportal à atteindre - théâtre, musique, concert, festival, musique, sports. 100 Fun Things to Do in Prague: Ice Hockey - Visitors' Guide Articles for Prague, Czech Republic. 2.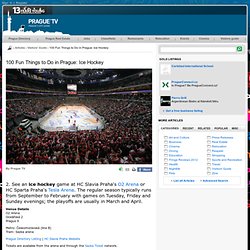 See an ice hockey game at HC Slavia Praha's O2 Arena or HC Sparta Praha's Tesla Arena. The regular season typically runs from September to February with games on Tuesday, Friday and Sunday evenings; the playoffs are usually in March and April. Venue DetailsO2 ArenaOcelářská 2Prague 9. HC Slavia Praha | oficiální internetové stránky. Home (Portal of Prague)
Pratiques. Tourisme. Kulturní centrum Vltavská. Resto / bar / club. Driving Schools. A TOUT PRAGUE - Magazine et guide français sur Prague et la République tchèque. Companies Prague - Company Catalogue. Expérience & Alternative | Musique | Prague Events Calendar. Prague, vie d'expatriés en République Tcheque - Plans et conseils - Prahoo. Studio Levandule - studio zdravé krásy. Dopravní podnik hlavního města Prahy.
---