Social Media
Selecting The Right Virtual Agent Vendor For Your eBusiness. What do Aetna, the US Army, L'Oreal, and the London 2012 Olympic Games have in common?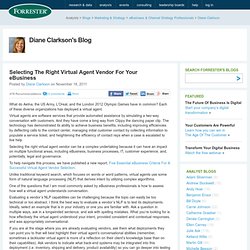 Each of these diverse organizations has deployed a virtual agent. Virtual agents are software services that provide automated assistance by simulating a two-way conversation with customers. How to create a viral marketing campaign. The state of digital marketing. Mike Geraci · Intriguing results from a brand marketing attitude... Social Consumers and the Science of Sharing [INFOGRAPHIC] If you're buying a car, do you check Facebook?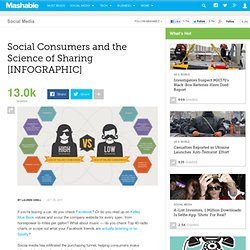 Or do you read up on Kelley Blue Book values and scour the company website for every spec, from horsepower to miles per gallon? What about music — do you check Top 40 radio charts or scope out what your Facebook friends are actually listening to on Spotify? Social media has infiltrated the purchasing funnel, helping consumers make informed decisions, from what to have for lunch to where to go on vacation. HOW TO: Start Marketing on Facebook. The Social Media 101 Series is supported by Global Strategic Management Institute.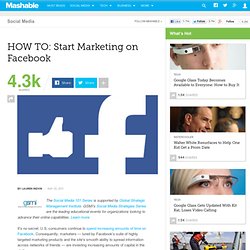 GSMI's Social Media Strategies Series are the leading educational events for organizations looking to advance their online capabilities. Learn more. It's no secret: U.S. consumers continue to spend increasing amounts of time on Facebook. Consequently, marketers — lured by Facebook's suite of highly targeted marketing products and the site's smooth ability to spread information across networks of friends — are investing increasing amounts of capital in the platform. 4 Rules of Engagement for Mobile Marketing. Carla Paschke is Director of Mobile Innovation at Engauge where she is responsible for providing best-in-class mobile strategies for clients, including Coca-Cola and Chick-fil-A.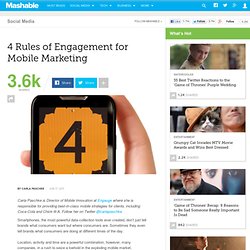 Follow her on Twitter @carlapaschke. Smartphones, the most powerful data-collection tools ever created, don't just tell brands what consumers want but where consumers are. Sometimes they even tell brands what consumers are doing at different times of the day. Location, activity and time are a powerful combination, however, many companies, in a rush to seize a toehold in the exploding mobile market, mistakenly focus on the technology instead of the people using it. HOW TO: Improve Engagement on Your Brand's Facebook Page [STATS] If you're looking to boost engagement on your brand's Facebook Page, a new report from Buddy Media has some key findings for you.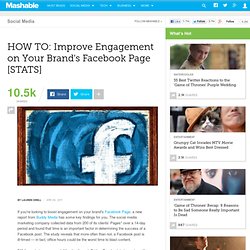 The social media marketing company collected data from 200 of its clients' Pages* over a 14-day period and found that time is an important factor in determining the success of a Facebook post. The study reveals that more often than not, a Facebook post is ill-timed — in fact, office hours could be the worst time to blast content. "While marketers may work Monday through Friday, Facebook is humming with activity 24-hours a day, seven days a week," says Buddy Media CEO Michael Lazerow. And so, brands must adapt to their consumers' schedules in order to optimize their engagement. 6 Best Practices for Media Companies on Facebook. Now a top-five referrer to the websites of many a publisher , as well as a valuable feedback tool , Facebook has become an essential part of the content and audience development strategies of most media organizations.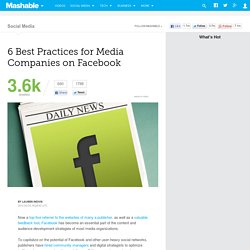 To capitalize on the potential of Facebook and other user-heavy social networks, publishers have hired community managers and digital strategists to optimize traffic and engagement on those platforms. Editors, reporters and producers are likewise tapping into Facebook, using reactions from fans to improve their storytelling methods. We spoke with several talented people fulfilling these roles at major media organizations, and we've gathered their thoughts below. Who Are The 10 Most Social Media Networked Companies on The Planet? Playing in the school yard when you were five or six quite often involved comparing how many friends you had which was helpful in calculating how much influence you had and how important you were in the schoolyard pecking order.
Forward 20, 30 or 40 years and now in 2010 you can quantify your influence and attention through social media metrics. Netprospex have taken it a step further and have quantified the top 50 companies that have the most connected employees. The 21 Greatest SEO Myths of the Modern World. Sep 22 2011 They say that ignorance is bliss and knowledge is power but somewhere between these clichés there's a spot reserved for individuals who possess a little too much knowledge to be blissful but still only enough knowledge to be dangerous.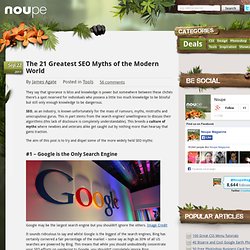 SEO, as an industry, is known unfortunately for the mass of rumours, myths, mistruths and unscrupulous gurus. This in part stems from the search engines' unwillingness to discuss their algorithms (this lack of disclosure is completely understandable). This breeds a culture of myths where newbies and veterans alike get caught out by nothing more than hearsay that gains traction. 20+ Mind-blowing social media statistics: One year later. It's been more than twelve months since I rounded up some of the more impressive social media stats and pieces of data.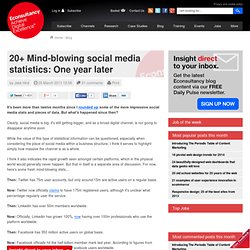 But what's happened since then? Clearly, social media is big, it's still getting bigger, and as a broad digital channel, is not going to disappear anytime soon. While the value of this type of statisitical information can be questioned, especially when considering the place of social media within a business structure, I think it serves to highlight simply how massive the channel is as a whole.
---