Pétrole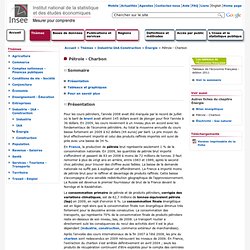 Industrie-IAA-Construction - Pétrole - Charbon
Sommaire Présentation Pour les cours pétroliers, l'année 2008 avait été marquée par le record de juillet où le baril de brent avait atteint 145 dollars avant de plonger pour finir l'année à 36 dollars. En 2009, les cours reviennent à un niveau plus en accord avec les fondamentaux de l'économie pétrolière.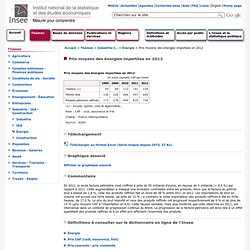 Téléchargement Télécharger au format Excel (Série longue depuis 1973, 27 Ko) Graphique associé
Industrie-IAA-Construction - Prix moyens des énergies importées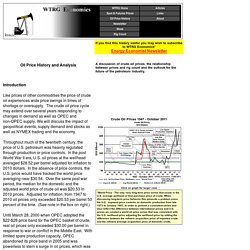 OPEC has seldom been effective at controlling prices. Often described as a cartel, OPEC does not fully satisfy the definition. One of the primary requirements of a cartel is a mechanism to enforce member quotas. An elderly Texas oil man posed a rhetorical question: What is the difference between OPEC and the Texas Railroad Commission?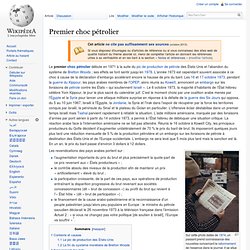 Un article de Wikipédia, l'encyclopédie libre. Le premier choc pétrolier débute en 1971 à la suite du pic de production de pétrole des États-Unis et l'abandon du système de Bretton Woods ; ses effets se font sentir jusqu'en 1978. L'année 1973 est cependant souvent associée à ce choc à cause de la déclaration d'embargo accélérant encore la hausse de prix du baril. Les 16 et 17 octobre 1973, pendant la guerre du Kippour, les pays arabes membres de l'OPEP, alors réunis au Koweït, annoncent un embargo sur les livraisons de pétrole contre les États « qui soutiennent Israël ». Le 6 octobre 1973, la majorité d'habitants de l'État hébreu célèbre Yom Kippour, le jour le plus sacré du calendrier juif.
Premier choc pétrolier