Malouines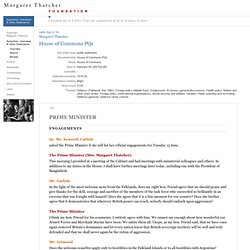 Q1. Mr. Kenneth Carlisle asked the Prime Minister if she will list her official engagements for Tuesday 15 June.
House of Commons PQs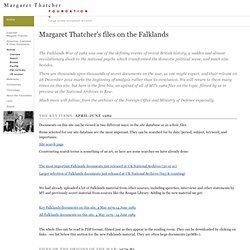 The Falklands War of 1982 was one of the defining events of recent British history, a sudden and almost revolutionary shock to the national psyche which transformed the domestic political scene, and much else besides. There are thousands upon thousands of secret documents on the war, as one might expect, and their release on 28 December 2012 marks the beginning of analysis rather than its conclusion. We will return to them many times on this site, but here is the first bite, an upload of all of MT's 1982 files on the topic, filmed by us in preview at the National Archives in Kew. Much more will follow, from the archives of the Foreign Office and Ministry of Defence especially. the key items: april-june 1982 Documents on this site can be viewed in two different ways: in the site database or as whole files.
1982: the Falklands
Speech at Franco-British Council Dinner
Speech at Franco-British Council Dinner
1983 MT files
A year after the Falklands War, Margaret Thatcher went to the polls and the country gave its verdict. Her party won a majority of 144 and she became the first Conservative for the best part of a century to win two elections in a row. Her private papers for the year are now being released at the Churchill Archive Centre in Cambridge, two months after the opening of her official files for the year at the National Archives in Kew. All have been digitised and the best will go online, including ALL of her official files for the year. We are featuring also the vivid personal diary of MT's economic adviser, Alan Walters.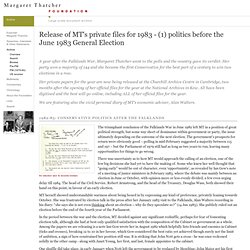 House of Commons PQs
House of Commons PQs
Q1. Mr. Alton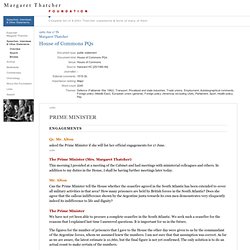 Interviewer ( Richard C Hottelet) Prime Minister, you have just won a clear victory in the South Atlantic and you are being urged to be magnanimous in victory. What do you think of that advice and of the people who offer it? The Prime Minister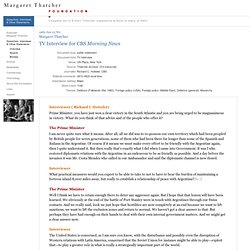 TV Interview for CBS Morning News
The Prime Minister (Mrs. Margaret Thatcher) With permission, Mr. Speaker, I shall make a statement about the meeting of the European Council which I attended in Brussels on 28 and 29 June with my right hon. Friend [ Francis Pym] the Secretary of State for Foreign and Commonwealth Affairs. That meeting of the European Council was dominated.
HC Stmnt: [Brussels European Council]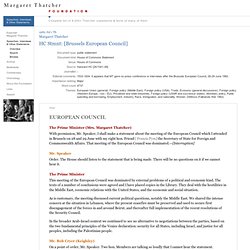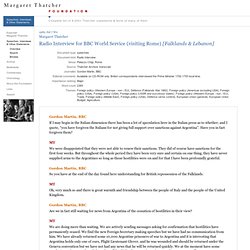 Gordon Martin, BBC If I may begin in the Italian dimension there has been a lot of speculation here in the Italian press as to whether, and I quote, "you have forgiven the Italians for not giving full support over sanctions against Argentina". Have you in fact forgiven them? We were disappointed that they were not able to renew their sanctions. They did of course have sanctions for the first four weeks. But throughout the whole period they have been very sure and certain on one thing, they have never supplied arms to the Argentines so long as those hostilities were on and for that I have been profoundly grateful.
Radio Interview for BBC World Service (visiting Rome) [Falklands & Lebanon]
TV Interview for IRN (visiting Paris)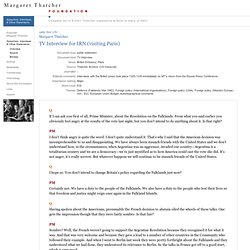 If I can ask you first of all, Prime Minister, about the Resolution on the Falklands. From what you said earlier you obviously feel angry at the results of the vote last night, but you don't intend to do anything about it. Is that right? I don't think angry is quite the word.
A/RES/37/9. Question of the Falkland Islands (Malvinas)
archives.assemblee-nationale.fr/7/cri/1982-1983-ordinaire1/068
Un premier forage pétrolier britannique doit commencer ce lundi sur une plate-forme au large des Malouines, qui pourrait raviver la tension entre l'Argentine et la Grande-Bretagne sur l'archipel disputé, selon la BBC. La plate-forme pétrolière a été remorquée jusqu'à son installation à 100 km des côtes au nord des Malouines et le forage devait démarrer à 06h00 GMT, selon la radio. Le sous-sol des Malouines abrite des réserves estimées jusqu'à 60 milliards de barils, mais, selon un porte-parole de la Desire Petroleum, la compagnie pétrolière en charge des opérations, les quantités commercialisables devraient être très inférieures. La perspective de forages pétroliers britanniques près de l'archipel a ravivé la tension avec Buenos Aires, qui continue de revendiquer la souveraineté sur les îles, même si la diplomatie argentine a écarté l'option militaire aux Malouines.
Un forage pétrolier au large des Malouines ravive les tensions -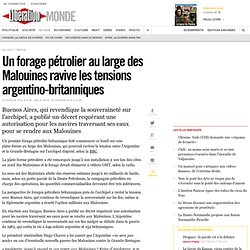 Le pétrole réveille le conflit des Malouines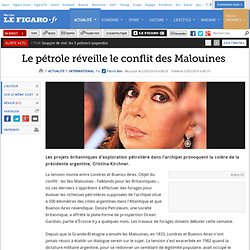 Les projets britanniques d'exploration pétrolière dans l'archipel provoquent la colère de la présidente argentine, Cristina Kirchner. La tension monte entre Londres et Buenos Aires. Objet du conflit : les îles Malouines - Falklands pour les Britanniques -, où ces derniers s'apprêtent à effectuer des forages pour évaluer les richesses pétrolières supposées de l'archipel situé à 500 kilomètres des côtes argentines dans l'Atlantique et que Buenos Aires revendique.
LE MONDE | • Mis à jour le | Par Jean-Pierre Langellier et Marc Roche Vingt-huit ans après la guerre des Malouines entre le Royaume-Uni et l'Argentine, qui coûta la vie à 649 soldats argentins et 255 britanniques, le conflit de souveraineté sur cet archipel de l'Atlantique sud donne lieu depuis une semaine à une bataille de communiqués entre Londres et Buenos Aires. Le contentieux autour des îles Malouines (Falklands pour les Britanniques) s'est réveillé après la décision de Londres d'autoriser des forages pétroliers au large de ces deux petits bouts de terre froide et marécageuse situés à 600 km de la Terre de feu, peuplés de 3 140 habitants et de 500 000 moutons, où l'Union Jack flotte depuis 1833.
La prospection pétrolière britannique aux Malouines ranime les t
JSTOR: Journal of Latin American Studies, Vol. 33, No. 4 (Nov., 2001), pp. 777-806
BBC Radio 4 - Document - Episode guide
Résumé En mars 1982, la dictature argentine du général Galtieri décide d'envahir les îles Malouines. A Londres, la réplique ne se fait pas attendre : Margaret Thatcher ordonne le départ d'une flotte pour reprendre l'archipel. Mais les Argentins attaquent les navires britanniques avec leurs avions, équipés de missiles Exocet de fabrication française. Le 4 mai 1982, le destroyer «HMS Sheffield» est coulé par une de ces armes.
L'affaire des missiles Exocet, Malouines 1982 - Mardi 9 Juillet 03h30
GUERRE DES MALOUINES – Quand la France rendait des services à l'Argentine
Dans ses mémoires, l'ancien secrétaire d'Etat à la défense britannique, sir John Nott, explique que la France a été "le meilleur des alliés" durant la guerre des Malouines. Pourtant, comme le rapporte la BBC, document à l'appui, le soutien français est plus nuancé que ne le présente l'histoire officielle des relations internationales. En effet, si François Mitterrand a très vite déclaré un embargo sur les armes en direction de la junte militaire au pouvoir en Argentine, plusieurs mémos diplomatiques révélés par la chaîne britannique montrent que plusieurs personnes dans l'appareil d'Etat français ne partageaient pas l'avis du président. Dans l'un d'eux, l'ambassadeur français à Londres, Emmanuel de Margerie, décrit Margaret Thatcher comme "victorienne, impérialiste et obstinée" et ajoute qu'"elle a tendance à se laisser emporter par ses instincts belliqueux".
Double-jeu de la France aux Malouines
Argentina (French Arms Sales) (Hansard, 22 November 1982)
Early life[edit] The son of Richard Nott and Phyllis née Francis, Nott was educated at Bradfield College and was commissioned as a regular officer in the 2nd Gurkha Rifles in Malaysia (1952–1956). He left to study law and economics at Trinity College, Cambridge, where he was President of the Cambridge Union Society. At Cambridge he met his future wife Miloshka, herself a refugee from Communist Slovenia (Yugoslavia). They have two sons and a daughter.
John Nott
Here today, gone tomorrow: recollections of an errant politician - John Nott
Margaret Thatcher: The Autobiography - Margaret Thatcher
Margaret Thatcher is the towering political figure of late-twentieth-century Great Britain. No other prime minister in modern times sought to change the British nation and its place in the world as radically as she did. Published in a single volume for the first time, Margaret Thatcher is the story of her remarkable life told in her own words--the definitive account of an extraordinary woman and consummate politician, bringing together her bestselling memoirs The Downing Street Years and The Path to Power. Writing candidly about her upbringing and early years and the formation of her character and values, she details the experiences that propelled her to the very top in a man's world.
Thatcher's War: The Iron Lady on the Falklands - Margaret Thatcher
François Heisbourg
La Guerre des Malouines trente ans après
La guerre des Malouines : enjeux et représentations 1982-2012
La guerre des Malouines - Charles Maisonneuve, Pierre Razoux
The Official History of the Falklands Campaign, Volume 1: The Origins of the ... - Lawrence Freedman
The Official History of the Falklands Campaign: War and diplomacy - Lawrence Freedman
The Sovereignty Dispute Over the Falkland (Malvinas) Islands - Lowell S. Gustafson
Sovereignty in dispute: the Falklands/Malvinas, 1493-1982 - Fritz Leo Hoffmann, Olga Mingo Hoffmann
The Falklands sting: Reagan, Thatcher, and Argentina's bomb - Richard C. Thornton
Des intérêts difficilement conciliables : l'Italie, l'Europe et la crise des Falkland (avril-juin 1982)
Les eaux territoriales des Malouines sujet d'une nouvelle querel
International Affairs (Royal Institute of International Affairs 1944-), Vol. 74, No. 3 (Jul., 1998), pp. 617-630
Journal of Latin American Studies, Vol. 33, No. 4 (Nov., 2001), pp. 777-806
Malouines, histoire d'un contentieux multiséculaire
Un pirate publie un plaidoyer pro-argentin sur un site internet