Classicisme
The Art of creative photography - Platon Rivellis. On Art, Photography, Fashion and Aesthetics (Some thoughts on the occasion of a photography exhibition) Entrusting the curatorship of an exhibition dedicated to fashion photography to a person who knows and loves photography as an art, but who is unacquainted with fashion, can only raise numerous questions.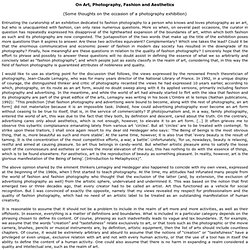 More so when, on several past occasions, the curator in question has repeatedly expressed his disapproval of the lighthearted expansion of the boundaries of art, within which both fashion as such and its photography are now congested. The juxtaposition of the two words that make up the title of the exhibition poses more questions than it aspires to answer. Nelly's. Elli (Greek: Έλλη Σουγιουλτζόγλου-Σεραϊδάρη) b.1899 - d.1998 (better known as Nelly's) was a Greek female photographer whose pictures of ancient Greek temples set against sea and sky backgrounds helped shaped the visual image of Greece in the Western mind (or, in a critical reading, the West's visual image of Greece in the Greek mind)[1] At some point she was referred to as "the Greek Leni Riefenstahl" because of her collaboration with the 4th of August Regime (1936-1941), of which she was one of its most prolific photographers.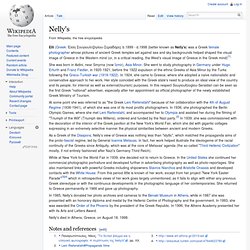 KATERINA SARRI WEBTOPOS - Nelly. Nelly's, A Greek photographer. A Journal of Foreign Policy Issues Nelly's, A Greek photographer By Despina Metaxa, Press Advisor to the Minister of Foreign Affairs.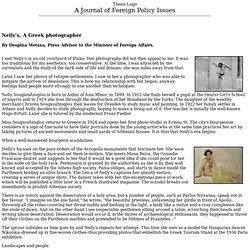 I met Nelly's in an old courtyard of Plaka. Her photography did not then appeal to me. The Russian (Hongrois) Dancer Nikolska at the Parthenon 1929 by Nelly (Elli Seraidari) Nelly's Photographs of Nikolska. Herbert List. Un article de Wikipédia, l'encyclopédie libre.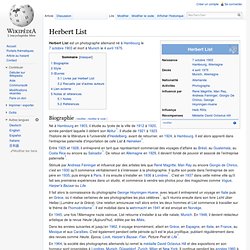 Herbert List est un photographe allemand né à Hambourg le et mort à Munich le . Biographie[modifier | modifier le code] Né à Hambourg en 1903, il étudie au lycée de la ville de 1912 à 1920, année pendant laquelle il obtient son Abitur[1]. Il étudie de 1921 à 1923 l'histoire de la littérature à l'université d'Heidelberg, avant de retourner, en 1924, à Hambourg. Il est alors apprenti dans l'entreprise paternelle d'importation de café List & Heineken[1]. Herbert List. Homoérotisme. 400x400-J-GE-SPI-001A.jpg (Image JPEG, 323x400 pixels) Herbert List Estate - bio. HERBERT LIST October 7th, 1903 - April 4th, 1975 Born into a prosperous Hamburg merchant family, List begins in 1921 an apprenticeship at a Heidelberg coffee dealer and studies literature and art history at Heidelberg University.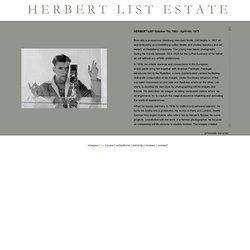 The young man takes photographs during his travels between 1924-1928 for the coffee business of his father, as yet without any artistic pretensions. In 1930, his artistic leanings and connections to the European avant-garde bring him together with Andreas Feininger. Leni Riefenstahl. Un article de Wikipédia, l'encyclopédie libre.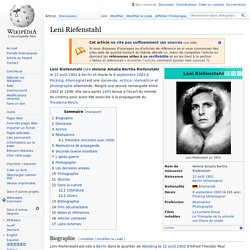 Leni Riefenstahl Photo de Leni Riefenstahl prise par le photographe Karl Schenker en 1923. Indécente réhabilitation de Leni Riefenstahl, par Lionel Richard. Le 22 août 2002, Leni Riefenstahl atteignait l'âge de 100 ans.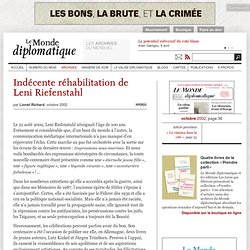 Evénement si considérable que, d'un bout du monde à l'autre, la communication médiatique internationale n'a pas manqué d'en répercuter l'écho. Cette marche au pas fut orchestrée avec la sortie sur les écrans de sa dernière œuvre : Impressions sous-marines. Et nous voilà bombardés des expressions stéréotypées de circonstance, la toute nouvelle centenaire étant présentée comme une « éternelle jeune fille », une « figure mythique », une « légende vivante », une « aventurière fabuleuse » !...
Dans les nombreux entretiens qu'elle a accordés après la guerre, ainsi que dans ses Mémoires de 1987, l'ancienne égérie de Hitler s'épuise à s'autojustifier. LENI RIEFENSTAHL. Leni Riefenstahl: BIOGRAPHY. Leni Riefenstahl: the seduction of ... Leni Riefenstahl. 7.jpg (Image JPEG, 296x380 pixels) Leni Riefenstahl.
---