1
GrubSon - Iloraz inteligencji (feat. BU, Kontrabanda) !
Ghislain Poirier feat. Face-T- Blazin (Modeselektor Remix)
tak...tak... to ja...
Dżem - Whisky
Drop Out Orchestra - It Will Never Be The Same Again
APHEX TWIN / POWER PILL
AbradAb - Mamy Krolow na Banknotach
5Nizza - Soldat
OFF-C - BaBaBy
paktofonika - a jak to sie robi Unikat...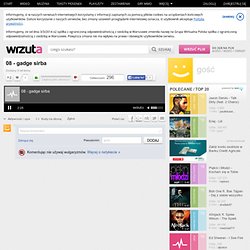 08 - gadge sirba - mp3
Zaloguj się, by dodać ten materiał do playlisty Po zalogowaniu możesz tworzyć playlisty z materiałów wideo i audio.W każdej chwili możesz je edytować lub udostępniać innym. Zaloguj się, by dodać ten materiał do ulubionych
Tinie Tempah - Pass Out (HQ)
Third Eye Blind Slow Motion
This Perfect World - Freedy Johnston
unnamed pearl
defloracja - lecę donikąd
UO Radio
Maladroit - DMT Elfcore
Maladroit Just one fixed dream
Sebastian Ross Ross Ross
Air - Brakes On
Jónsi - Boy Lilikoi
Emilíana Torrini - Jungle Drum - Music Video
AIR Kelly watch the stars (original version)
Lloyds Tsb Dubstep Remix(Metaphi)| HD
Alice by Pogo
PINKTAPE vol.016 – Chatte Grise
Rick James - Super Freak
"Ostatnia nocka" Yugopolis i Maciej Maleńczuk
Crash Course In Science - It Cost's To Be Austere
Munchausen by Proxy - Yes Man
King of the bongo
Miuosh - Grim Fandango
MALCZIKI- YUGOTON & KAZIK (2001)
M.o.p. - ante up - mp3
M.o.p - ante up (instrumental) - mp3
Queen feat Wyclef Jean - Another One Bites The Dust
Rahim - Kawałek feat. Majkel, Bu
La Valse d'Amelie
Kraked Unit - "Poupées Russes"
Kuba Nycz - Kołysanka dla chłopaków
Raz Dwa Trzy - W wielkim mieście
hst feat risku będzie nas więcej
▶ Discovery channel - D_Vox Remix (DnB Preview) by D_Vox
Chuck Fenda - Herbalist Farmer (DnB Remix by HoT)
The creators - kronkite (instrumental)
Grube Jointy - donGURALesko (prod.Matheo)
SebastiAn - Embody
Built to Spill - The Weather
Munchausen by Proxy - Keystar
Małe szczęścia - Robert Janson
▶ Aeroplane July 2011 Mix by Aeroplane (Official)
gooral - gronicek
Pidżama porno - Miejscy partyzanci
KINO - Zvezda Po Imeni Solntse / A Star Called Sun
Discovery HD Showcase - muzyka i piosenka z zapowiedzi, trailera, zwiastunu
Quo Vadis Polonia?" Lech Makowiecki
Munchausen by Proxy - Uh-Huh
Koniec Świata - Oranżada
Freak - Legalisez la ganja (Raggasonic hardtek mix)
Two Steps From Hell - Heart of Courage (Extended Version)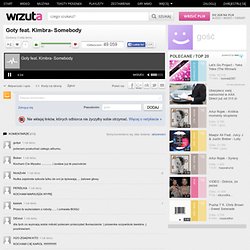 Zaloguj się, by dodać ten materiał do playlisty Po zalogowaniu możesz tworzyć playlisty z materiałów wideo i audio.W każdej chwili możesz je edytować lub udostępniać innym. Zaloguj się, by dodać ten materiał do ulubionych
Goty feat. Kimbra- Somebody - mp3
Gigi D'Agostino - L'Amour Toujours ( Official Video )
M83 - Wait on Vimeo
Faithless - Insomnia
Paul Van Dyk and Paavo Järvi HR Orchestra - For An Angel (Live in Frankfurt 13-02-2009)
Lyapis Trubetskoy - Kapital
Datek - My Obsession
El fudge - one fudge
Zombie Nation - Kernkraft 400
Rocco-One Two Three
Feed Me - One Click Headshot
Alians - Zosia na wrotkach
l.php?u=http%3A%2F%2Fwww.youtube
V per Vendetta soundtrack - L'Overture 1812, Tchaikovsky
5'NIZZA - Jamayka
Two Steps from Hell - Protectors of the Earth
donGURALesko & Fokus - Gdyby Tak Mogło Być (prod. Donatan)
Rahim - pojara
Raggasonic - No Money No Friend (Hardtek Mix)
Future Mind - Drum & Bass