HP merchandise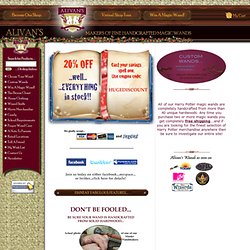 Welcome to Alivan's, Makers of Fine Handcrafted Magic Wands! For the best handcrafted magic wands this side of Diagon Alley, you've certainly come to the right place! Our store features Harry Potter wands and wand handcrafted from only the finest hardwood to provide you with the highest quality product available anywhere.
Wands like Harry Potter – Harry Potter style Wooden Magic Wands
Whimsic Alley
Harry Potter: Home: Zazzle.com Store
Harry Potter T-Shirts, Shirts, and Tees for men and ladies. Available in sizes up to 3XL, 4XL, and 5XL.
The Noble Collection: Product Catalog
Harry Potter Store | Harry Potter Shop | Harry Potter Merchandise
Shop Harry Potter: WBshop.com - The Official Online Store of Warner Bros. Studios
Harry Potter Merchandise - Officially Licensed
HPCategoryList