Construction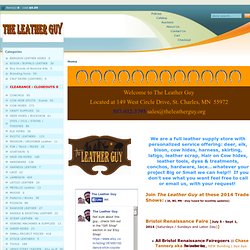 theleatherguy
We are a full leather supply store with personalized service offering: deer, elk, bison, cow hides, harness, skirting, latigo, leather scrap, Hair on Cow hides, leather tools, dyes & treatments, conchos, hardware, lace...whatever your project Big or Small we can help!! If you don't see what you want feel free to call or email us, with your request! Join The Leather Guy at these 2014 Trade Shows: ( IA, WI, MN - stay tuned for monthly updates) Bristol Renaissance Faire [July 5 - Sept 1, 2014 (Saturdays / Sundays and Labor Day)]
Return to the Home Disasters Forum | Post a Follow-Up Posted by terriks (My Page) on Thu, Jul 1, 04 at 15:54 Follow-Up Postings:Posted by noodlesportland (My Page) on Fri, Jul 2, 04 at 1:49 Posted by terriks (My Page) on Sun, Jul 11, 04 at 19:58
How to get cigarette smell out of leather furniture?? - Home Disasters Forum - GardenWeb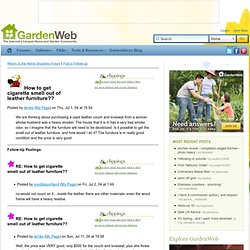 Tandy Leather Factory - Leathercraft and Leather Craft Supplies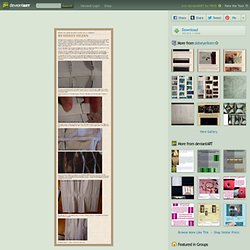 Waist tape is twill tape, tailor's tape, or other sturdy ribbon used to re-enforce the waistline of a corset. It's not essential, but it does increase the durability of a corset by easing stress on the seams along the the highest stress point - the waist line. This tutorial describes several different methods of including waist tape in your corset. My original posting, and more information on my costuming, may be found on my web site at [link]
Adding WaistTape to a Corset by =sidneyeileen on deviantART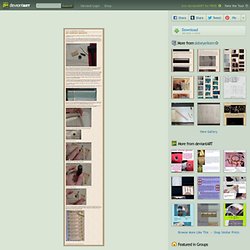 How to Grommet By Hand by =sidneyeileen on deviantART
This tutorial may also be found on my web site at [link] This tutorial shows specifically how to grommet a typical corset, but the technique is sound for any occasion where fabric needs to be grommetted. I wrote this last fall and finally screen-shot from my web site so I could upload it here.
Making Frogs and Ballbuttons
Making Decorative Frogs by Mary Hunt Decorative frogs can be made of purchased cord or of self-fabric corded tubing. Pin the frog into the desired design, sucuring each loop with small stitches on the underside. Slipstitch the frog to the garment, leaving one loop extending beyond the garment edge for buttoning. Chinese ball buttons are commonly used with frogs and can be made of the same cord.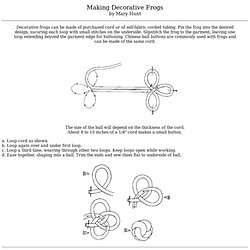 I hope you find this needlework dictionary useful and with it able to improve your hand embroidery skills. To assist those who are new to the craft of hand embroidery I have categorised each stitch as to its degree of difficulty. An icon of a single pair of scissors indicates that the stitch is easy to work and you should not hesitate to try it. If you are new to learning needlework. If you see two scissors, the stitch requires more skill. Three scissors indicate that the stitch needs skill and practice.