Construction
Theleatherguy. How to get cigarette smell out of leather furniture?? - Home Disasters Forum - GardenWeb. Return to the Home Disasters Forum | Post a Follow-Up Posted by terriks (My Page) on Thu, Jul 1, 04 at 15:54 Follow-Up Postings:Posted by noodlesportland (My Page) on Fri, Jul 2, 04 at 1:49 Posted by terriks (My Page) on Sun, Jul 11, 04 at 19:58.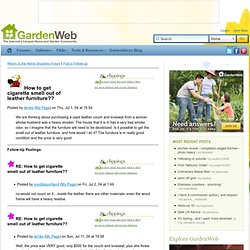 Tandy Leather Factory - Leathercraft and Leather Craft Supplies. Adding WaistTape to a Corset by =sidneyeileen on deviantART. How to Grommet By Hand by =sidneyeileen on deviantART. Making Frogs and Ballbuttons. Making Decorative Frogs by Mary Hunt Decorative frogs can be made of purchased cord or of self-fabric corded tubing.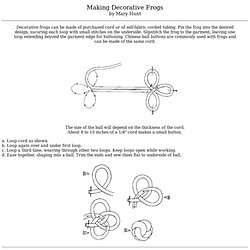 Pin the frog into the desired design, sucuring each loop with small stitches on the underside. Slipstitch the frog to the garment, leaving one loop extending beyond the garment edge for buttoning. Chinese ball buttons are commonly used with frogs and can be made of the same cord. Sharon b's in a minute ago. I hope you find this needlework dictionary useful and with it able to improve your hand embroidery skills.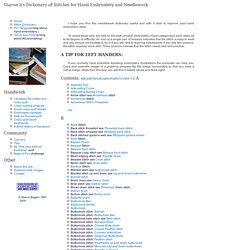 To assist those who are new to the craft of hand embroidery I have categorised each stitch as to its degree of difficulty. An icon of a single pair of scissors indicates that the stitch is easy to work and you should not hesitate to try it. If you are new to learning needlework. If you see two scissors, the stitch requires more skill. Three scissors indicate that the stitch needs skill and practice.
---