Sites
THN : The Hacker News: Cyber Crime
TokToMi (@gru_uik) sur Twitter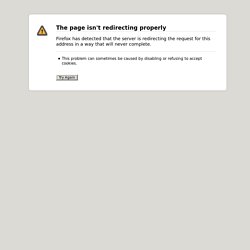 Derniers articles [Politique] Le Parti Pirate va faire reconnaître l'inconstitutionnalité du vote électronique L'élection des députés des Français de l'étranger a relancé le débat du vote électronique. Le Parti Pirate s'est toujours exprimé contre ces systèmes qui sont vulnérables à la fraude, et les très nombreux incidents et irrégularités du vote par Internet ont propulsé ce thème de campagne sur le devant de la scène.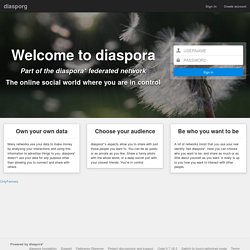 With Diaspora you decide what you'd like to share, and with whom. Choice Diaspora lets you sort your connections into groups called aspects. Unique to Diaspora, aspects ensure that your photos, stories and jokes are shared only with the people you intend. Ownership You own your pictures, and you shouldn't have to give that up just to share them.
This release announcement is already a little old, but it was never posted here. Our latest major release announcement from 19th January To get 2014 off to a good start, we are very happy to announce the release of diaspora* v0.3.0.0. We want to say a massive thank you to the 29 contributors who between them made 225 commits towards this release. Here are the major improv...ements you'll find: * The oEmbed content is now available on mobile devices * You can ignore a user from their profile page * Actions on aspects such as manage, set visibility, delete, and so on are now available from the /contacts page * Pods are now able to share statistics.
Join Diaspora
La sélection de gru uik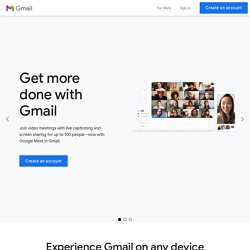 New features Meet the new inbox New customizable tabs put you back in control so that you can see what's new at a glance and decide which emails you want to read and when.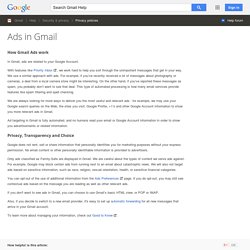 How Gmail Ads work In Gmail, ads are related to your Google Account. With features like Priority Inbox, we work hard to help you sort through the unimportant messages that get in your way. We use a similar approach with ads. For example, if you've recently received a lot of messages about photography or cameras, a deal from a local camera store might be interesting. On the other hand, if you've reported these messages as spam, you probably don't want to see that deal.
Ads in Gmail and your personal data - Gmail Help