Writing
Facebook
The Art of Finding Ideas
This Issue is going to be a difficult one. In fact, I put this off until the day before my column was to run just because I found the subject matter so personal, though I guess that is what this column is all about. I want to be able to delve into what makes me tick as a writer, and in some cases what breaks my writerly clock. In this case, I think that envy is something that affects most writers and artists of any sort. For myself, it can be absolutely debilitating, and entirely self-inflicted. Throughout my time on this earth I have been immensely proud of my writing.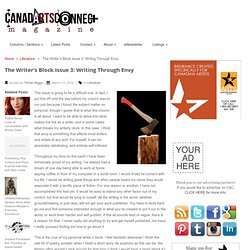 The Writer's Block Issue 3: Writing Through Envy
AdviceToWriters - Home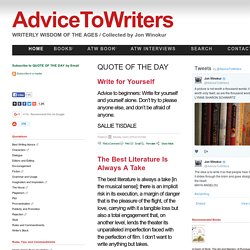 1. Take a pencil to write with on aeroplanes. Pens leak. But if the pencil breaks, you can't sharpen it on the plane, because you can't take knives with you. Therefore: take two pencils. 2.
Claire was a beautiful woman. There was no denying that. And when she returned my flirtations in the bar down the street from my work, the bar the guys always call a "meat market" but which rarely if ever produced actual couplings, I worked up the courage to ask her out and she said yes.
The Defeatist « Games Perverts Play