Food
Food Trucks 101: How to Start a Mobile Food Business
Editor's note: This article was excerpted from our Food Truck startup guide, available from the Entrepreneur Bookstore. Today, a new generation of street-food lovers is lining up at food trucks and food carts like never before. Little do they know that neither food trucks nor food carts are new to the streets of American cities. Like so many other popular trends, they are the latest version of a long-standing part of American and world culture. Yet the street-food industry has never enjoyed so much publicity or notoriety.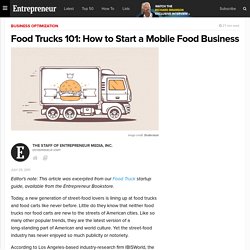 Photo Credit: Flickr | Kris Krug for Tourism Vancouver The list is out. The city is buzzing about 12 just-announced food carts that will hit the streets May 1, bringing Vancouver's total number of food carts up to 103. I've combed through the latest onslaught of food cart coverage to bring you a a mash-up of the juiciest news about the newbies. Achin' for bacon?
Meet the 12 new Vancouver food carts, arriving May 1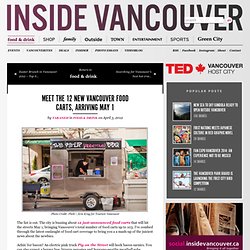 Weekly Veggie Boxes Available
Wheat Belly: Lose the Wheat, Lose the Weight, and Find Your Path Back to Health: Amazon.ca: William Davis MD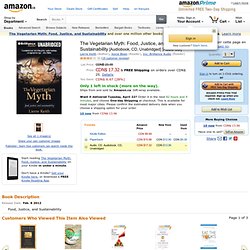 This book is as the description says, 'part memoir, nutritional primer, and political manifesto.' Lots of books talk about the harm eating processed foods and high levels of sugars and grains on our health, but this book is one of the few that combines this with information about the effect all these many grain crops have on our environment and on many different ecosystems. The author talks about all the hidden death that is involved in the production of foods such as grain crops, and why vegan meals may involve far more death than the more obvious death of a single animal to provide a meal for an omnivore. Many animals are made extinct when land is cleared for grain crops and billions of small animals such as mice and rabbits are killed every year by harvesting equipment, for example.
The Vegetarian Myth: Food, Justice, and Sustainability: Amazon.ca: Lierre Keith
The Vegetarian Myth
Healthy Bedtime Snacks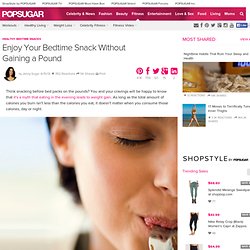 Think snacking before bed packs on the pounds? You and your cravings will be happy to know that it's a myth that eating in the evening leads to weight gain. As long as the total amount of calories you burn isn't less than the calories you eat, it doesn't matter when you consume those calories, day or night. We know scarfing down an entire plate of loaded nachos or pint of ice cream before calling it a night isn't the way to go, but if you need to eat something before bed, make sure you choose foods that don't impair your quality of sleep.
Wheat Belly: Lose the Wheat, Lose the Weight, and Find Your Path Back to Health: Amazon.ca: William Davis MD
Zone by zone to-do list for gardeners in March
If you don't know what USDA hardiness zone you live in, check the map here. March To-Do List For Zone 3 Prune overgrown nonspring-flowering shrubs. Start seeds of onions, tomatoes, edging lobelia (Lobelia erinus), asters, marigolds, cauliflower, cabbage, and brussels sprouts indoors under lights.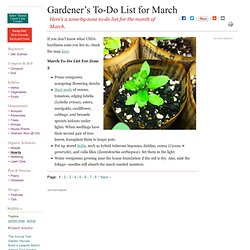 It's time for another round of The Food Lab. Got a suggestion for an upcoming topic? Email Kenji here, and he'll do his best to answer your queries in a future post. Become a fan of The Food Lab on Facebook or follow it on Twitter for play-by-plays on future kitchen tests and recipe experiments.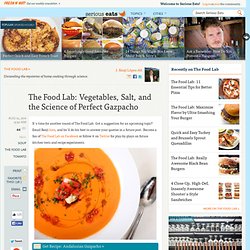 The Food Lab: Vegetables, Salt, and the Science of Perfect Gazpacho
It's time for another round of The Food Lab. Got a suggestion for an upcoming topic? Email Kenji here, and he'll do his best to answer your queries in a future post.
The Food Lab: The Best Guacamole (and the Science of Avocados)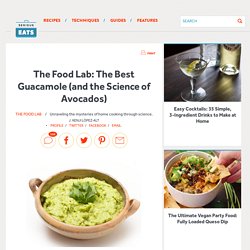 Going vegan is easy, especially if you take it one change at a time. And today--World Vegan Day--is the day to get started! These ten steps will help you make an effortless transition to a vegan diet. You can move through them at whatever pace feels doable, but by making one change each week, you'll begin the New Year with a brand new healthy and compassionate diet. 1.
Become a vegan in 10 easy steps - National vegan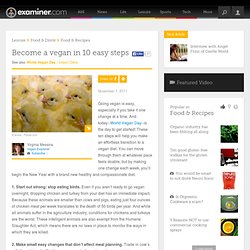 High Protein Foods List for a High Protein Diet
The healthy high protein foods list (below), for a high protein diet, includes all the healthy protein rich foods high in protein content. And our free high protein foods printout has what you need for a healthy high protein diet. This healthy protein rich foods list, including carbs, calories, fat and protein content, can help you to feel great, lose weight, build and maintain muscle, stay fit, trim and super healthy and look your absolute best. So print out our beautiful high protein food list and hang it on your fridge.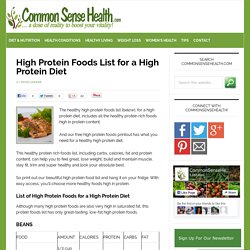 Prep Time: 10 minutes Total Time: 10 minutes Ingredients: 1 16 oz can of chickpeas or garbanzo beans1/4 cup liquid from can of chickpeas3-5 tablespoons lemon juice (depending on taste)1 1/2 tablespoons tahini2 cloves garlic, crushed1/2 teaspoon salt2 tablespoons olive oil Preparation:
Hummus Recipe - How to Make Hummus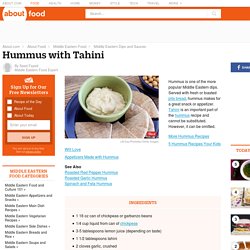 Free Shipping on Rare Heirloom & Organic Garden Seeds by cubits
Welcome to Cubit's on Etsy. We grow rare, heirloom and organically grown seeds for organic vegetable & herb gardens. Free Shipping on all North American Orders. Local Pick up in Toronto, Ontario available. Urban Gardening is our passion and we believe that everyone can grow their own delicious organic produce. Our seed is all organically grown and untreated, much of it by ourselves with a few choice seed varieties coming from certified organic farms.
green curry, crispy chicken, kimchee slaw, rice noodles
Lemon Chicken Recipe
Method 1 Place lemon juice, lemon peel, garlic, thyme, rosemary, salt, and pepper in a small bowl, whisk to combine. With the tip of a sharp knife, cut into each chicken piece one or two times by about 1/2 an inch. (This will help the marinade penetrate.)
Oakville
The Protein Conundrum: the REAL truth about Protein
Out of all the conflicting information that is bestowed upon the American public in regards to nutrition , the one seemingly straight forward and universally agreed upon tenet is the importance of protein . The general consensus is that in order to maintain a healthy weight and be healthy in general, it is vital to consume enough lean protein (which in America typically equates to white meat and fish) and limit intake of carbohydrates . It is commonplace to hear people say, "I really need to eat more protein."
Home
Beretta Organic Farms | Organic Meat
NDL/FNIC Food Composition Database Home Page
www.cleanfoodconnection.com
Farmers' markets in Ontario are booming—and no wonder! Shoppers love them because they can buy top-quality farm-fresh products directly from the person who produced them—and can often find products they won't find anywhere else. Communities love them because they bring people together and can turn once-deserted areas into hives of activity, attracting extra business for stores and restaurants nearby. Farmers love them because they're fun and let them connect with consumers who love what they sell and appreciate their hard work. They're also an important source of income, helping farmers keep on doing what they love to do, so that Ontarians can keep on enjoying fresh local food.
Farmers' Markets Ontario®
Roots of Health: Cooking