Doors
Ornamental Iron Fence Supplies: ornamental iron fence Finials, Ornamental Cast Iron Fence Spears, Ironworks, 1/2" round
Toronto Vinyl Patio Doors Installation and Supplier, Kitchener, Waterloo, Burlington, Pickering, Mississauga, Ontario
Shop Gatehouse Gibraltar 32" Black Steel Security Screen Door at Lowes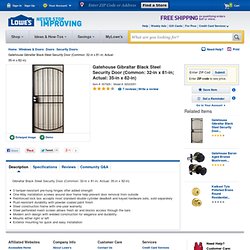 Product Reviews Review This Product Nice door Overall Rating: Location: WA State
Scroll Bender, Universal and Ornamental Bender MPB-10
Ever wonder how the scroll work that you've seen on decorative gates or fences ended up being so perfect. Here is your answer; Baileigh Industrial's MPB-10 is a great metal bender for any fabrication shop that is working with copper, aluminum or wrought iron. It has a very heavy cast iron frame with a large 8-1/4" round table that fits three different size scrolling attachments. This MPB-10 is a manual machine that has a heavy duty bending lever to transfer the power to the scrolling head, making the operation of this metal bender almost effortless. This scroll bender has the capacity to bend 1-1/8" wide x 3/8" thick wrought iron for fences and gates, railings, furniture, decorative yard art and much more. This machine is great for producing radius bends and spirals.
Metal, Steel, Ornamental, Wrought Iron Fence Contractors Toronto
Wrought Iron Pedestrian & Garden Gates - Wrought Iron Gates - Driveways, Gardens and Security
Wrought Iron Art, LTD is Metal artist, handmade, artistic, ornamental, architectural, hot forging, iron sculpture, iron design, gates, railings, furniture, mailbox, wine cellar door, landscape
Wrought Iron Fencing, Steel Pool fence, Iron Railings, Wrought Iron stairs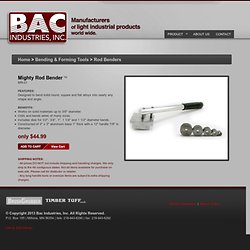 BAC Industries | Manufacturers of Light Industrial Products World Wide.
SHIPPING NOTES: - All prices DO NOT not include shipping and handling charges. We only ship to the 48 contiguous states. Not all items available for purchase on web-site.
Simple Bending Jig - The Tinbasher
Here's a simple bending jig I've come across by David W. Wilson: David W. Wilson's Bending Jig Bending Jig Parts Dimensions
Colletti Design | Iron Doors | Wrought Iron Doors
Decorative Wrought Iron Front Doors Inserts - Toronto - (416) 887-9391
My wife and I live on the west coast and are in the middle of a large remodel. As part of the remodel we are replacing the main entry doors. Entry doors are the focal point of the home and we did not realize how difficult finding the right door was, is it wood, is it metal. We came across First Impression Security Doors in a Google search. After watching several YoutTube videos on the company we decided that FISD was the right company for us. The entire order process was easy and seamless especially since they made the doors to our own custom design.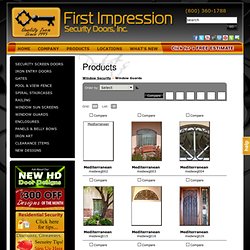 Window Guards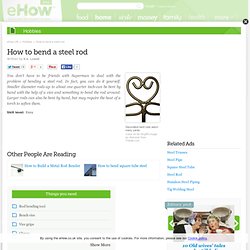 Written by k.k. lowell You don't have to be friends with Superman to deal with the problem of bending a steel rod. In fact, you can do it yourself. Smaller diameter rods-up to about one quarter inch-can be bent by hand with the help of a vice and something to bend the rod around. Larger rods can also be bent by hand, but may require the heat of a torch to soften them. Skill level:
How to Bend a Steel Rod
Designs on Sale this Month
NOT your old security door! Just wanted to drop you a note that we love our new doors. We already knew they were very high quality because we have the same large security door from your company on the front of the house and it's still beautiful after many years. What people don't always know is that the doors make the house look better and more luxurious than without the doors.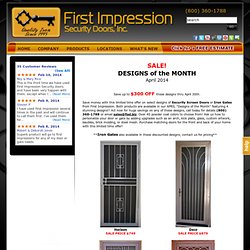 Steel Security Door Gate for residential | Door Security