WP7
The following section walks you through the process of creating a location-aware application using Reactive Extensions. The application will have the ability to switch between live and emulated location data. If you want to develop an application that uses the Location Service, but don't have access to a Windows Phone, these instructions will allow you to create your application and then easily switch to live data once you have a device. To Create the Location Service Emulator Application Open a new or existing Windows Phone solution in Visual Studio. From the Project menu in Visual Studio, select Add Reference… .
How to: Use Reactive Extensions to Emulate and Filter Location Data for Windows Phone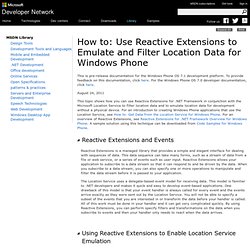 Developer Question of the Day iPhone to Windows Phone 7
Get Started with RadControls for Windows Phone
Sterling Windows Phone 7 and Silverlight Database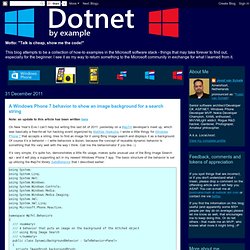 Last updated November 10 2011 You know that band you used to love when you were in your teens? They really rocked your adolescent years. They rocked like hell. Their concerts where one great party.
.NET by Example
Download Free and Best Windows Phone 7 Apps, Books and Games Directory, News, Review, Devices
Windows Phone 7 Resources « Indyfromoz's Weblog
Silverlight for Windows Phone 7: "Tombstoning" - Alex Golesh's Blog About Silverlight Development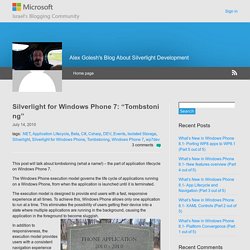 This post will talk about tombstoning (what a name!) – the part of application lifecycle on Windows Phone 7. The Windows Phone execution model governs the life cycle of applications running on a Windows Phone, from when the application is launched until it is terminated. The execution model is designed to provide end users with a fast, responsive experience at all times. To achieve this, Windows Phone allows only one application to run at a time.
Windows Phone 7 Serialization: Binary Serialization | eugenedotnet blog