WP7
How to: Use Reactive Extensions to Emulate and Filter Location Data for Windows Phone. This is pre-release documentation for the Windows Phone OS 7.1 development platform.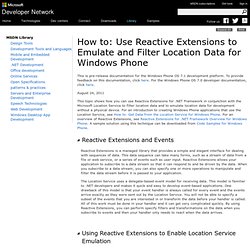 To provide feedback on this documentation, click here. For the Windows Phone OS 7.0 developer documentation, click here. August 24, 2011 Reactive Extensions is a managed library that provides a simple and elegant interface for dealing with sequences of data. This data sequence can take many forms, such as a stream of data from a file or web service, or a series of events such as user input. Get Started with RadControls for Windows Phone. Thank you for installing Telerik's products.
Please, bear in mind that during your trial you are entitled to direct technical support from us – the people who build the products here at Telerik. In order to reach us, use the Ticket Support System in Your Account (you need to be logged in to access it). Sterling Windows Phone 7 and Silverlight Database. .NET by Example. Last updated November 10 2011 You know that band you used to love when you were in your teens?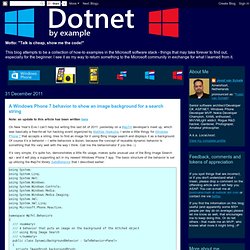 They really rocked your adolescent years. They rocked like hell. Their concerts where one great party. Download Free and Best Windows Phone 7 Apps, Books and Games Directory, News, Review, Devices. Windows Phone 7 Resources « Indyfromoz's Weblog. A collection of useful resources including articles, source code, controls for Windows Phone 7 development.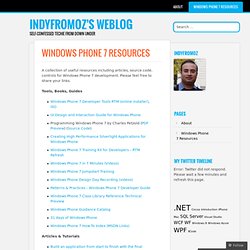 Please feel free to share your links. Tools, Books, Guides Articles & Tutorials Controls and Components. Silverlight for Windows Phone 7: "Tombstoning" - Alex Golesh's Blog About Silverlight Development. This post will talk about tombstoning (what a name!)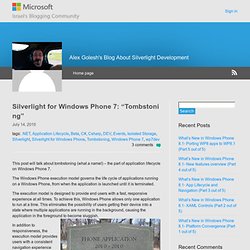 – the part of application lifecycle on Windows Phone 7. The Windows Phone execution model governs the life cycle of applications running on a Windows Phone, from when the application is launched until it is terminated. Windows Phone 7 Serialization: Binary Serialization | eugenedotnet blog.
---