Idées / Conseils
40 Eye-Catching Registration Pages. It's incredible the amount of sites that have acquired a bad taste for web form design.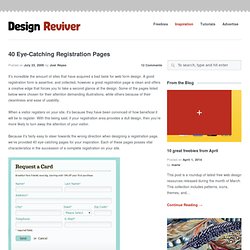 A good registration form is assertive, and collected, however a great registration page is clean and offers a creative edge that forces you to take a second glance at the design. Some of the pages listed below were chosen for their attention demanding illustrations, while others because of their cleanliness and ease of usability. 30 Examples of Sign-Up Web Forms for Design Inspiration. The design and usability of sign-up forms for web apps and websites is crucial because it can have a huge effect on conversion rates.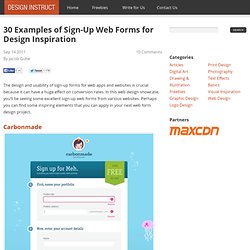 In this web design showcase, you'll be seeing some excellent sign-up web forms from various websites. Perhaps you can find some inspiring elements that you can apply in your next web form design project. Carbonmade. 20 Great Sign Up Form Examples to Learn From. Sign up forms come in many different shapes and sizes.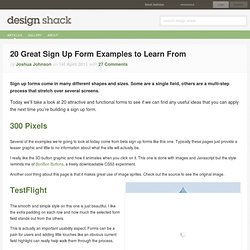 Some are a single field, others are a multi-step process that stretch over several screens. Today we'll take a look at 20 attractive and functional forms to see if we can find any useful ideas that you can apply the next time you're building a sign up form. 300 Pixels Several of the examples we're going to look at today come from beta sign up forms like this one. Typically these pages just provide a teaser graphic and little to no information about what the site will actually be. Login / Registration Form: Ideas and Beautiful Examples.
All throughout the modern web, we are seeing a growing amount of places for user input.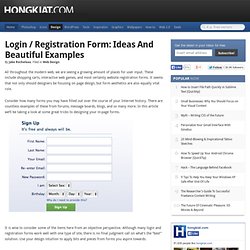 These include shopping carts, interactive web games, and most certainly website registration forms. It seems that not only should designers be focusing on page design, but form aesthetics are also equally vital role. Consider how many forms you may have filled out over the course of your Internet history. There are countless examples of these from forums, message boards, blogs, and so many more. Tips for Mobile Design by @lukew (avec images, tweets) · bombayhustle.
Andrew Beckwith » Design Freebie:Flat UI Elements PSD. I've recently seen amazing design that follows the current trend for 'flat design'.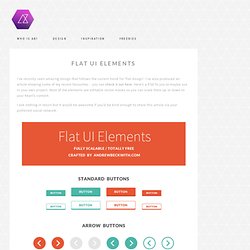 I've also produced an article showing some of my recent favourites – you can check it out here. Here's a PSD fo you to maybe use in your own project. 10 Sites de qualité pour trouver l'inspiration graphique. Innovative Techniques To Simplify Sign-Ups and Log-Ins - Smashing Magazine. Advertisement There are many ways to design sign-up and log-in forms.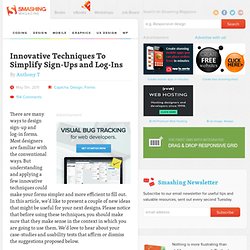 Most designers are familiar with the conventional ways. Showcase of Buttons in Web Design. Button design is usually a subtle element to a web design, but it can have a significant impact on the overall look and usability of the site.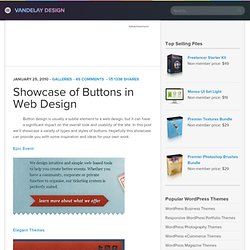 In this post we'll showcase a variety of types and styles of buttons. Hopefully this showcase can provide you with some inspiration and ideas for your own work. 20 listes pour Webdesigners.
---