How To
Turn Your Old Router into a Range-Boosting Wi-Fi Repeater. Five Really Handy Google Command Line Tricks. Basic UNIX commands. Note: not all of these are actually part of UNIX itself, and you may not find them on all UNIX machines.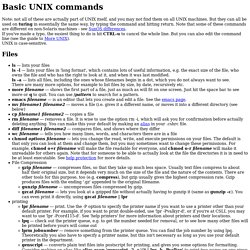 But they can all be used on turing in essentially the same way, by typing the command and hitting return. Note that some of these commands are different on non-Solaris machines - see SunOS differences. If you've made a typo, the easiest thing to do is hit CTRL-u to cancel the whole line. But you can also edit the command line (see the guide to More UNIX). UNIX is case-sensitive. GoogleCL Brings Google Services to the Command Line.
GoogleCL Brings Google Services to the Command Line. Five Really Handy Google Command Line Tricks. Securely Overwrite Files with a Built-in Command Line Trick. "I don't think that [command] means what you think it means.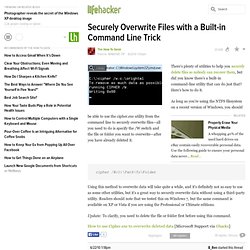 " The folder is just used to specify a volume (so, for most people, "cipher /w:c:\" would do the same thing as "cipher /w:c:\some\random\folder"). Using the volume that the given folder resides on, the command wipes all of the free space. So, if you want to securely erase something, make sure you delete it, and then use this command. To repeat: this command by itself will not delete anything. Make Free VoIP Calls from Google Voice. @Adam Pash: Dude!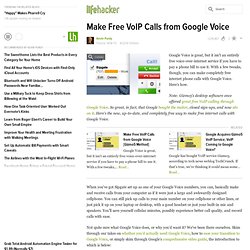 Normally I would have caught this but I jumped to the bottom b/c I saw there were so many comments (sorting order, how you torment me). I caught an '09 date. HOWTO: Free Calling with Google Voice - Google Voice Help. iPad phone calling « iPad equipment and software. + New .COMs $7.99/yr plus 18 cents/yr ICANN fee.
Discount based on new one-year registration prices as of 1/27/2012 with sale price reflected in your shopping cart at checkout. Discount applies to new registrations and renewals and cannot be used in conjunction with any other offer or promotion. Domains purchased through this offer will renew at regular price after the initial term has expired. Offer ends May 31, 2012 5:00 pm (MST). † Good for one 1-year registration of any available .COM, .US, .BIZ, .INFO, .NET or .ORG ‡ Annual discounts available on NEW purchases only. How to avoid being prompted for phone # on iPad - Google Voice H. How to: WiFi Tether a Motorola Droid to an iPad - Droid Life: A. It's OK if you don't want to admit publicly that you were one of the 300,000 people to purchase an iPad on opening weekend, but here is a tip that will make your $499 worthwhile.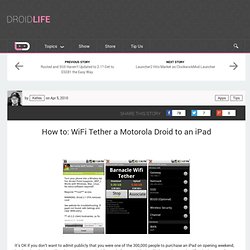 And of course, this tip will also work towards wifi tethering any of your other laptops or mobile devices, but since the iPad needed some help, we thought we'd start there. Today's quick app is called Barnacle and is a free wifi tethering app available in the Android Market. In order to use this little guy, you need to make sure your Droid is rooted which you can do from this post. 1. Download Barnacle from the market and open it. 2. Make a Reverse Email Search with Free Web Tools. Optimized Handbrake Presets to Encode Video for Your New iPad or. 23 Tips For Buying the Best HDTV. mSpot. How To Root Your 2.1 Droid. Now that the long awaited 2.1 update for the Droid has hit, are you bored with it already?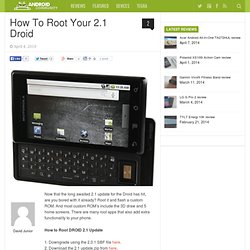 Root it and flash a custom ROM. And most custom ROM's include the 3D draw and 5 home screens.
---