Spēles
Images - Io Game. The International House of Mojo. Azure Dreams Part #4 - Too cheap to eat rice. Part 4: Too cheap to eat rice.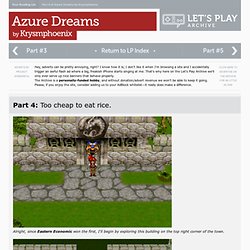 Alright, since Eastern Economic won the first, I'll begin by exploring this building on the top right corner of the town. This fella is Wotta, the manager of Monsaibya's pool. That's right, this desert town next to a tower that contains enough monsters to destroy the planet has a pool house. Mamoru! I've got a favor that only you can help me with! The Whispered World. The Whispered World is a traditional-style point-and-click adventure game for Microsoft Windows.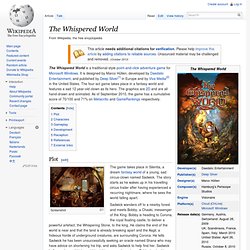 It is designed by Marco Hüllen, developed by Daedalic Entertainment, and published by Deep Silver[1] in Europe and by Viva Media[2] in the United States. The four-act game takes place in a fantasy world and features a sad 12 year-old clown as its hero. The graphics are 2D and are all hand-drawn and animated. As of September 2010, the game has a cumulative score of 70/100 and 71% on Metacritic and GameRankings respectively. Plot[edit] So Blonde | games industry. FOLLOWING its success with PC adventure gamers, So Blonde is heading to Wii and DS, courtesy of Lace Mamba Global.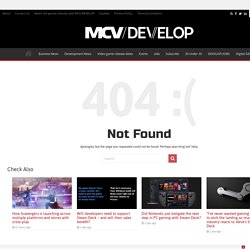 The publisher is well-known in the niche PC point-and-click game market with titles such as Black Mirror II, Ghost Pirates of Vooju Island plus its upcoming Xbox 360 debut Gray Matter. And to kick-start its Q3 game assault, Lace Mamba Global is releasing casual adventure game So Blonde. "The game was a huge success on PC – it's a highly anticipated and credible release particularly among dedicated adventure gamers," European MD Jason Codd tells MCV. "It has huge potential to appeal to not only the hardcore, but casual gamers, too." Article continues below. The Themes image - Cube-Land Game. Shades of Violet: Song of the Clockwork princess Windows, Mac, iPad, Android game.
By imagineergames on Mar 13th, 2012 From today and onward, we'll be releasing 2 character profiles per week on our indieDB page up to the launch of our webpage.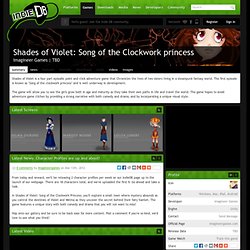 There are 18 characters total, and we've uploaded the first 9. Go ahead and take a look. In Shades of Violet: Song of the Clockwork Princess; you'll explore a small town where mystery abounds as you control the destinies of Violet and Welma as they uncover the secret behind their fairy hamlet. Minion Windows game. By Darth.Hunter on Jun 7th, 2013 When you start developing games as part of your game design studies, you have many benefits.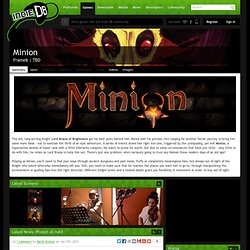 First of all, timing is not as crucial as in a commercial production. Female Characters Front image - Loot It! Game. Today I spend a lot of time working on different female heads and textures.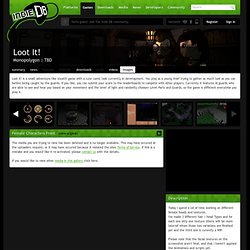 I've made 3 different hair / head Types and for each one only one texture (there will be more later)of whom those two variations are finished yet and the third one is curently a WIP. Please note that the facial textures on the screenshot aren't final, and that I haven't applied the Animations and scripts yet. Against the Wall - Forest image. Latest Hell2 Screenshots image - Party of Sin Game. Reprisal game dev diary: Archive. Green light promotion post mortem Its been a crazy 72 hours!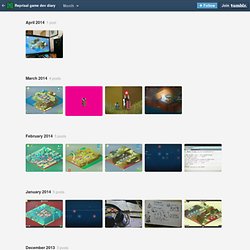 Since deciding to give Reprisal away for free to see if it could boost it's Green Light campaign, it's stats shot through the roof. Votes were up, plays were up and there was a real buzz. Giving Reprisal away for free may have seemed like a crazy idea, I was nervous, but to be honest the Green Light promotion had stalled at 52% of the votes needed. Maniac Mansion. Oh, good!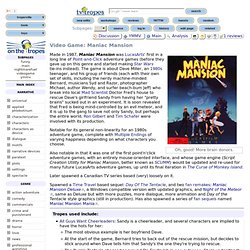 More brain donors. Made in 1987, Maniac Mansion was LucasArts' first in a long line of Point-and-Click adventure games (before they gave up on this genre and started making Star Wars tie-ins instead). The game is about Dave Miller, an 1980s teenager, and his group of friends (each with their own set of skills, including the nerdy machine-minded Bernard, musicians Syd and Razor, photographer Michael, author Wendy, and surfer beach-bum Jeff) who break into local Mad Scientist Doctor Fred's house to rescue Dave's girlfriend Sandy from having her "pretty brains" sucked out in an experiment. It is soon revealed that Fred is being mind-controlled by an evil meteor, and it is up to the gang to save not only Sandy, but perhaps the entire world. Overstrike - Official Reveal Trailer E3 2011. Cadillacs and Dinosaurs Download - Games. Some people call it simply Dino.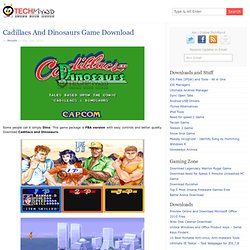 This game package is FBA version with easy controls and better quality. Download Cadillacs and Dinosaurs. How to Play Cadillacs and Dinosaurs Run fba.exe Game > Load Games Select Game and Click Play If you can't find games there then use 'Scan ROMs' and 'ROMs Dir' buttons. GhostX Game Review. GhostX is a unique, fast-paced, 3D sci-fi MMORPG set in a dystopian future.
The game markets itself as a 'Metro Action RPG' and that description is actually dead on, as the game is set in an Urban Metro environment where players have fight against evil demons in mostly instanced environments. Publisher: GameKissPlayerbase: MediumGraphics: Medium QualityType: MMORPGEXP Rate: LowPvP: Duels OnlyFilesize: 525 MB Pros: +Has a plot. +Good interface. +Unique gameplay. Black Prophecy Game Review. Black Prophecy is a 3D sci-fi MMORPG where players control space ships and explore the stars. Black Prophecy boasts fast paced, real-time combat and high end graphics. Players will be confined to their ships in Black Prophecy, but extensive parts customization will allow for varied gameplay. Publisher: GamigoPlayerbase: MediumGraphics: High QualityType: MMORPGEXP Rate:MediumPvP: Battlegrounds / PvP MissionsFilesize: 6000 MB Pros: +High production value. +Modular ship design, mix & match parts! Global Agenda Game Review. Global Agenda delivers intense fast paced combat that is sure to satisfy its players.
This MMO Shooter lets players control their characters in third person as they team up with allies to complete missions, claim and defend areas, and destroy other players. Choose a class that fits your playstyle, develop your character, and become a powerful force in Global Agenda. Publisher: Hi-Rez StudiosPlayerbase: MediumGraphics: High QualityType: MMO ShooterEXP Rate: MediumPvP: PvP Missions / Conquest ModeFilesize: ~15 GB Pros: +Fast paced and engaging combat. WarStory Game Review. WarStory – Europe in Flames is a 2D browser based strategy MMO set during World War 2.
Players chose one of the allied factions and race to defeat the Germans who are controlled by the AI. WarStory has real time battles and an original gameplay style. Publisher: Bigpoint Playerbase: Medium Graphics: Medium Type: MMO EXP Rate: Low PvP: N/A Filesize: N/A Pros: +Original gameplay elements. Neo Geo Endings. 3 Count Bout -Contributed by NPI, Jacquismo - (New) Aero Fighters 2 -Contributed by RyuWatase - (New)Aero Fighters 3 -Contributed by Retro - (New)Aggressors of Dark Kombat -Contributed by RyuWataseAlpha Mission II -Contributed by ReyAndro Dunos -Contributed by ReyArt of Fighting -Contributed by Kitsune SniperArt of Fighting 2 -Contributed by Kitsune SniperArt of Fighting 3 The Path of The Warrior -Contributed by Kitsune Sniper, Mike MyersAshita No Joe Densetsu - [Jpn] -Contributed by Kitsune Sniper Baseball Stars Professional -Contributed by RyuWataseBaseball Stars 2 -Contributed by BillymBlazing Star - [Jpn] -Contributed by RyuWataseBlue's Journey -Contributed by RyuWataseBreaker's - [Jpn] -Contributed by RyuWataseBurning Fight -Contributed by RyuWatase Crossed Swords -Contributed by RyuWataseCyber-Lip -Contributed by RyuWatase Double Dragon -Contributed by RyuWatase.
Steam Announcement - Rochard Release Trailer. Stealth Bastard Images on PC. Meat puppet game. Top 20 Best Doujin Shmups. The Video Game Critic's Dreamcast Reviews F-L. Nintendo has released several excellent platformers for the Wii U, but Donkey Kong Country Tropical Freeze takes the cake! I was instantly struck by the sharpness of the graphics. Donkey Kong's fur looks so soft! Then I realized this was the first time I've played a Donkey Kong Country...Read Full Review 2014/4/12: Wii U: Donkey Kong Country: Tropical Freeze 2014/4/10: Super Nintendo: NHL '96, NHL '97, NHL '98.
BigBangBlitz's Channel. Light Bringer Cisty Nomiss part 1 of 5. Criminally overlooked games #4: The Outfoxies. Golden Axe: RoDA Arcade Co-op Pt 2. Super Robot Taisen OG Saga: Endless Frontier - DS review at Thunderbolt Games. Rusty Hearts: Natasha (Female version of Dante?) - Developer Diary. B-17 Flying Fortress: The Mighty 8th Screenshots, B-17 Flying Fortress: The Mighty 8th Pictures. Genre: Car / motorcycle combat. Genre: Scrolling shoot 'em up. Stellar Impact Windows game. Battle Tiers Invasion Windows game.
Videos & Audio - Celestial Impact. Videos & Audio - M.A.R.S. - a ridiculous shooter. Unlimited battlefield space video - Commander. Play Discount Mayonnaise. Page de démarrage | The Settlers Online. Dungeon Overlord on Facebook.
---