Photo
Clarisse Rebotier
Des ailes de papillons photographiées en macro
Faces in Things (FacesPics) sur Twitter
Insects - Alex Wild Photography
32 photos parfaitement synchronisées!
40 photos des Sony World Photography Awards 2014 Une sélection de 40 photos incroyables issues de la shortlist des Sony World Photography Awards 2014, un concours photo regroupant cette année près de 140.000 photographies venues de 166 pays ! Des photographies magnifiques regroupées par catégories : Lifestyle, Wildlife, Architecture, Sport, People, etc. Je vous recommande aussi les gagnants du National Geographic Photo Contest 2013 et les 60 superbes images du Traveler Photo Contest 2013.
40 photos des Sony World Photography Awards 2014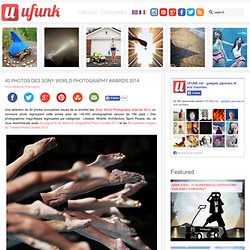 Déchristianisation
Alex Wild Photography
Oublier, faire un mauvais choix, se tromper. Tout le monde est concerné. Mais les conséquences sont souvent dramatiques. Pourquoi n'y a-t-il pas que de belles erreurs?
Impulsions électriques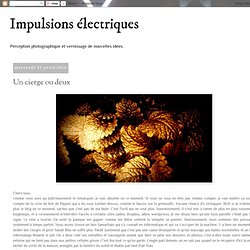 27 Incredible Views You'd Only See If You Were A Bird
le photographe Jimmy Nelson entend garder trace de civilisations en passe de disparaître. Aux quatre coins du globe. C'est en visitant 35 de ces tribus plus ou moins célèbres que le reporter a pu dresser ce constat. Tout en tirant le portrait de nombreux autochtones pour des photos assez réussies. Les photos sont, il faut le dire, assez impressionnantes et glaçantes (on peut d'ailleurs acquérir le livre regroupant l'ensemble des clichés par ici).
Des images époustouflantes des civilisations et des peuples primitifs en voie de disparition !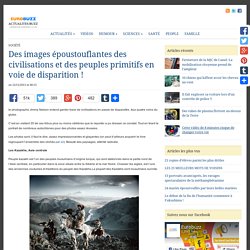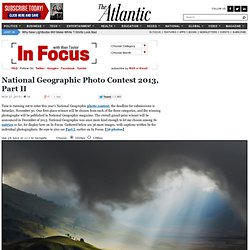 Time is running out to enter this year's National Geographic photo contest, the deadline for submissions is Saturday, November 30. One first-place winner will be chosen from each of the three categories, and the winning photographs will be published in National Geographic magazine. The overall grand-prize winner will be announced in December of 2013. National Geographic was once more kind enough to let me choose among its entries so far, for display here on In Focus. Gathered below are 36 more images, with captions written by the individual photographers.
National Geographic Photo Contest 2013, Part II - In Focus
Top 12 des affiches chocs d'Amnesty International, les trompe-l'oeil à l'arrêt de bus
Lense rentre comme vous de vacances, mais prolonge avec cette série graphique et acidulée, concoctée par Emily Blincoe La photographe américaine Emily Blincoe a récemment publié une série monochromatique dédiée aux sucreries, "Sugar Series". Rassemblant ces générateurs de caries et de plaisirs via leurs couleurs (mais pas forcément leurs parfums, magie de la chimie) Blincoe crée des tableaux qui éveillent autant l'odorat et le goût que la vue. Retrouvez plus de travaux et photos d'Emily sur son blog, These Wood. + via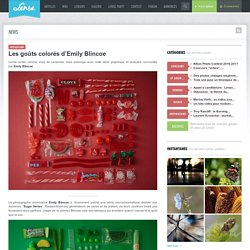 Les goûts colorés d'Emily Blincoe
Stunning Digital Art by Laura Sava
30 Of The Most Powerful Images Ever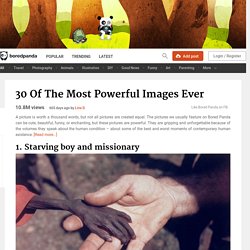 A picture is worth a thousand words, but not all pictures are created equal. The pictures we usually feature on Bored Panda can be cute, beautiful, funny, or enchanting, but these pictures are powerful. They are gripping and unforgettable because of the volumes they speak about the human condition – about some of the best and worst moments of contemporary human existence. We should warn our readers that some of these pictures may upset them, while others may fill them with joy. But that's precisely because these images reflect some of the best and worst parts of the human experience and world events. Our post of must-see photos from the past described our history while these photos, for the most part, describe our present – our suffering and our triumphs, our perseverance and our failures, our compassion and our hatred, our intelligence and our stupidity.
The House in the Woods
Gottfried Helnwein | WORKS | Photography
Anne Frank's Amsterdam – Le passé rencontre le présent "Anne Frank's Amsterdam", quand le passé rencontre le présent grâce à une série de photographies qui transporte dans le présent l'Amsterdam de l'époque d'Anne Frank, occupé par les Nazis… Un projet réalisé par Michael Danckaarts pour le Musée Anne Frank. Bien sûr, ce principe a déjà été utilisé de nombreuses fois, et je vous recommande aussi "Window to the Past, le passé de Budapest rencontre le présent" mais aussi "Then and Now, une école abandonnée à Détroit" ainsi que "Le passé tragique de New-York replacé dans le présent" ou "Le passé rencontre le présent – Know Where You Stand". Images © Anne Frank House / via
Anne Frank's Amsterdam – Le passé rencontre le présent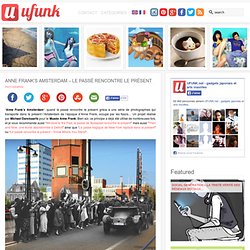 Partez à la découverte d'un village fantôme au nord de Paris
Il n'y a pas que dans les autres pays qu'on peut trouver des villes abandonnées : en France aussi ! Une commune située à environ vingt kilomètres au Nord de Paris recèle toute une partie de son ancien village à l'abandon. Maisons, commerces, château : DGS vous raconte l'histoire de ce petit village francilien. D'ailleurs, ce Vieux-Pays est situé complètement dans l'axe des pistes de l'aéroport. Même si quelques irréductibles continuent de vivre dans les parages, la majorité des habitants a préféré déserter le vieux village pour déménager ailleurs, certains vendant même leur maison à l'entreprise Aéroports de Paris, qui gère l'aéroport de Roissy.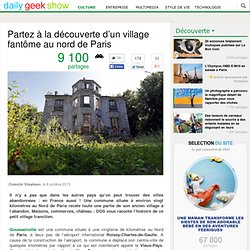 Storm Hunter – 25 superbes photographies de tempêtes
Storm Hunter – 25 superbes photographies de tempêtes Les superbes photographies de tempêtes et d'orages de Mitch Dobrowner, un photographe américain qui arpente depuis plusieurs années les grandes plaines américaines du Kansas au Dakota en passant par le Colorado, le Minnesota ou le Texas, afin de capturer la fureur de la nature dans des clichés en noir et blanc aussi impressionnants que magnifiques. Images © Mitch Dobrowner / via ModeBulb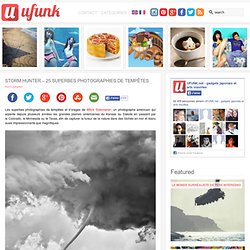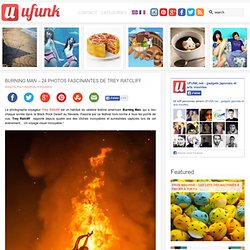 Burning Man – 24 photos fascinantes de Trey Ratcliff
Burning Man – 24 photos fascinantes de Trey Ratcliff Le photographe voyageur Trey Ratcliff est un habitué du célèbre festival américain Burning Man, qui a lieu chaque année dans le Black Rock Desert au Nevada. Fasciné par ce festival hors-norme à tous les points de vue, Trey Ratcliff rapporte depuis quatre ans des clichés incroyables et surréalistes capturés lors de cet évènement… Un voyage visuel incroyable ! Images © Trey Ratcliff
Winners Announced For our 25th annual photo contest, National Geographic Traveler magazine received more than 15,500 entries from skilled photographers from around the globe. Taken in locations ranging from Brazil to Kenya, the winning pictures show everything from quiet landscapes to surprising moments. Did your favorites make the cut? See the winners! Prizes
Traveler Photo Contest 2013
The 23 Photos That Will Make Your Eyeballs Pop Out
The 23 Photos That Will Make Your Eyeballs Pop Out
FYJC
Nº. 1 of 41 The Chirac Daily : smooth pimping, suave gangsterism Ask a Question Archive RSS T-SHIRTS April 4, 2014 with 4 notes
Category: PICTURE OF THE DAY
Ellen Von Unwerth
William Wegman
Livre de photographies érotiques prises au Polaroïd par Guy Bourdin
MYRMECOS - Insect Photography - Insect Pictures
MICHAEL WOLF PHOTOGRAPHY
Les Parisiens sous l'Occupation – des photos en couleurs de André Zucca
49 photos couleur de Paris sous l'occupation 1940-1944
THIERRY COHEN PHOTOGRAPHY
Daily Inspirations no. 274
Mastowka on deviantART
awesome people hanging out together
Photos : 17 photos de familles flippantes autour de Noël
Projet Je ne suis pas un sosie
[Strange and Funky Animal Photographer] Ondrej Pakan
"Faking It: Manipulated Photography Before Photoshop"
Richard Scarry 1955, Bedtime | Flickr : partage de photos !
Little Golden Books : un album sur Flickr
Abandoned cars in nature by Peter Lippmann
Glauque Land > Photos d'Endroits Abandonnés
11 lieux magnifiques qui ne sortent pas d'un rêve mais de la réalité !
National Geographic Traveler Magazine: 2012 Photo Contest
Photos Gerlach, Tatra Mountains
Astronomy Picture of the Day
50 Perfectly Timed Animal Photos
Macro
Fleurs des champs - Photothèque
Dragon Drops" by Thierry Marysael
stock.xchng - the leading free stock photography site
Mariel Clayton - Barbie dolls Photographer
RESPECTE-TOI
A Father Who Creatively Captures His Kids (20 photos)
Une photo de moi par jour depuis 200 - Noah Kalina
Les tableaux célèbres recomposés en photos
Les magnifiques plaques d'égout japonaises
Food Photography by Klaus Pichler
Des insectes écrasés sur des pare-brises au microscope
L'art du rangement d'Ursus Wehrli
La tempête en images
Lewis Carroll
Rick Genest on the Behance Network
Photos Burning man (Gerlach, Nevada) 2009
André Chabot : la mort et les cimetières
Les Actrices Françaises Nues à l'Ecran
[ boobstagram ]
Ne te promène donc pas toute nue!