Stumbleupon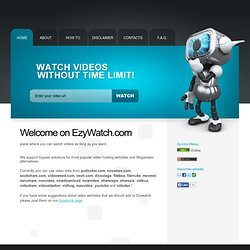 Welcome on EzyWatch.com place where you can watch videos as long as you want. We support bypass solutions for most popular video hosting websites and Megavideo alternatives.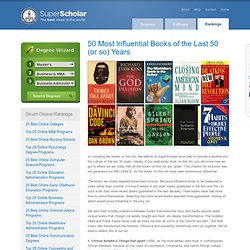 In compiling the books on this list, the editors at SuperScholar have tried to provide a window into the culture of the last 50 years. Ideally, if you read every book on this list, you will know how we got to where we are today. Not all the books on this list are "great."
15 Bizarre Buildings
Architecture can amaze us in so many ways. There are structures that can make our jaw drop because of their beauty while others are so grandiose to look at. They are also usually those kind of buildings that convince us to take a double-take on our camera. They look strange, silly, weird, and sometimes, funny.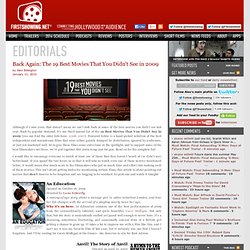 by Alex Billington January 21, 2010 Although it's now 2010, that doesn't mean we can't look back at some of the best movies you didn't see last year. Back by popular demand, it's our third annual list of the 19 Best Movies That You Didn't See in 2009 (you can find the older lists here: 2008, 2007). Featured below is a hand-picked selection of the best independent and mainstream films that were either quietly dumped by distributors, ignored by audiences, or just not marketed well. So to give these films some extra time in the spotlight, and to support some of the best filmmakers out there, we've put together this 2009 recap just for you. Read on for the complete list!
Back Again: The 19 Best Movies That You Didn't See in 2009 « ...
Boy, I didn't know what I was getting myself into when I started this. I've had requests for some sort of expressions tutorial dating back a while now, so I figured, "Sure! I can explain expression drawing...and it'll be way better than all those tutorials out there that are nothing but charts of generic expressions. Yeah! Just give me a day or two to whip something up..."