Blogs
Mountains | travel globe pictures - travelglobep.com
FIVE RINGS
Concept Arts do game Titanfall, por Scribble Pad Studios Hoje destacamos as incríveis concept arts criadas por James Paick (Scribbed Pad Studios) para o game Titanfall, da Eletronic Arts e Respawn Entertainment. Visite e acompanhe o blog do Scribbed Pad Studios e sua fanpage no Facebook. Muita inspiração!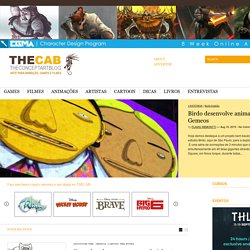 Browse - Page 1 | George Pruteanu |
Austrian driver's religious headgear strains credulity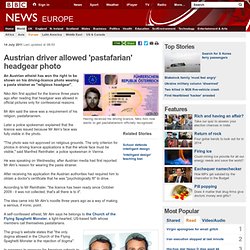 14 July 2011Last updated at 09:53 Having received his driving licence, Niko Alm now wants to get pastafarianism officially recognised An Austrian atheist has won the right to be shown on his driving-licence photo wearing a pasta strainer as "religious headgear". Niko Alm first applied for the licence three years ago after reading that headgear was allowed in official pictures only for confessional reasons. Mr Alm said the sieve was a requirement of his religion, pastafarianism.
Andrei Niculescu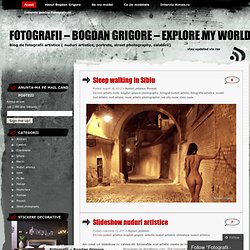 Fotografii – Bogdan Grigore – Explore my world
Am creat un slideshow cu cateva din fotografiile nud artistic create de mine de-a lungul timpului. Enjoy it. Daca te tenteaza o astfel de experienta artistica acceseaza : BE MY MODEL ! Image — Posted: aprilie 5, 2014 in Nuduri_artistice, Povesti Etichete:arta nud, arta nudului, fotograf bucuresti, fotograf nuduri artistice, fotografii artistice, nud alb-negru, nud feminin, nuduri artistice
Supersonic Pilot and Writer Doru Davidovici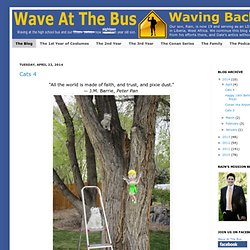 Today's the day. Rikki received her Radioactive Iodine treatment this morning. We went to the nuclear medicine clinic in separate cars so she could drive herself home.
In Oliver Sacks' The Man Who Mistook His Wife For A Hat, there is a chapter called "The Disembodied Woman" (excerpted here).In it we read of Christina, a woman who has lost all sense of proprioception. She learns to puppeteer her own body; if she is not looking at a limb, she has no internal sense of what it was doing. A nightmare scenario for anyone, but one that sounds oddly familiar to gamers.Proprioception is what we aim to replicate, albeit distantly, when we talk about "body awareness" in games--to look down and see your body is the most basic feedback for a body we cannot sense.I want to use this as a way to look more generally at the sense of immersion, of being embodied in the avatar, and how FPS games are limited in this respect. Before we talk about any design changes or solutions, we need to understand the problems.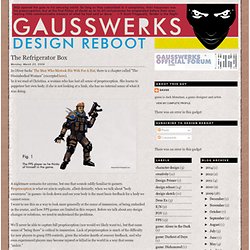 design reboot: The Refrigerator Box
Valery Barykin etse un ilustrator rus care combina in lucrarile sale stilul posterelor comuniste cu desenele pin-up. Ilustratiile sunt pline de umor si un erotism subtil. Din cauza ca nu exista un site care sa reuneasca toate lucrarile artistului, iar pe bloguri, informatiile despre autor sunt foarte sumare, am decis sa inchei textul acesui post cu cateva bancuri in tema (a se citi cu accent rusesc): In Soviet Russia, TV watches YOU!! In Soviet Russia, n00b pwns j00!! In Soviet Russia, exception makes YOU!!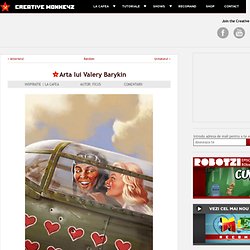 Arta lui Valery Barykin | CreativeMonkeyz
am revenit! cu o propunere… în premieră intergalactiă, un geam session cu voi și mine! adică cum? voi vă uitați ce fac eu. eu, ce faceți voi. prin geamul monitoarelor, adică. mă prind să gătesc și să fac poze tuturor preparatelor dintr-un meniu raw-rawuț pe care îl croiesc special pentru masa de Paști și, apoi, să postez rețete si poze mii. voi n-aveți decît a da perdeaua monitorului la o parte. ca să luați cu două mîini virtuale, să pipăiți, să studiați, să analizați, să criticați. poate chiar să și lăudați, dacă vă lasă inima. și gura plină.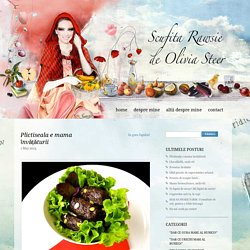 Olivia Steer
X-Wing Fighter from office supplies by spookylean
Cred că în imagine trebuie să fie un personaj, nu un model. Am studiat fotografia şi comunicarea media la Universitatea Guelph Humber, în Toronto (Canada) iar acum locuiesc în Bucureşti, România şi sunt fotograf freelance. Pot fi angajată pentru fotografie de portret, fashion, comercial, arhitectură, evenimente şi editare foto. I believe that a photograph should hold a character, and not just a model. I have a bachelor in Photography and Communications from the University of Guelph Humber (Toronto, CA).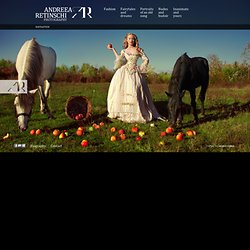 Photo Journalism - Andreea Retinschi Photography - an online Portfolio.
henrique oliveira
greuceanu's Saxxy entries
I've never thought of my allergies as a big deal. Sure, my peanut allergy has caused an emergency room visit here and there, and my dad used to pick me up from sleepovers because of my emphysema-like wheezing around cats. No big thing, right? But a few years back it seemed about time I went to see an allergy specialist and get a comprehensive list of the things my body hates.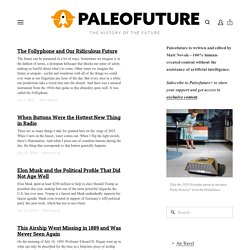 Cities of the Dead: 7 Sinister Ossuaries |
(Image: Thomas van Ardenne , cc-nc-nd-2.0 ) While overgrown cemeteries are mysterious places, with abandoned chapels and tumbling gravestones providing a perfect habitat for plants and animals, ossuaries present a far more forboding environment. All over the world, chapels and churches hide a dark subterranean secret beneath their stone floors, from family vaults to bone-lined cities of the dead .
Blog Archive » Filmul coreean al anului 2010
de Mihai Fulger Dintre filmele distribuite in cinematografele coreene anul trecut, cel mai mare succes l-a avut Ajussi / The Man from Nowhere, intalnit uneori si ca This Man. Al doilea lungmetraj al regizorului-scenarist Lee Jeong-beom (dupa Cruel Winter Blues din 2005) a avut peste 6,2 milioane de spectatori in tara sa, cu vreo 355.000 mai multi decat celebrul Inception.
MSC Cruises: MSC Fantasia Virtual Tour
Neaparat trebuie sa aveti carnea de vita si cu os. Osul si sfecla dau toata aroma la bors. Se spala carnita si se pune intreaga la fiert in 3 litri de apa cu sare. Se lasa la fier cel putin 1 - 1h si jumatate. Intre timp se taie ceapa maruntel si se pun la prajit intr-o tigaie cu putin ulei. Se taie rondele morcovii, telina si radacina de patrunjunjel si se adauga in tigaie.
Bors Rusesc
Workshop de Plamo | Otaku Festival 2011
DURATA 2:30h A cincea editie a Otaku Festival va propune inca o premiera. Asociatia Cogito din Resita va realiza, prin Clubul de Machete, un atelier de machete mix (Gundam/avioane). Cei interesati pot opta intre 3 modele diferite de Gundam, dar si cateva modele de avioane.
Otaku Festival 2011 |
KyleBean.co.uk - Portfolio
Chinezii reinventează distracţia
...::: Peter van Stralen Fotografie :::...
YellowSubmarine
"How Will You Create The Universe" | Yellowsubmarine
Salata orientala
salata orientala - Retete-Gustoase.ro
Indicii urbane — Neaparat.ro
irinadavis.com