Science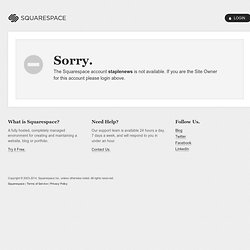 Click To Enlarge
THC Prevents MDMA Neurotoxicity in Mice - PubMed Mobile
Animal hypnosis
50 Years of Protein Structure Determination
Giant Cosmic Space Clouds of Beer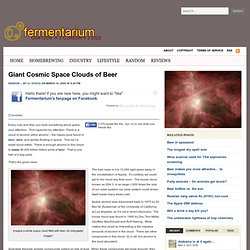 Every now and then you hear something which grabs your attention. This captured my attention: There is a cloud of alcohol (ethyl alcohol – the happy juice found in beer , wine , and spirits) floating in space. This isn't a small cloud either. There is enough alcohol in this cloud to make fill 400 trillion trillion pints of beer .
Charles Wenzel August 5, 2005 Gubs are those round, black spots you see on the pavement and sidewalks outside most public establishments, especially gas stations and restaurants. You may have seen thousands of them but never realized what they are or even noticed them. Once you do, your world will never be as clean; some establishments have thousands of gubs on the ground in the immediate vicinity of the door.
Gubs
Butterfly wings feel the heat › News in Science (ABC Science)
News in Science Monday, 13 February 2012 Stuart Gary ABC Lepidoptric imaging Scientists are using a five million year old design to make a better infrared detector. Dr Radislav Potyrailo and colleagues at General Electric in the United States are copying the microscopic structures found on the scales of butterfly wings to develop new technology with medical, industrial and military applications.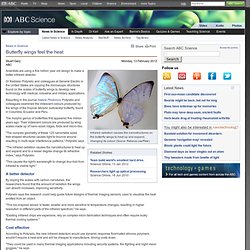 The video, originally shot back in July at TAM 2011 Las Vegas , is of a panel featuring Bill Nye, astronomers Neil DeGrasse Tyson & Pamela Gay, and theoretical physicist Lawrence Krauss—and the entire discussion is moderated by Bad Astronomy 's Phil Plait.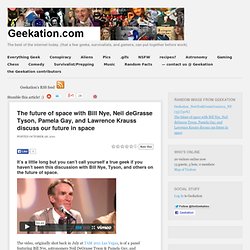 Primates as prey, predators, competitors of snakes
Dec. 13, 2011 Study of man-eating snakes: Snakes are predators on, prey of, and competitors with primates More than a quarter of the men in a modern Filipino hunter-gatherer group have been attacked by giant pythons, reports a study that also concludes that humans and snakes not only eat and are eaten by each other, but have long been competitors for the same prey.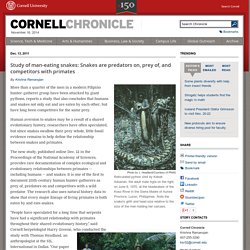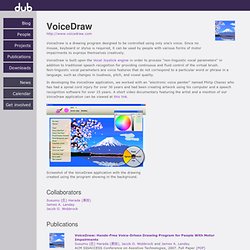 VoiceDraw is a drawing program designed to be controlled using only one's voice. Since no mouse, keyboard or stylus is required, it can be used by people with various forms of motor impairments to express themselves creatively.
This could be your forest on psilocybin.
Your Brain On Psilocybin Might Be Less Depressed : Shots - Health Blog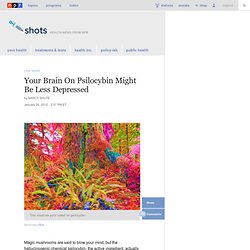 Most animals have a daily pattern of rest and activity.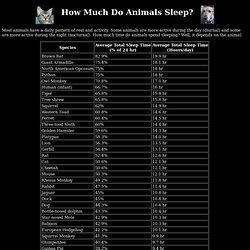 Want to See Every Tree in America?
This photo shows the jawfish in association with the mimic octopus -- a case of a fish mimicking an octopus that mimics fish. Credit: Godehard Kopp Nature's game of intimidation and imitation comes full circle in the waters of Indonesia, where scientists have recorded for the first time an association between the black-marble jawfish ( Stalix cf. histrio ) and the mimic octopus ( Thaumoctopus mimicus ).
Fish mimics octopus that mimics fish
It's something you would never expect to go missing, but one of the world's brightest glow-in-the-dark mushrooms has been rediscovered after an absence of more than 170 years, according to USA Today . The bioluminescent shrooms had become a Brazilian legend of sorts.
as a physicist, i'm rather surprised at the reaction this particular news received. i know that Einstein's purported speed limit has been the holiest of holies for the last century, but i've also sat around for the last few decades wondering when we'd start doing the /real/ science which disproved certain aspects of how we thought relativity worked.
Faster-than-light neutrinos could be proof of extra dimensions
An Alcubierre Warp Drive stretches spacetime in a wave causing the fabric of space ahead of a spacecraft to contract and the space behind it to expand.