Dessert
Burnt cream - Crema cremada
the peel of 1 lemon, cut into 1 or 2 long strips 1 cinnamon stick 8 large egg yolks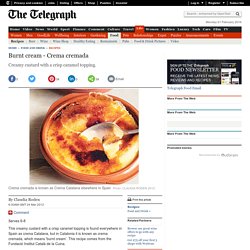 Smooth, creamy, decadent cheesecake studded with sweet morsels of cookie dough and bursts of mini chocolate chips? All atop a chocolatey, buttery crust? Garnished with sweetened whipped cream and more chocolate chips? Oh baby, sign me up for a cookie dough cheesecake IV. Immediately.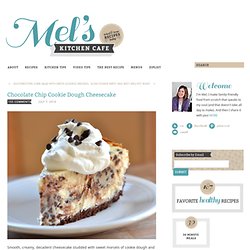 Chocolate Chip Cookie Dough Cheesecake
Apple Pies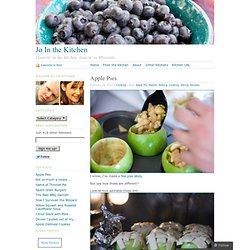 I know, I've made a few pies lately. But see how these are different?
Now I don't want to over sell this, so I'm going to be conservative and simply say, that these are... The Best Brownies In The WORLD.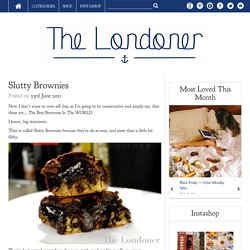 Slutty Brownies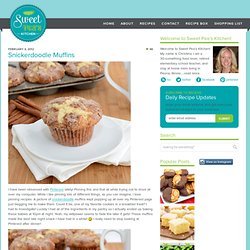 Snickerdoodle Muffins
Snickerdoodle Muffins
I have been experimenting with different mug cakes every since I heard about them about a year ago. None of them have been winners. They were either too chewy, too dry, or not sweet enough.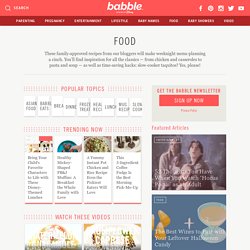 Nutella Mug Cake
Homemade Snickers Bars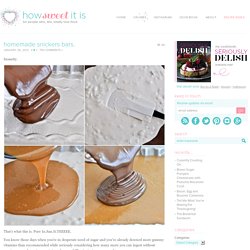 Insanity.
Baked Lemon Donut Recipe
Chocolate Cheesecake Cake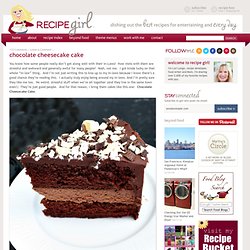 Chocolate Cheesecake Cake
Love brownies. Love their shiny, flaky top that shatters into micro-thin shards that shower onto your fingers as you eat. Love their dark, gooey center.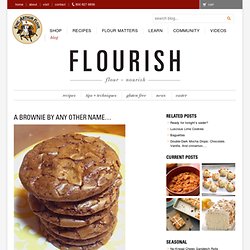 A brownie by any other name…
Popsicles!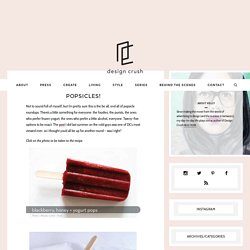 Jun29 Not to sound full of myself, but I'm pretty sure this is the be all, end all of popsicle roundups. There's a little something for everyone: the foodies, the purists, the ones who prefer frozen yogurt, the ones who prefer a little alcohol, everyone. Tweny-five options to be exact.
How to Make Peanut Butter S'Mores Turnovers
Peanut Butter- S'Mores Turnovers I'm not much of a camper. My husband often takes my son on camping trips, and I happily stay behind and thank the gods for our bug-free house, cozy bed and well-stocked kitchen. I always send them off in comfort… marinate a little meat for them to throw on the grill, pack up some convenience foods and bake a few goodies too. When they return from their camping weekends, I hear mostly about the evenings sitting around the campfire.
Cinnamon Roll Pancakes
Cinnamon Roll Pancakes Updated 9/22/11 to Add: If you're coming here to sample these delicious Cinnamon Roll Pancakes, you just might like the latest recipe that I've posted for Pumpkin Cinnamon Roll Pancakes too. And Gingerbread- Cinnamon Roll Pancakes too. Enjoy! If you've ever thought you needed a reason to eat pancakes, today is the day: National Pancake Day. Eat a short stack for breakfast, enjoy them for lunch, or make a dinner out a manhole-sized pancake… guilt free… because you're merely celebrating their existence.
How to Make Chocolate Ice-cream Cups Using Balloons - Funny Mike
The Brownie Project
Banana Split Bombe
Chocolate Cupcakes with Flaming Strawberries
Call me easily amused, but these little torch-topped cupcakes delight me. Besides being a cute novelty item for a party, I think they would add a little drama to the end of a romantic meal. I've been looking for something different to serve for Valentine's dessert, and this is definitely different. The strawberries are hollowed out and filled with a bit of liquor, then ignited with a match. For the cake portion, I chose a One Bowl Chocolate Cupcake recipe because 1. it's quick 2. it is easy, and 3. it fits my prerequisite for a light ending on date night.
The USDA released its new food pyramid the other day (which is actually a plate now instead of a pyramid), and I am sorely disappointed to report that cinnamon rolls did not appear anywhere on that plate. I think by now most of us know what should be on our dinner plate in terms of healthy, well-rounded nutrient-laden meals, but it is my considered opinion that our breakfast plate should include cinnamon rolls now and then. And not just any cinnamon roll, mind you, but how 'bout a homemade cinnamon roll hybrid that is a cross between a cinnamon roll and cinnamon toast, is super easy to make and gosh darn delicious. In honor of their ancestry, I call these little gems cinnamon toast rolls, and here's all you need to make them…
Cinnamon Toast Rolls
Dulce de Leche Brownies At seven o'clock last night I had a chocolate craving. I approach the pantry and see a can of Dulce de Leche and instantly think caramel brownies. I have been wanting to try a new brownie so I did a quick Google search and found these babies. Being seven at night and the fact that I live in the middle of nowhere, I used semi-sweet chocolate chips because that's what I had.
Dulce de Leche Brownies