Botany
Get flash to fully experience Pearltrees
Many people exert their energies to rally for the legalization of marijuana in western countries, but cannabis isn't the only plant that can get you high. Those really attracted to the psychologically altering offerings of nature can grow their very own legal gardens of LSA, DMT and mescaline. It's legal to enjoy these plants for their aesthetic qualities, but extracting and consuming their potent high-inducing chemicals will mean breaking the law!
A plant that last flowered when woolly mammoths roamed the plains is back in bloom.
Feb. 16, 2012 — Evolutionary biologists at Brown University and the University of Sheffield have documented for the first time that plants swap genes from plant to plant to fuel their evolutionary development. The researchers found enzymes key to photosynthesis had been shared among plants with only a distant ancestral relationship. The genes were incorporated into the metabolic cycle of the recipient plant, aiding adaptation.
The compilation of species will continue to be updated at irregular intervals. All species listed here have been documented, and links are added whenever I can find spare time for updating. These images are made for illustrative purposes, not as artistic statements per se. However, there are lots of food for thought in the convoluted ways Nature expresses itself, so for once the artist can step backand let the subjects speak for themselves. "Das Ding an Sich" to paraphrase Kant, or Eigenvalue of Nature. If you are unfamiliar with the botany, just select any species indicated as having a "strong" response to learn how this looks.
In 2004, two dutch companies, River Flowers and F.J. Zandbergen, experimented and successfully grew a rose that had its petals rainbow colored. As petals get their nourishment through stem, the idea is to split the stem into several channels and dip each one in a different colored water.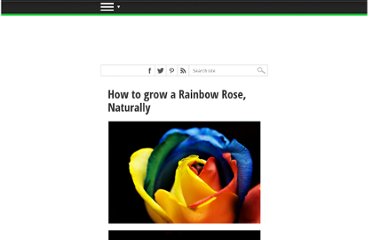 Did y'all know that you can take this and turn it into… This? And that this will eventually produce…