Readitlater
Angels and Demons | Effects Tutorials. Corey's summer movie series continues with this tutorial about recreating the title graphics of the new movie, Angels and Demons.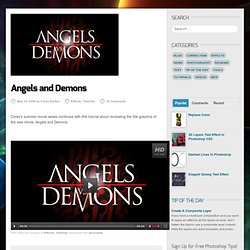 Corey is a education and curriculum developer for KelbyOne. He is a graduate of the Ringling School of Art & Design in Sarasota, Fl, with a degree in Illustration. Four Tools for Tracking Topics in Social Media « I'm Not Actuall. March 27, 2009 by Hutch Carpenter Photo credit: jlcwalker I've written previously about the inadequacy of Google Alerts for tracking information and conversations around a given topic.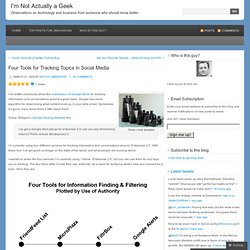 Tweetizen - Easy Twitter Groups. 8 Excellent Tools to Extract Insights from Twitter Streams. Twitter is now the third most popular social network, behind Facebook and MySpace (Compete, 2009).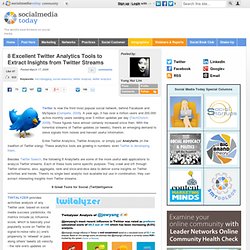 A year ago, it has over a million users and 200,000 active monthly users sending over 3 million updates per day (TechCrunch, 2008). Those figures have almost certainly increased since then. With the torrential streams of Twitter updates (or tweets), there's an emerging demand to sieve signals from noises and harvest useful information. Enter Twitter Analytics, Twitter Analysis, or simply just Analytwits (in the tradition of Twitter slang). These analytics tools are growing in numbers; even Twitter is developing them.
Strategies and tips on social media and online marketing — AriWr. Celtx: Powerful Free App for Script Writing, Pre-Production, and. Celtx - Integrated Media Pre-Production QPR - CryingStore - "Cold Tulips" by merlinmann (Celtx - Project Central) I've recently returned to using the Open Source (MPL-based CePL license) Celtx app for all the script-ish stuff I write.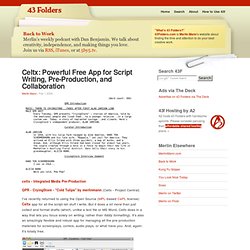 But it does a lot more than just collect and format drafts (which, unlike a text file or MS Word, Celtx does in a way that lets you focus solely on writing, rather than fiddly formatting). It's also an amazingly flexible and robust app for managing all the pre-production materials for screenplays, comics, audio plays, or what have you.
---