Opensource
Art.sy Open Source - Art.sy Engineering. We love open-source at Artsy.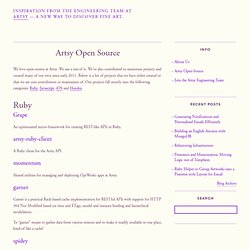 We use a ton of it. We've also contributed to numerous projects and created many of our own since early 2011. Below is a list of projects that we have either created or that we are core contributors or maintainers of. Our projects fall mostly into the following categories: Ruby, Javascript, iOS and Heroku. RailsApps · Rails Membership Subscription or SaaS Site with Stripe. Don't write code that's already written.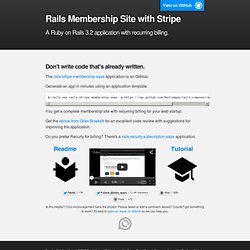 The rails-stripe-membership-saas application is on GitHub. Generate an app in minutes using an application template: $ rails new rails-stripe-membership-saas -m -T You get a complete membership site with recurring billing for your web startup. Get the ebook from Giles Bowkett for an excellent code review with suggestions for improving the application. WhiteHouse (The White House) Transparency Launches as Linux of Drug Development. Arlene Weintraub2/23/12 When Tomasz Sablinski was working in pharmaceutical R&D, he was often frustrated by the demand for secrecy in the clinical trials process—a misdirected effort, he says, to keep competitors in the dark about what drug companies were up to.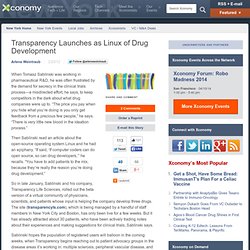 "The price you pay when you hide what you're doing is you only get feedback from a precious few people," he says. "There is very little new blood in the ideation process." Then Sablinski read an article about the open-source operating system Linux and he had an epiphany. Celtx – a MUST HAVE resource for Writing in ANY Medium — Apple Gazette. If you're interested in writing for film, television, radio, comic books, or just plain prose – you need to download Celtx.
This amazing pre-production software has just recently released version 1.0…and it is simply spectacular. Not only are their templates for writing appropriate scripts in all of the formats I just mentioned, the FREE service also includes online community collaboration, project back-up, and even an iPhone interface for viewing your scripts. I have written two screenplays using Celtx in the past, and now that it has comic book formats as well, there's no telling how many scripts I will eventually crank out of this software…but it's the online tools that make it truly amazing…and the price of FREE is equally unbelievable.
This is an open source project that there is absolutely no charge for. How To Track All Your Facebook Statistics For Free. There are a handful of startups offering companies with tools to monitor and manage Facebook pages, but what if you could download a tool that offers many of the paid services developed by others for free?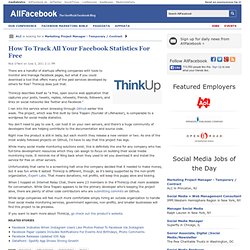 ThinkUp does just that. ThinkUp describes itself as "a free, open source web application that captures your posts, tweets, replies, retweets, friends, followers, and links on social networks like Twitter and Facebook." I ran into the service when browsing through Github earlier this week. Git-achievements: Earn geeky merit badges while learning Git. Between Foursquare and Gowalla, it seems badges are all the rage these days.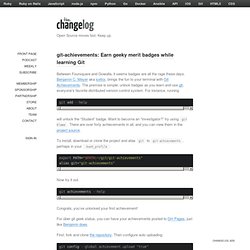 Benjamin C. Meyer aka icefox, brings the fun to your terminal with Git Achievements. The premise is simple: unlock badges as you learn and use git, everyone's favorite distributed version control system. For instance, running.
---