Marketing
Facebook. Viral. Branding. Enthuzer. Strategy. Etc. Adsense. 20:20 Social: Social Business Strategy — Home. 10 of the Best Social Media Tools for Entrepreneurs. This series is supported by Grasshopper, the Virtual Phone System designed for entrepreneurs.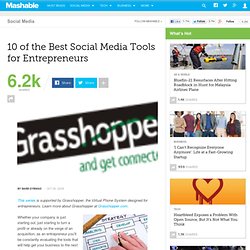 Learn more about Grasshopper at Grasshopper.com. Whether your company is just starting out, just starting to turn a profit or already on the verge of an acquisition, as an entrepreneur you'll be constantly evaluating the tools that will help get your business to the next stage. Even if the ink on the business plan isn't dry yet, you want to be armed with the social media tools that will play an important role in company communication, product and brand promotions, and business development for your startup.
Social Media for Business: The Dos & Don'ts of Sharing. Sarah Evans is the director of communications at Elgin Community College (ECC) in Elgin, Illinois.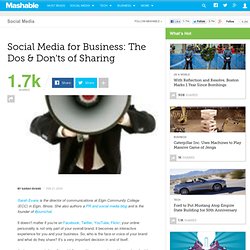 She also authors a PR and social media blog and is the founder of #journchat. It doesn't matter if you're on Facebook, Twitter, YouTube, Flickr; your online personality is not only part of your overall brand, it becomes an interactive experience for you and your business. So, who is the face or voice of your brand and what do they share? CoTweet™ - How business does Twitter. Droga5.
---