Law
http://showedthelaw.com/
The Issue: Trademarks and Artistic Expression As indicated by use of the word "trade," a trademark is concerned with matters of the marketplace. A trademark is essentially a government-authorized monopoly on the use of a word, name, phrase, symbol, device, or any combination thereof. It is given to an individual or company for the purposes of identifying themselves and distinguishing their products from those made or sold by someone else.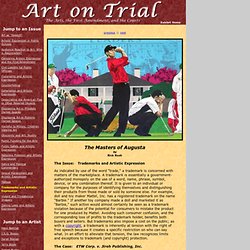 Art on Trial: Trademarks and Artistic Expression
Advice for Screenwriters 2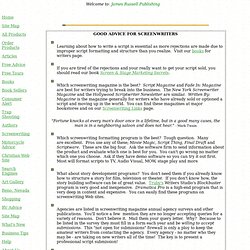 THIS AGREEMENT made between writer, (YOUR NAME), herein called writer, Writer: (Your Name) (Your Street Address) (City, State, Zip Code) (Phone) Story Owner: (STORY OWNER'S NAME) (Owners Street Address) (City, State, Zip Code) (Phone) herein called Story Owner, WITNESSETH: The parties agree as follows: I. Term: This Agreement shall be in effect for a period of one (1) year commencing the date Story Owner and Writer of this signing.
Bear Stearns' Collapse Was Inevitable by Rob Hassett 1st Published in the Fulton County Daily Report Make It Easier for Stockholders to Participate in Compensation Decisions by Rob Hassett
article.htm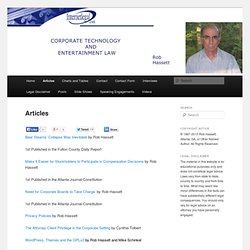 Perfectly Legal Forms | Entertainment Law Contracts | Forms and
M.E.L.O.N.: Film Law: Purchase of Film Rights
Hollywood released 607 movies in 2006 to the tune of 1.45 billion tickets sold for $25.8 billion in ticket sales world wide. Yet, with an average budget of $65.8 million and average marketing and distributing costs of $34.5 million, every studio film put out last year cost over $100 million. It is a well established rule of thumb that a movie has to make three times its negative cost to show a profit . With those kinds of numbers in the ledgers, it is no wonder that studio executives are nervous. Talent costs continue to rise and over the past decade writers have been asking for, and getting, multimillion dollar deals. And perhaps the most valuable, if underrated, factor in the industry is the story itself.