Debt
How To Call Your Congressman From Your Computer In Seconds
A new Web app lets you enter your address to look up the phone numbers of your congressional rep and Senators, then place a voice call to them without picking up a phone. All you need is a computer with an Internet connection and microphone. The app, CallForTheDream.com, was created in less than 24 hours using new technology from San Francisco startup Twilio. It's an example of the power of Twilio Client, which lets any Web developer add Skype-like voice calling capabilities into their Web app with a few lines of code.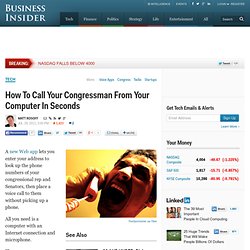 grass sky - Google Images
Written by Steve Patterson. In this Text Effects tutorial, we're going to learn how to place an image in text, a very popular effect to create in Photoshop, and one that also happens to be very easy to do thanks to the power of clipping masks, as we're about to see! Here's the effect we're going for: The final "image in text" effect. Note: Using Photoshop CS6 or CC (Creative Cloud)? Please see the fully revised and updated version of this tutorial.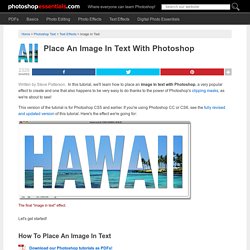 Photoshop Text - Image In Text - Photoshop Tutorial