Data
ScraperWiki lets anyone scrape Twitter data without coding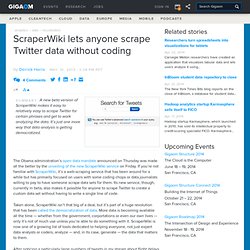 The Obama administration's open data mandate announced on Thursday was made all the better by the unveiling of the new ScraperWiki service on Friday. If you're not familiar with ScraperWiki, it's a web-scraping service that has been around for a while but has primarily focused on users with some coding chops or data journalists willing to pay to have someone scrape data sets for them. Its new service, though, currently in beta, also makes it possible for anyone to scrape Twitter to create a custom data set without having to write a single line of code. Taken alone, ScraperWiki isn't that big of a deal, but it's part of a huge revolution that has been called the democratization of data. More data is becoming available all the time — whether from the government, corportations or even our own lives — only it's not of much use unless you're able to do something with it.
Police Dept. to Use Internet to Try to Stop Shootings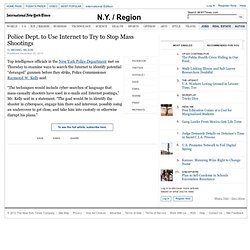 "The techniques would include cyber-searches of language that mass-casualty shooters have used in e-mails and Internet postings," Mr. Kelly said in a statement. "The goal would be to identify the shooter in cyberspace, engage him there and intervene, possibly using an undercover to get close, and take him into custody or otherwise disrupt his plans." The meeting came almost a week after a gunman killed 26 people, 20 of them children, inside Sandy Hook Elementary School in Newtown, Conn. There are plans to send officers to Newtown and to scenes of other mass shootings to collect information, Paul.
A new algorithm predicts which Twitter topics will trend hours in advance and offers a new technique for analyzing data that fluctuate over time. CAMBRIDGE, Mass. — Twitter's home page features a regularly updated list of topics that are "trending," meaning that tweets about them have suddenly exploded in volume. A position on the list is highly coveted as a source of free publicity, but the selection of topics is automatic, based on a proprietary algorithm that factors in both the number of tweets and recent increases in that number.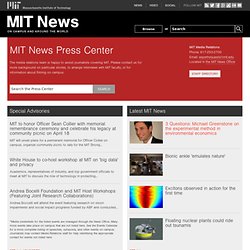 Predicting what topics will trend on Twitter - MIT Media Relations
A real Caltech course, not a watered-down version Free, introductory Machine Learning online course (MOOC) Taught by Caltech Professor Yaser Abu-Mostafa [article]Lectures recorded from a live broadcast, including Q&APrerequisites: Basic probability, matrices, and calculus8 homework sets and a final examDiscussion forum for participantsTopic-by-topic video library for easy review Outline This is an introductory course in machine learning (ML) that covers the basic theory, algorithms, and applications.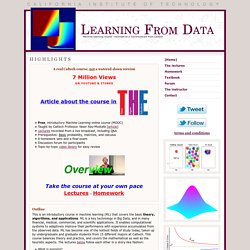 Stress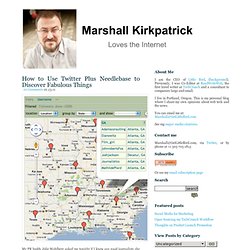 My PR buddy Julie Wohlberg asked me tonight if I knew any good journalists she should invite to a social media conference in Florida called SheCon. ReadWriteWeb's Sarah Perez in Tampa was apparently inaccessible, so I took a few minutes to explore some possibilities…with web applications! I used the DIY data extraction and normalization service Needlebase, along with Twitter list search engine Tlists and of course Twitter itself to discover a list of journalists in the South of the US who have more than 2000 Twitter followers.
Marshall Kirkpatrick, Technology Journalist » How to Use Twitter Plus Needlebase to Discover Fabulous Things
View From Above: The Startup Map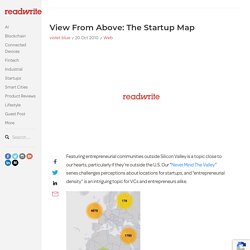 Featuring entrepreneurial communities outside Silicon Valley is a topic close to our hearts, particularly if they're outside the U.S.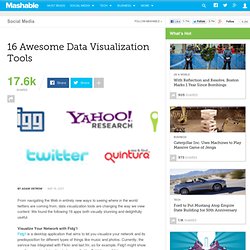 From navigating the Web in entirely new ways to seeing where in the world twitters are coming from, data visualization tools are changing the way we view content. We found the following 16 apps both visually stunning and delightfully useful. Visualize Your Network with Fidg'tFidg't is a desktop application that aims to let you visualize your network and its predisposition for different types of things like music and photos.
Data visualizations can be gorgeous, but images often don't do them justice, especially if we're talking live, real-time visualizations (some of which require a lot of processing power and can't even be run on a regular desktop computer). We've dug out 7 videos of awesome data visualizations you simply must see. Skyrails Skyrails is a social network visualization system, but it can be used to visualize any graph or dataset.
7 Beautiful Data Visualizations (With Videos)