Blogger
Support
Firebug. Creating "Static" Pages With Blogger. Static pages are a useful way of offering your readers information about your blog.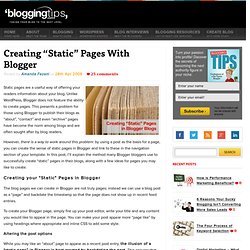 Unlike WordPress, Blogger does not feature the ability to create pages. This presents a problem for those using Blogger to publish their blogs as "about", "contact" and even "archive" pages have become the norm among blogs and are often sought after by blog readers. New Blogger Tag Cloud / Label Cloud. The Top 10 Blogger Template Resource Sites. These days, Blogger users are spoiled for choice by the variety of free Blogger templates available to them.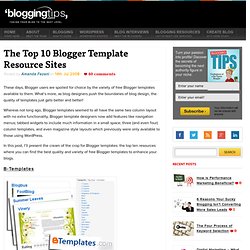 What's more, as blog designers push the boundaries of blog design, the quality of templates just gets better and better! Whereas not long ago, Blogger templates seemed to all have the same two column layout with no extra functionality, Blogger template designers now add features like navigation menus; tabbed widgets to include much information in a small space; three (and even four) column templates, and even magazine style layouts which previously were only available to those using WordPress. In this post, I'll present the cream of the crop for Blogger templates: the top ten resources where you can find the best quality and variety of free Blogger templates to enhance your blogs.
Blue White wordpress theme | AskGraphics. Download Theme | Click here for Demo Clean theme with skyblue header and two sidebars in the right side with space for 4 ads.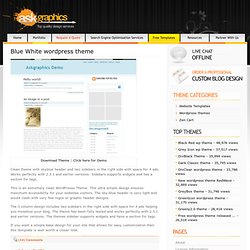 Works perfectly with 2.3.1 and earlier versions. Sidebars supports widgets and has a section for tags. This is an extremely clean WordPresss Theme. This ultra simple design ensures maximum accessibility for your websites visitors. BLOGGER.COM TOOLBOX: 30+ Templates & Tools for Blogger. While Blogger may not be the most advanced blogging platform out there, it sure has plenty going for it.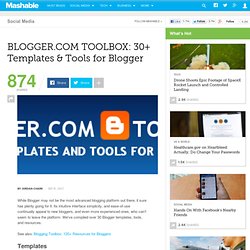 Its intuitive interface simplicity, and ease-of-use continually appeal to new bloggers, and even more experienced ones, who can't seem to leave the platform. We've compiled over 30 Blogger templates, tools, and resources. See also: Blogging Toolbox: 120+ Resources for Bloggers Templates Blogger Templates- A top-notch collection of Blogger themes and tutorials. Best 3-Column WordPress Themes. Updated: April 25, 2013 While most full time bloggers seem to use and prefer 2-column WordPress themes, there is no doubt that 3-column themes are definitely more popular among the WordPress blogger masses.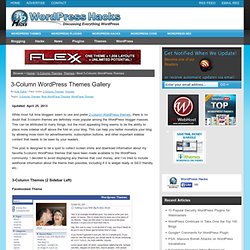 This can be attributed to many things, but the most appealing thing seems to be the ability to place more sidebar stuff above the fold on your blog. Rebel magazine blogger template | Blogger Templates | ThemeLib. 10 Best Blogger themes / Templates [Including Magazine Style Blo. I've compiled here, one of the best blogger templates / themes.
These cool designs can give your Blogspot Blog a great uplift. I hope you enjoy 1- Visionary Reloaded, Magazine Style Blogger Theme:
---