Mac
Top 10 Secret Features in Mac OS X Lion. There's one change unmentioned I'm halfway happy about: using an external display, keyboard & mouse with my MBP unibody - on previous Os versions, closing the lid while the display was running would put the Mac to sleep until a key stroke or mouse click, now it will auto-adjust to the external display only - this part is great but when reopening the lid it will auto-adjust to both displays, for most I'm sure it's a great change, I wish there was a setting for manually turning on\off the displays.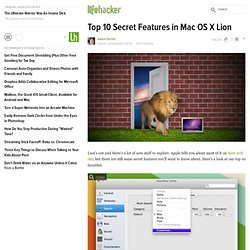 One more feature I'm not sure was available before is the option to schedule startup, wake or sleep for the computer, you can find that setting in system preferences->energy saver. 30 Fantastic Geeky Tricks to Get The Most From Your Mac. If you're one of those Mac users that loves to dig in and play with hidden features and settings, this post is for you.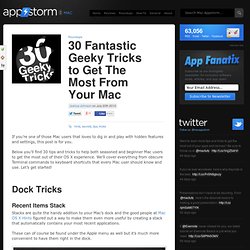 Below you'll find 30 tips and tricks to help both seasoned and beginner Mac users to get the most out of their OS X experience. We'll cover everything from obscure Terminal commands to keyboard shortcuts that every Mac user should know and use. Let's get started! Dock Tricks Recent Items Stack. Things Mac OS X. How To Prepare a Mac For Sale. How To Prepare a Mac For Sale Friday, 14 November 2008 • Permalink It's time to upgrade your Mac, and you're thinking about selling your old one.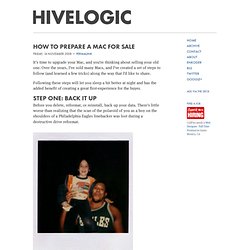 Over the years, I've sold many Macs, and I've created a set of steps to follow (and learned a few tricks) along the way that I'd like to share. Following these steps will let you sleep a bit better at night and has the added benefit of creating a great first-experience for the buyer. 10 Coolest Keyboard Shortcuts You Never Knew About.
Posted 05/11/2011 at 1:36pm | by Cory Bohon Keyboard shortcuts are the lifeblood of many productive Mac users.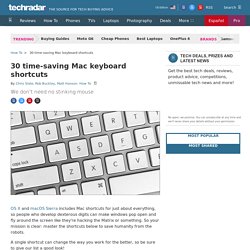 Not only can keyboard shortcuts make for a nicer user experience and cut down on the time needed to do a task, they can also just be plain cool. Mac OS X has many shortcuts ready and willing to do your bidding, but also has many hidden and unknown shortcuts. That's why we've compiled a list of 10 of the coolest keyboard shortcuts you never knew about.
---