House
These honeycomb shelves came our way at a perfect time — not only do they satisfy my need for cheerful spring colors, but they also provide a great storage solution to alleviate spring-cleaning woes. Sarah and Josh, the creative husband-and-wife photographers behind Arrow & Apple , whipped up these pretty hexagonal shelves for free using salvaged cabinet doors and brackets. They really lucked out on the color palette of the old cabinets, and I love the mix of painted and unpainted pieces. Luckily, recreating this look is easier than you think.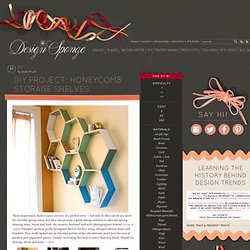 Design*Sponge » Blog Archive » diy project: honeycomb storage shelves
641 NE JACKSON SCHOOL RD, Hillsboro, Hillsboro, OR - MLS 11089627 - Estately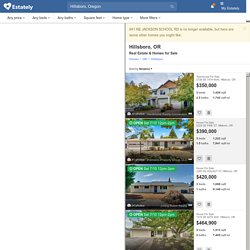 Great"view"home with large entertainer's patio,lots of windows and great mid-century feel of the 50's & 60's.Many features are retro originals!Private,expansive grounds,irrigation well,fruit trees,A/C,Htub off master.Vaulted,open Hemlock ceilings,garage work area & builtins. You can contact the listing brokerage Pack 1st Properties, Inc. at 503-648-3000 This one got away! Save this home and be alerted if anything changes with it in the future.
How to Construct a Shaded Dog Run
Cut the following pieces of landscape timbers: two at 2' six at 4' six at 8' 18 - 2x2 stakes to anchor the frame Use landscape fabric to create the 10'x20' footprint of the dog run on the ground. Using the pieces of landscape timbers, create the base frame for the dog run along the outer edges of the fabric.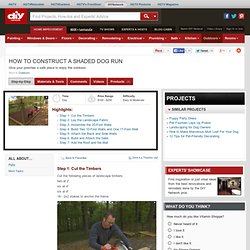 Milan 2011: users can pin their own paper shades onto this cork light fitting by London design studio Raw Edges for Portugese brand Materia. The light fitting, called Pinha, features a three tiered cork base which paper shades can be pinned to. The tiered system allows for control of the direction and range of light. The piece remains on show at Spazio San Marco, Via San Marco 38, Brera, Milano until 17 April. See all our stories from Milan 2011 » See all our stories on Raw Edges »
Pinha by Raw Edges for Materia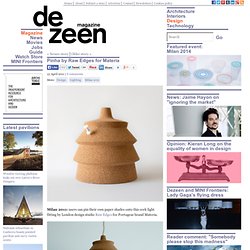 Junior 1/2 Acre Great Home, Lot & Vale!
Charming one-level home Located in Cedar Hills.
Yahoo!
i've always loved seeing pictures of students using leather book straps; they are so charming and orderly. but to be honest, it is not the best way to carry heavy books around town is it? but to carry something that doesn't move, like a table…perfect! i went to a local recycling center to pick up some extra books, built a couple small cubbies out of wood, and went to work! the rest is just gravity and organization (and a tiny bit of glue). have fun!
Design*Sponge » Blog Archive » diy project: book strap side table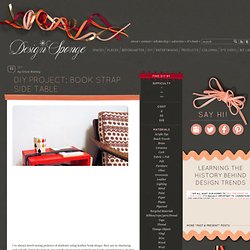 Materials: Ikea chest Rast Description: I had great collection of stamps from all over the world, but it was only lying around and nobody ever took a look at it. I glued a compilation of the most interesting stamps on top of the IKEA Rast chest. A nightmare for every serious stamp collector, because I will never be able to take it off again and some of the stamps are really rare. Afterwards I covered the stamps with a layer of plastic film, so I can wipe the chest.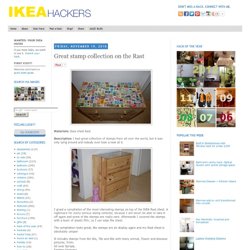 Great stamp collection on the Rast
IKEA Hackers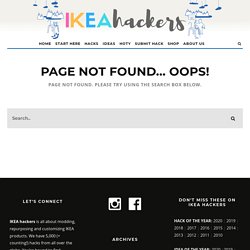 Before I dive into the hack, I wanted to take this chance to wish you all a very merry Christmas. I won't be posting any hacks over the weekend, as I will be busy stuffing my face and opening presents. Hope you will be getting some great gifts too. Should you receive one off Steve Jobs' production line, you may want to hack this stand for it and save a bundle. ~ Jules Materials: $3 EKBY VALTER bracket, 1 dowel, 2 screws Description: 1) Take Ekby Valter bracket and turn it upside down.
Materials: Varde, Akurum, Lidi and Besta Description: We had a bare corner in our small kitchen that we couldn't decide how to fill till my husband came up with this idea. He wants to add another cabinet above this one in the future but for now, we have this free standing corner counter cabinet that he customized to our space and needs.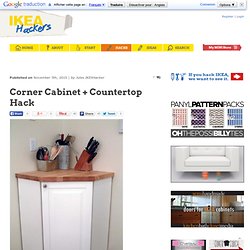 Corner Cabinet + Countertop Hack
L11029788a.jpg (JPEG Image, 502x650 pixels) - Scaled (92%)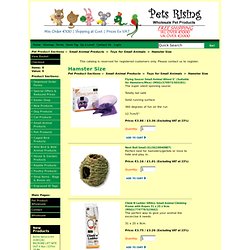 Hamster Racing Car (JK)(SPET) Critter Cruiser is an exciting pet powered exercise car for hamsters and gerbils. Critter Cruiser's adjustable racing wheel allows for the car to work in three different ways! First, when the Comfort Wheel is in the top position, exercising critters spin the Wheel and the Critter Cruiser remains stationary. Interactive fun begins by adjusting the Comfort Wheel into the middle position.
Pets Rising Hamster Size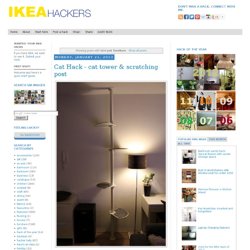 Materials: TRABY, jigsaw, staple gun. Description: We had four pet rats for a while, and they needed a comfortable, yet stimulating place to live, when they weren't running loose (under close supervision.) We decided to do an IKEA Hack, before we knew there was such a thing.
pet furniture
Measuring Light
Materials: Lindmon venetian blinds, Ikea measuring tape Description: I love going to the as-is section to find things I can use for school projects and I picked up some Lindmon venetian blinds to use as title blocks for a presentation. They didn't work out the way I wanted them to and put them aside. Finding them one night gave me the idea to make a frame out of them, which turned into this cute light. I first cut off all the strings to remove the slats, layered them and glued them down. before i placed the last layer of slats, I made a basket weave of the Ikea measuring tapes and finished it off with the final layer.
Custom wall sized clipboards
wall decor
Materials: 1x Ribba frame (25x25x4,5cm), old laptop, sharp knife, black paint, some plywood (3mmx25cmx25cm) Description: Image you bought a new laptop, what to do with the old one? 1. Disassemble the old laptop and make sure the motherboard fits in the 25x25cm frame. 2. If it fits continue and remove necessary accessories from your laptop (I reused the power, LAN and USB connectors and the power switch).
Materials: GODMORGON Description: My idea was to make a simple, chic, not too modern cabinet for the main bathroom. I chose the IKEA GODMORGON cabinet with two drawers for its size and simplicity. The thing is, IKEA does not offer more than one option for the counter (2 built-in sinks in a glossy white counter) and it is far from what I wanted. My first goal was to built a wood counter massive as a fireplace tablet. Because I didn't want to use legs for the installation of the GODMORGON, I couldn't obviously use a huge beam of wood because it would have been too heavy and too expensive for its use anyway.
bathroom