Greensolarwind
Lon Hope
Demand the Senate Judiciary Committee Investigate DEA Abuse of Daniel Chong
War artist destroys works as protest against Tories - Politics
A renowned Canadian war artist is destroying five pieces of his own artwork — including one he shredded live on CBC's Power & Politics — to protest the federal government's treatment of veterans and aboriginals, as well as for what he calls an "abuse" of parliamentary power. "And so there are four to go," an emotional Allan Harding MacKay told host Evan Solomon after ripping up a piece depicting a scene from Kandahar Air Field. MacKay plans to destroy four more pieces on Parliament Hill on Thursday and says he hopes his act will help more people "wake up" to how the government is doing business. "This is a citizen's action," he said.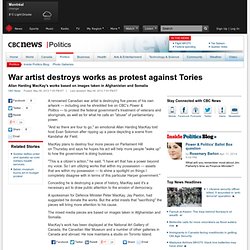 The Children's Joy Foundation
Unemployed Confront Congress at Take Back the Capitol | Truthout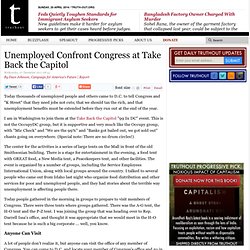 Today thousands of unemployed people and others came to D.C. to tell Congress and "K Street" that they need jobs not cuts; that we should tax the rich, and that unemployment benefits must be extended before they run out at the end of the year. I am in Washington to join them at the Take Back the Capitol "99 In DC" event. This is not the OccupyDC group, but it is supportive and very much like the Occupy group, with "Mic Check" and "We are the 99%" and "Banks got bailed out, we got sold out" chants going on everywhere. (Special note: There are no drum circles!)
The Large Families that rule the world
Bank of America: State Street Corporation, Vanguard Group, BlackRock, FMR (Fidelity), Paulson, JP Morgan, T. Rowe, Capital World Investors, AXA, Bank of NY, Mellon. JP Morgan: State Street Corp., Vanguard Group, FMR, BlackRock, T. Rowe, AXA, Capital World Investor, Capital Research Global Investor, Northern Trust Corp. and Bank of Mellon.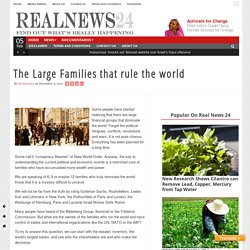 FEELINGS OF AN OCCUPIER « WHY I OCCUPY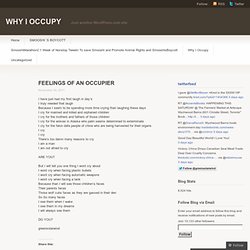 I have just had my first laugh in day's I truly needed that laugh Because I seem to be spending more time crying than laughing these days I cry for maimed and killed and orphaned children I cry for the mothers and fathers of those children I cry for the wolves in Alaska who palin seems determined to exterminate I cry for the falon dafa people of china who are being harvested for their organs I cry I cry There's too damn many reasons to cry I am a man I am not afraid to cry But I will tell you one thing I wont cry about I wont cry when facing plastic bullets I wont cry when facing automatic weapons I wont cry when facing a tank Because than I will see those children's faces Their parents faces Those wolf cubs faces as they are gassed in their den So So many faces I see them when I wake I see them in my dreams I will always see them greensolarwind Like this: Like Loading...
Sad execution of gay men in Iran
ZIONISTS WON'T LET YOU SEE THIS ON YOUR TV
How The NYPD Tried And Failed To Cancel Christmas For Occupy Wall Street
How The NYPD Tried And Failed To Cancel Christmas For Occupy Wall Street By: Guest Contributor Dec. 26th, 2011 more from Guest Contributor The battle between Occupy Wall Street and the NYPD didn't take a break for Christmas as police prevented protesters from entering Zuccotti Park for a pot luck Christmas dinner.
HOUSTON (KTRK) -- An assistant district attorney is still on the job despite admitting she may have committed a crime. Last week, Harris County Asst. DA Rachel Palmer pleaded the Fifth, claiming that testifying before a grand jury could incriminate her. And on Tuesday, a judge agreed.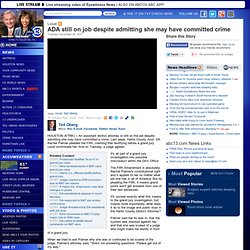 Harris County Assistant District Attorney Rachel Palmer still on the job despite admitting she may have committed a crime | abc13
Often times Michigan does not get the national attention it deserves, because their totalitarian Republican governor is not as flamboyant as the Koch suckers in charge of Ohio, and Fitzwalkerstan, formerly Wisconsin, but here's some information about the harm that he and and the Republican party are imposing on the neediest Michiganders in order to increase corporate welfare. In the last few weeks of 2011, Michigan Gov. Rick Snyder (R) rounded out his concerted campaign against Michigan workers with a few final laws. In a prejudicial move against the LGBT community, Snyder signed a measure prohibiting all public employees from providing benefits for their unmarried partners.
Snyder Goose Steps Backward » Politics Plus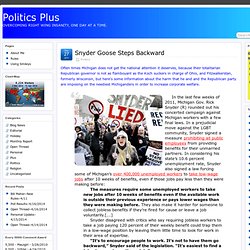 Federal Reserve Tells YouTube to Take Down Critical Video!!! - MAKE VIRAL!!!!
By Hector Cordon 27 December 2011 In the first week of December, a Portland Occupy education group invited by a sixth-grade teacher to speak to his class was ordered by a school official to leave shortly after their presentation had ended and discussion with the students had begun. A petition circulated to protest their removal and defend academic freedom has garnered wide support. The decision to evict four representatives of Occupy Portland's educational arm on December 7 was made by Astor School principal Karl Newsome and subsequently affirmed by a Portland Public Schools (PPS) representative.
Portland teachers protest principal's removal of Occupy speakers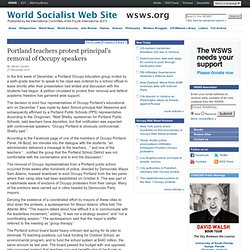 By marketing with CNET Download.com and ZDNet Downloads, you have the opportunity to reach millions of consumers who are looking for a hands-on evaluation of your products before they purchase. Source: Nielsen NetRatings Q2 2003, US only. Include both CNET Download.com and ZDNet Downloads. Most Popular Software Downloads
How CNET/CBS interactive ignited and Fueled the Phenomenon of Internet Piracy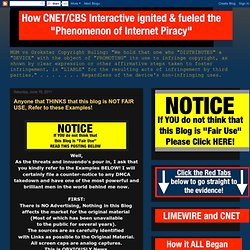 It appears that godaddy is now requiring Written authorization to transfer your domain from their servers. Please register a complaint with ICANN Internet Corporation For Assigned Names And Numbers at http://www.icann.org/en/contact/ Also it appears that even if you transfer your domain you still might be generating ad revenue for godaddy and might still be on one of there "nameservers" I don't really know about these things but have been told that the following will get rid of godaddy from your domains.
Domain Transfer Problems | Just another WordPress.com site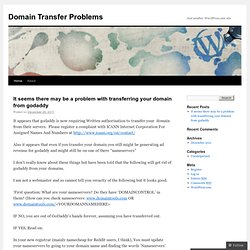 to: Yang Amat Berhormat Dato' Sri Mohd Najib Bin Tun Abdul RazakPrime MinisterOffice of the Prime MinisterBlok Utama, Bangunan Perdana PutraPusat Pentadbiran Kerajaan Persekutuan62502 PutrajayaMALAYSIA Dear Prime Minister,
STOP TORTURING ORANGUTANS AT MELAKA ZOO
Crusaders Take Page, and Outfits, From Comics
"Hi, superheroes!" a woman shouted from within. "I'm in love with you guys!" Eat your heart out, Batman.
We Are The Many - Makana
Montanans Launch Recall of Senators Who Approved NDAA Military Detention. Merry Christmas, US Senate
UPDATE 12/26/2011:This is from a statement from Stewart Rhodes of Oathkeepers regarding Republican Denny Rehberg as a target of recall, who also voted for NDAA. Here in Montana, while we will go after all three violators of the Bill of Rights, I will place special emphasis and "focus of effort" on Denny Rehberg, since he is so fond of wrapping himself in the flag and claiming to be defending the Constitution while his votes do the exact opposite. In that sense, Rehberg is much like John McCain and Lindsey Graham, two Republicans who, right along with Carl Levin and Joseph Lieberman, are leading a sustained and relentless assault on our Bill of Rights. Disclaimer: I am now a volunteer press contact for this campaign.
Keith Olbermann Reads The Statement Released By The Wall Street Protesters - 2011-10-05
Right now Congress is considering two bills—the Protect IP Act, and the Stop Online Piracy Act (SOPA)—that would be laughable if they weren't in fact real. Honestly, if a friend wrote these into a piece of fiction about government oversight gone amok, I'd have to tell them that they were too one-dimensional, too obviously anticonstitutional. Make no mistake: These bills aren't simply unconstitutional, they are anticonstitutional. They would allow for the wholesale elimination of entire websites, domain names, and chunks of the DNS (the underlying structure of the whole Internet), based on nothing more than the "good faith" assertion by a single party that the website is infringing on a copyright of the complainant.
MythBuster Adam Savage: SOPA Could Destroy the Internet as We Know It
Business Software Alliance - BSA Members
Le fait de copier ou de redistribuer tout logiciel protégé par des droits d'auteur, que ce soit en les copiant, les téléchargeant, les partageant, les vendant, ou en installant plusieurs copies sur des ordinateurs personnels ou de travail, constitue un acte de piratage. De nombreuses personnes ne se rendent pas compte ou ne réfléchissent pas au fait qu'en réalité, quand vous achetez une copie d'un logiciel, vous n'achetez pas le logiciel lui-même mais plutôt une licence vous donnant le droit d'utiliser le logiciel. Signaler le Piratage Immédiatement
S.968: PROTECT IP Act of 2011
CIA defends helping spying on Muslims
Caught on camera: top lobbyists boasting how they influence the PM - UK Politics - UK
Go Daddy Lost 21,054 Domains Yesterday
Leon Panetta: Military Cuts Mean "Doomsday" for America | Truthout
Big Box Scheduling Leaves Workers Exhausted and Broke | The Indypendent
Israeli extremists spread violent mayhem
Companies in Support of SOPA Now Being Boycotted « Motley News
Occupy the Courts Planned for January 20 Anniversary of Citizens United Decision | The People Occupy
List of SOPA Supporters and Sponsors - BoycottSOPAsponsors
Occupy Christmas
Boycott Companies that Support SOPA and Protect IP - Google Docs
Raid and Arrests at Occupy San Diego December 22
War on drugs revealed as total hoax - US military admits to guarding, assisting lucrative opium trade in Afghanistan
SOPA Supporters.pdf (application/pdf Object)
Occupy Boston: I hope the police will kee
The Question
Huge Victory In House -- Let's Slam The Senate
Save the Internet!
Huge Victory In House -- Let's Slam The Senate
Don't 'Occupy the Democratic Party' -- Four Lessons From the Populist Movement
Occupy Protesters Free Speech Class
U.S. Sheriffs Rise Up Against Federal Government: Sheriff Threatens Feds With SWAT Team ~ Grass Roots Take Charge
Economic Justice Petition: Mayor of New York City: Allow Occupy Wall Street to stay with TENTS!
Revealed – the capitalist network that runs the world - physics-math - 19 October 2011
The Orbital: The Gingrich Tax Plan
Obama insists on indefinite detention of Americans
Avalanche of Occupy summonses will hit Manhattan courts this week
An Open Letter from America's Port Truck Drivers on Occupy the Ports | Coalition for Clean and Safe Ports
parentsforoccupywallst - Home
NYPD and NYC City Hall Break Kids Hearts
Informed Comment: Thoughts on the Middle East, History and Religion
Obama Raises the Military Stakes: Confrontation on the Borders with China and Russia
10 Rules for Dealing with Police PART 4 FINAL
John Lennon - Rare Illuminati Interview
Physicists Anxiously Await News of the 'God Particle'
Japanese to mass produce cars that run off water!
Brave Soldier Speaks Out About War Crimes - Shocking Footage