Cooking
KRAFT MOBILE RECIPES. Once A Month Meals | Freezer Cooking | Once A Month Cooking. Sugar Cookie Frosting Recipe. Halloween treats. Homemade Treats for Halloween at Epicurious. W hether you're filling costumed kids' goodie bags or hosting a grown-up bash, homemade snacks take Halloween to a whole new level.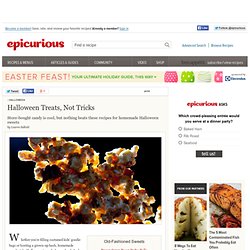 And the good news is that beyond a thermometer and a few tricks of the trade, making your own Halloween confections doesn't require any special equipment or professional experience. Here, we've gathered recipes and tips for making old-fashioned sweets like brittle, bark, and caramel apples, plus three homespun takes on store-bought classics—Reese's Peanut Butter Cups, Almond Joy bars, and York Peppermint Patties. Halloween Treats. Creative Halloween Snacks and Treats . Kitchen Explorers . PBS Parents. Pin It Halloween is just weeks away and you know what that means, don't you?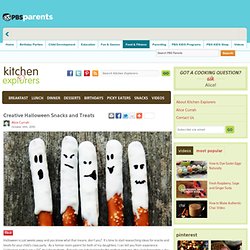 It's time to start researching ideas for snacks and treats for your child's class party. As a former room parent for both of my daughters, I can tell you from experience Halloween parties are a BIG deal for students. Halloween Tips. Halloween Treat Ideas – Recipes for Halloween Treats - Delish.com. Photo Credit: Frances Janisch Pumpkin Ghosts 1 (14-oz) box pumpkin quick bread 1 cup milk ⅓ cup vegetable oil 2 large eggs 1(16-oz) can vanilla frosting Black round sprinkles 1.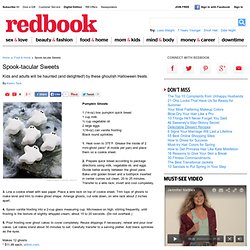 Halloween Cupcakes - Spooky Martha Stewart Halloween Cupcake Ideas. Prepare the vanilla or chocolate cupcake recipe.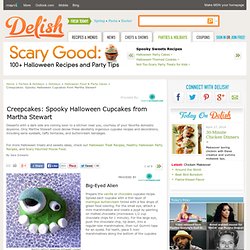 Spread each cupcake with a thin layer of meringue buttercream tinted with a few drops of green food coloring. For the small eye, attach a mini marshmallow and create a pupil by painting on melted chocolate (microwave 1/2 cup chocolate chips for 1 minute). For the large eye, push the chocolate chip, tip down, into a regular-size marshmallow, then cut Gummi tape for an eyelid. Halloween Treats, Halloween Cookies, Halloween Dessert Recipes. Bright Ideas Home Page. Halloween Cupcakes : ABOUT US. Celebrate Halloween with Hershey's: Halloween Crafts, Candy & Recipes. Halloween Recipes By Kraft Foods - Find Halloween Food, Party Ideas, Games & Activities For Halloween.
Terrorific Halloween Treats from Pillsbury. Classic Tux Chocolate Strawberries. Holiday Recipes and Holiday Menu Ideas. Recipes and Links From My Freezer Cooking Post & WFMW. Thanks to everyone who left comments on my freezer cooking post.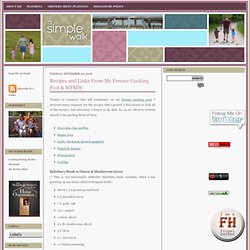 I received many requests for the recipes that I posted. I had meant to link all of the recipes, but obviously I forgot to do that. So, in an effort to redeem myself, I am posting them all here.
---