Chickens
Hen House & Hutch Design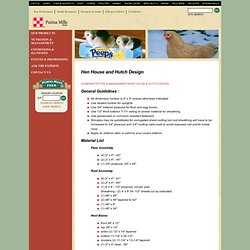 General Guidelines : All dimension lumber is 2" x 4" unless otherwise indicated Use treated lumber for uprights Use 3/4" exterior plywood for floor and egg boxes
Forum / New coop and hens
The way *I* did it was to cut the hole in the wall the exact size of the finished nest box, and because I'm not a real carpenter, I had a couple little spots where it was a tad too large. Anyway, then I pushed the nest box into the wall, partway into the coop, propped it up from the outside with a step-stool and a couple of well-placed 2x4s temporarily, then nailed a 2x2 TO the nest box top on the inside of the coop. Right at the very edge of the box. Repeated that step for each side, using 2x3s, and the bottom side with another 2xw.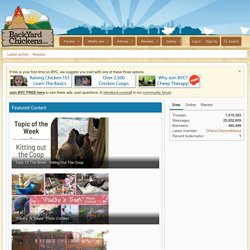 Still no eggs... I bought my first 4 chickens last Friday, and was told that they are all laying eggs already. But I haven't even seen one yet. Also, they are terrified to go outside. I have a huge yard and want them to be free range, but they refuse to leave the barn. AND one of the chickens is a bully.
So you're thinking about building a chicken coop but don't want to spend a fortune oncoop plans and building materials? This was my thought when I built my own coop afew years ago. I've read that the average person spends $300.00 to build their coopand I didn't want to spend that much - I scoured the internet to find free (or cheap)but well made chicken coop designs that I could either build myself or buy. I've included the links to FREE coop designs on the left side of the page.the links contain plans to big or small chicken coops, depending on your needs. I'vealso added some ideas for cheap or free chicken coop supplies i.e. buildingmaterials, chicken feeders, chicken water containers, chicken nest boxes, chickenroosts, and a few recommended books on how to care for chickens.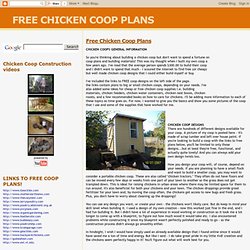 FREE CHICKEN COOP PLANS