Chickens
Hen House & Hutch Design. General Guidelines : All dimension lumber is 2" x 4" unless otherwise indicatedUse treated lumber for uprights Use 3/4" exterior plywood for floor and egg boxes Use 1/2" thick exterior T-111 siding or similar material for sheathing Use galvanized or corrosion resistant fasteners Shingles may be substituted for corrugated sheet roofing but roof sheathing will have to be increased to 3/4" plywood and 3/4" roofing nails used to avoid exposed nail points inside coop Apply an exterior stain or paint to your coop's exterior Material List Floor Assembly.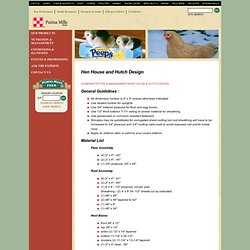 Forum / New coop and hens. The way *I* did it was to cut the hole in the wall the exact size of the finished nest box, and because I'm not a real carpenter, I had a couple little spots where it was a tad too large.
Anyway, then I pushed the nest box into the wall, partway into the coop, propped it up from the outside with a step-stool and a couple of well-placed 2x4s temporarily, then nailed a 2x2 TO the nest box top on the inside of the coop. Right at the very edge of the box. Repeated that step for each side, using 2x3s, and the bottom side with another 2xw. Raising BackYard Chickens, Build a Chicken Coop, Pictures of Breeds. FREE CHICKEN COOP PLANS.
---