Tools
Zoom H2n Handy Recorder Portable Digital Audio Recorder ZH2N B. The Zoom H2n Handy Recorder Portable Digital Audio Recorder combines Zoom's years of experience in portable recording with enhanced technology and features to present a versatile device that can be used for film and broadcast applications, as well as journalism, podcasting, musical performances and rehearsals, and much more.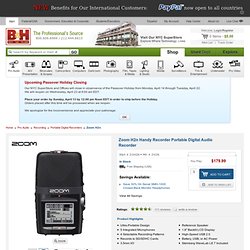 The H2n has an unprecedented 5 microphones built in, providing you with 4 selectable recording patterns to choose from. A simple dial on top of the recorder lets you switch between traditional XY stereo, 2-channel surround, 4-channel surround, and a mid-side stereo mode. The mid-side mode allows you to adjust the width of your stereo field for terrific flexibility. When recording in RAW mode, you can even adjust the field after you've made a recording.
The H2n records to widely-available SD and SDHC flash memory cards, and supports capacities up to 32GB. TASCAM DP-008 8-Track Digital Portastudio: Musical Instruments. CheesyCam » DIY Video and Photography Projects.
---