Pretty hair
GUEST POST. Photos by: Kathleen Bly post designed by kristin ess Mad love for our first guest post winner, Taylor Nick!!!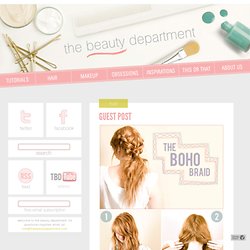 I am fully obsessed with this bohemian-inspired-braided-goodness! How To Use A Sock To Get Beautiful Curly Hair Without Heat. If you are a mom on the go with long hair you HAVE TO try this.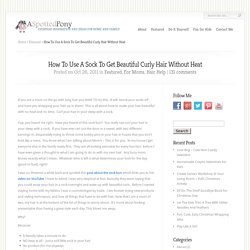 It will knock your socks off and have you wrapping your hair up in them! This is all about how to make your hair beautiful with no heat and no time. Curl your hair in your sleep with a sock. How To Style Maiden Braids. Last month I did a makeover story with Kelsie and had many requests for a maiden braid tutorial.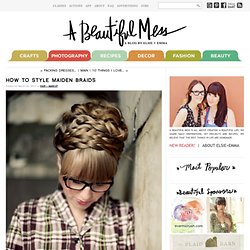 Yesterday she came in and we photographed these simple step by steps. Kelsie has extremely long and thick hair, but anyone with shoulder length or longer can do these braids (see my photo below for an example). Steps 1-2: Braid two strands on each side of a center part. How-To: The Cascade/Waterfall Braid. The waterfall braid also known as the cascade braid recently exploded as the new "trend braid" of the season.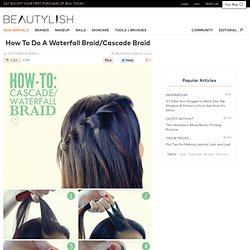 The waterfall effect looks cool and complex, but it's easier to style than you think. Give this beautiful braid a try when Beautylish takes you through the how-to! Section Off The waterfall braid works best on straight or loose waves. The Beauty Department: Your daily dose of pretty. - PIN IT UP, GIRL. Photo: justin coit for thebeautydepartment.com post designed by kristin ess Our email box is literally flooded with requests for updos so here's a fun one to get us all going!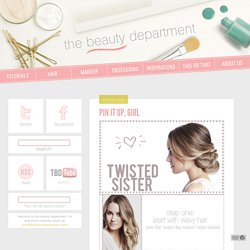 This is always a favorite for attending an event. This updo looks gorgeous on any hair color but particularly amazing with hilighted hair because it gives the hair lots of depth and dimension. For lack of a better word, I love the way it becomes "swirly". Best thing is; it's easy to do, gorgeous and keeps your hair out of your way for the night. 4 Pin-Up Girl Hair Tutorials for Medium to Short Hair. I love "old" hair.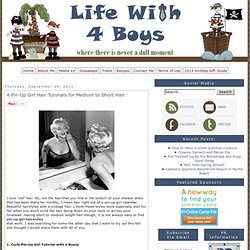 No, not the hair that you find in the bottom of your shower drain that has been there for months, I mean hair right out of a pin-up girl calendar. Beautiful hairstyles with a vintage flair. I think these styles work especially well for fall when you won't mind the hair being down on your neck or across your forehead. Having short to medium length hair though, it is not always easy to find pin-up girl hairstyles that work.
---